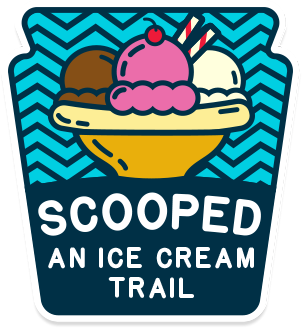 South Central
Meet the Creameries: South Central PA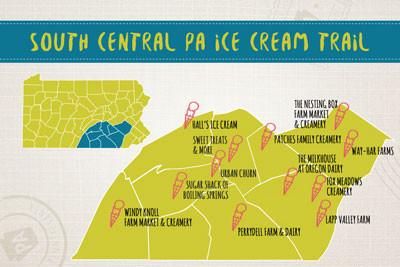 Known as the largest trail under the Scooped: An Ice Cream Trail, the South Central trail brings together twelve ice cream shops that are ready and waiting to scoop, mix, and pour ice cream just for you. Are summer cones at the top of your travel list?
Creamery Image
Address
2475 West Main Street
Ephrata, PA 17552
Description
Fox Meadows Creamery is a farm-to-table creamery surrounded by beautiful Lancaster County farmland. The Fox family focuses on creating hand-crafted ice cream made on-site with milk from the family's small dairy farm just across the field. Beyond hand-dipped ice cream and hand-crafted food served on its lunch menu, Fox Meadows' signature ice cream treats include the Baked Fox, Custom Milkshakes, Glass Bottle Floats and Affogatos.
Creamery Image
Address
861 Raccoon Valley Road
Millerstown, PA 17062
Description
Located in Perry County, Hall's Ice Cream is made in micro-batches with only 10 gallons at a time. Using a hands-on ice cream making process, Hall's offers rich, creamy and decadent ice cream using real fruit and local milk. Along with more than 40 flavors, Hall's Ice Cream is a must-visit ice cream shop that's adjacent to their family's original dairy farm.
Creamery Image
Address
244 Mentzer Road
New Holland, PA 17557
Description
Lapp Valley Farm is known and appreciated for its handcrafted small-batch ice cream, made from the rich butterfat of their Jersey cows. Lapp Valley Farm has become a favorite destination for those who have discovered the fresh goodness and delicious taste of its ice cream, milk, and butter. While enjoying ice cream on freshly made waffle cones, guests can view the Jersey cows that produce the farm's fresh milk.
Creamery Image
Address
201 Fonderwhite Road
Lebanon, PA 17042
Description
Founded in June 2009 by Mark & Stephanie Patches & Family, come visit the Patches Family Creamery for fresh milk and homemade ice cream. Taste the farm fresh difference. Eat your ice cream while enjoying the animals grazing nearby. The creamery's foundation is based on faith, family and farming.
Creamery Image
Address
90 Indian Rock Dam Road
York, PA 17403
Description
Perrydell Farm is a working and fully self-sufficient dairy farm. The Perry family owns 170 acres of land and rent an additional 180 acres, where they plant and harvest almost everything they need to feed their cows. The farm was bought in 1923 by Howard Perry. His two sons, George and Roger, eventually took over the farm and started bottling their own milk in 1963. Because of this approach, the farm now supports four families from the milk of only 130 cows. The farm is now owned and operated by George's sons, Tom, Greg, and Chip. Everyone in the family stays involved in the farm, since there is always work to be done.
Creamery Image
Address
72 North Market Street
Elizabethville, PA 17023
Description
Sweet Treats & More is a popular destination in Elizabethville. Old fashion country candy store meets ice cream parlor makes for a sweet tooth's dream come true. Their ice cream is made onsite with fresh milk from Leiby's Family Farm. Their goal is to make you feel welcome and enjoy your visit.
Creamery Image
The Milkhouse at Oregon Dairy
Address
2900 Oregon Pike
Lititz, PA 17543
Description
In 1952, Mr. and Mrs. Earl D. Hurst purchased a farm located along 272 in the Village of Oregon, PA. Mom and Pop Hurst had a dream of serving their neighbors and friends by selling fresh products from their farm. Their dream became a reality in 1974 when they built and operated a small dairy store from which they sold fresh milk, eggs, produce and Oregon Dairy Ice Cream! A new store was completed in 1979, and the Hurst family continues to sell Oregon Dairy Ice Cream in the Market at Oregon Dairy and now in The Milkhouse Ice Cream Shoppe that offers over 25 flavors of delicious hand-dipped ice cream, signature sundaes, milkshakes, floats, and NEW Ice Cream Flights.
Creamery Image
The Nesting Box Farm Market & Creamery
Address
230 Snyder Road
Kempton, PA 19529
Description
Known for its high-quality, cage-free brown eggs, the Nesting Box now offers homemade ice cream as part of its farm fresh offerings. The farm's market and creamery offers handcrafted artisan ice cream that echoes the traditional ice cream texture and flavor of past times. Customers also can purchase locally produced foods and goods from nearby farms, including milk, cheese, meat, jams and honey.
Creamery Image
The Sugar Shack of Boiling Springs
Address
101 W 1st Street
Boiling Springs, PA 17007
Description
Across the street from the scenic Children's Lake, The Sugar Shack of Boiling Springs serves up homemade super premium ice cream, including hand dipped and soft serve. Stop in for delicious one-of-a-kind creations like salted caramel pretzel, monster cookie, nutter butter peanut butter cookie dough, blueberry cheesecake, or one of the other hundred flavor options! The creamery uses all PA preferred products and the highest quality ingredients. The creamery also offers edible cookie dough, many varieties of ice cream sandwiches, take home pints, quarts and half gallons, as well as, incredibly unique and decadent ice cream cakes.
Creamery Image
Address
6391 Carlisle Pike
Mechanicsburg, PA 17050
Description
Located on the Carlisle Pike of Mechanicsburg, Urban Churn produces unique ice cream using natural ingredients, churned traditionally. Forget the common flavors like Rocky Road or Cookies and Cream, Urban Churn makes ice cream flavors you can't find anywhere else. Along with premium Vanilla, Smooth Chocolate, Real Strawberry and other traditional creamy treats, they make unique flavors like Wasabi, Cucumber and Melon, and Mango Habanero, to name a few.
Creamery Image
Address
7701 Bernville Road
Bernville, PA 19506
Description
Celebrating its 50th anniversary, Way-Har Farm is a third-generation, family-owned business. In 1970, the Lesher family opened the Way-Har Farm Market as a retail dairy store to sell milk directly from their own cows. Today, the market is a popular destination for ice cream and milkshakes, which customers can purchase from the ice cream wagon. Delicious homemade baked goods round out the market's offerings.
Creamery Image
Windy Knoll Farm Market & Creamery
Address
2685 Spring Road
Chambersburg, PA 17202
Description
In operation since 2008, Windy Knoll Farm Market & Creamery has made a big impact, winning the Golden Scoop Award for Best Ice Cream four years in a row. With a big selection of ice cream flavors and a convenient location, Windy Knoll has made guests smile for more than a decade and counting.