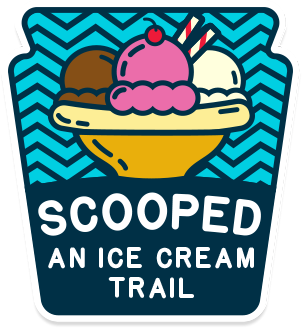 West
Meet the Creameries: Western PA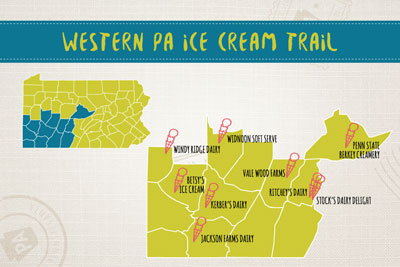 What's in a name. Sweetness, flavor and refreshment. OK, Happy Travelers, let's take a deep dive into the nine ice cream shops that make up the Scooped: An Ice Cream Trail on the Western part of Pennsylvania.
Creamery Image
Address
664 Washington Road
Mt. Lebanon, PA 15228
Description
Since 2012, Betsy's Ice Cream has served the finest super-premium homemade ice cream, frozen yogurt, shakes, and other frozen treats. Their hand-crafted ice cream starts with a custom-blended and all-natural base of the finest milk and cream from farms in the Pittsburgh area. With hundreds of varieties and 28 homemade ice cream, sorbet, and yogurt flavors available daily, Betsy's is guaranteed to have something to please every palate.
Note: Metered and/or garage parking required. A private lot, located near the intersection of Cedar and Florida, is available after 5 p.m. on weekdays and all-day Saturday and Sunday.
Creamery Image
Address
6718 National Pike E
New Salem, PA 15468
Description
Jackson Farms is a family owned and operated local dairy farm and convenience store located on Route 40 in New Salem. Jackson Farms specializes in homemade hand dipped ice cream in a variety of flavors and is known for its chocolate milk. Visitors love to take in the beautiful farmland views as they enjoy the ice cream homemade with love.
Creamery Image
Address
1856 Guffey Road
North Huntingdon, PA 15642
Description
KERBER'S, a family owned and operated dairy store, sits on the last 70-acre parcel of the family's original dairy farm. It is located between Greensburg and Pittsburgh off US Route 30. Ice Cream has become its best-known and most requested product. On any given day, about 40 different flavors are available. In a year's time, Tom Kerber, Jr makes over 165 different flavors, depending on the season. Featured this Spring – Banana Crème Pie, banana ice cream with Marshmallow Swirl and graham crackers. Besides cones and cups, our ice cream is served in Sundaes, Banana Splits, and in Milk Shakes which you can enjoy in our covered patio, at the picnic tables, or inside in our restaurant section. Kerber's is an agritourism facility and includes a playground and an 18-hole mini-golf course.
Creamery Image
Penn State Berkey Creamery
Address
Food Science Building
119 Rodney A. Erickson
University Park, PA 16802
Description
At Berkey Creamery, they have it down to a science — literally. The methods developed by Penn State's food and dairy scientists have made the creamery a world authority on ice cream and dairy manufacturing. The cow-to-cone process is broken down into 12 scientist-approved steps, starting with the university's herd of 200 Holstein cows. Before vising the creamery, located on Penn State's University Park campus, be sure to check out the Hall of Fame Flavors.
Note: Parking is available in the East Deck Parking Garage on Bigler Road located directly behind the Creamery Store and the Rodney A. Erickson Food Science Building.
Creamery Image
Address
2130 Cross Cove Road
Martinsburg, PA 16662
Description
The Ritchey family has been churning out delicious ice cream and other dairy products for more than 75 years, purchasing milk from local dairy farms. The family-owned processing plant and dairy store have grown in scope and business over the years, with a complete remodel of the ice cream production area in 2016. In addition to its year-round flavors, Ritchey's Dairy offers seasonal and holiday flavors as well as Dixie cup varieties. The store's ice cream cakes are a local favorite, as is the chocolate milk.
Creamery Image
Address
2491 Cove Mountain Road
Martinsburg, PA 16662
Description
Stock's Dairy Delight, a Martinsburg staple, has been selling its delicious homemade ice cream for more than 20 years. Guests travel from near and far to buy what is called "the best ice cream on either side of the mountain!" For a special ice cream treat, be sure to try a "moolie."
Creamery Image
Address
517 Vale Wood Road
Loretto, PA 15940
Description
A family-owned dairy farm, Vale Wood Farms grows the crops used to feed its own herd of cows. Vale Wood processes the milk from its cows, along with milk from neighboring farms, into a full line of quality dairy products – including ice cream – that are delivered to local customers. The dairy and farm store are located in the countryside, close to the cows who provide their high quality milk. Aside from a wide array of unique ice cream flavors, there are plenty of activities for kids and photo opportunities to enjoy when you visit.
Creamery Image
Address
911 Mahoning Road
Templeton, PA 16259
Description
Home of the Ice Cream Nachos! Huge portions at a small price where quality is a priority. Widnoon goes above and beyond in creating one-of-a-kind homemade ice cream confections. Looking for something unique or just a classic favorite, they have it! See you at Widnoon Soft Serve.
Creamery Image
Address
457 North Tower Road
Fombell, PA 16123
Description
This family owned and operated dairy farm processes milk from its 40 Registered Jersey cows. From cones to milkshakes and farm fresh milk, Windy Ridge gives visitors a taste of home. Check out the farm's Facebook page to catch the ever-changing "Flavor of the Week."