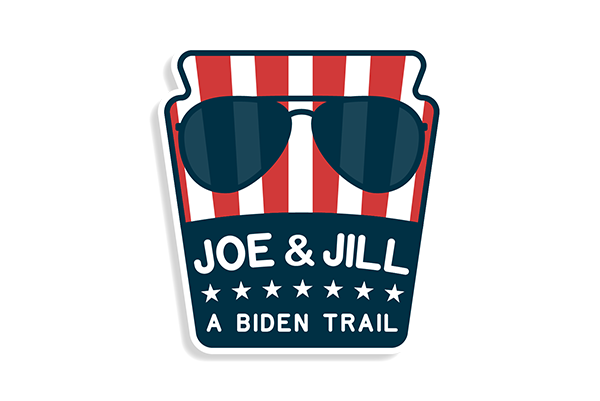 Biden Trail Trip Itinerary
3 Days – 14 Stops
Hey Happy Travelers, you already know President Joe Biden has Pennsylvania roots, but did you know First Lady Jill Biden is a native as well, spending the first 20+ years of her life in the suburban Philadelphia counties of Chester, Delaware, and Montgomery counties. The First Couple's Commonwealth connection even takes a romantic twist – they had their first date in Philadelphia.
There's no rush, bide your time as you begin your journey on this Presidential road trip highlighting the Pennsylvania roots of America's First Family.
Day 1 - Scranton
Biden Family Home (Scranton)
What better way to kick off your road trip than with a stop at where it all began? A three-story colonial in Scranton's Green Ridge neighborhood was home to President Biden for the first 10 years of his life. Despite leaving the Electric City at such a young age, the now president has shared on many occasions the integral role the city has played in his upbringing. The impact has even resulted in him making many visits back to his home state, including to his childhood home.
In 2008, while on the campaign trail with Barack Obama, he wrote on the wall of his former bedroom: "I Am Home. Joe Biden, 2008." Then in 2020 he left a hopeful message on the living room wall: "From this house to the White House with the Grace of God. Joe Biden – 11.3.2020". This once optimistic note became a blissful reality once inaugurated in January 2021.  
Note: This residence is privately owned and is not open to the public, but it makes for a great Instagram selfie.
Green Ridge Little League (Scranton)
Established in 1951, Green Ridge Little League has been a community staple for more than 70 years. The field is just half a mile from the Biden family home. President Biden's father, Joseph R. Biden, was one of 16 residents who played a key role in getting the league officially incorporated. The eventual President joined the team when he was eight years old as shortstop before moving to center field. In 2009, he was entered into the Little League's Hall of Excellence.
Hank's Hoagies (Scranton)
After you've rounded the bases at Green Ridge Little League, go down to Hank's Hoagie's, President Biden's favorite sandwich shop. Hank's has been in business for more than 65 years, changing owners each generation, but always serving the same great recipes. Each time the President makes a trip home, you can bet he'll stop in.
St. Paul's Church & Grade School (Scranton)
Just one mile from family home you'll find both St. Paul's Church and its neighboring Roman Catholic grade school. President Biden spent his elementary years on the school grounds and his Irish Catholic family were active members of the parish. After checking out the church and the school, stop into Zummo's Café, a local favorite for the last 15 years, for a coffee or a quick snack.
Manning's Dairy Farm (Scranton)
Before leaving town, an ice cream stop is an absolute must! It's no secret that President Biden is a big ice cream lover, but did you know his absolute favorite is chocolate chip? With more than 50 flavors on their list, Manning's Dairy Farm is the perfect place to get your fix. Everything at Manning's five locations is made fresh from milk from their farm.
Lafayette College (Easton)
Looking to extend your tour of Biden family history? Travel one hour south and explore the beautiful Lafayette College campus in Easton. During a 2012 trip to the Lehigh Valley, President Biden traced his Pennsylvania roots all the way back to 1875, with transcripts from his great-grandfather Edward Francis Blewitt and his great uncles, Arthur Joseph Blewitt and Robert Patrick Blewitt's time enrolled at the historic university.
Bonus: Before day two, consider spending the night at the Historic Hotel Bethlehem, just a 20-minute drive from Lafayette College. This historic hotel has hosted many U.S. presidents, including Bill Clinton (42), John Kennedy (35), Dwight Eisenhower (34), and Gerald Ford (38).
Day 2 – Philadelphia
Upper Moreland High School (Willow Grove)
First Lady Jill Biden's Pennsylvania story begins in the Philadelphia suburbs, specifically the Willow Grove area where she attended Upper Moreland High School in the 1960's. During her high school years, the now First Lady was involved in many activities from cheerleading to the Senior Prom Committee.
Villanova University (Villanova)
Villanova is just one of two Pennsylvania universities where First Lady Jill Biden received degrees. She received her first Master of Education with a specialty in reading from West Chester State, now West Chester University, in 1981 before completing her education with a Master of Arts in English from Villanova in 1991. Explore the gorgeous campus of this university that helped foster Biden's dedicated education career.
Kelly Drive (Philadelphia)
On your journey from Villanova into center city Philadelphia, consider taking the Kelly Drive route. Situated along the Schuylkill River, this scenic trail is one of Philadelphia's most popular running and biking destinations. As an avid runner, First Lady Jill Biden has shared that Kelly Drive is one of her favorite places to take a run when she is in the city. She took up running in the 90's as a way to manage stress and has even run in some famous Philadelphia events like the Broad Street Run and the Philadelphia Half Marathon.
South Philadelphia
Once in the city limits, go to South Philadelphia and explore one of the first family's favorite areas, the Italian Market. First Lady Jill Biden has shared that Claudio's Specialty Foods is one of her favorite places to pick up delicious, specialty cheeses, and she frequents the local bakeries in the area as well. One of the couple's favorite places to grab dinner in South Philly is at Dante & Luigi's, a Philadelphia staple since 1899.
Franklin Fountain (Old City, Philadelphia)
No better way to complete the day than with a sweet treat from Franklin Fountain. President Biden isn't the only one with a love of ice cream. In a 2020 interview with the Philadelphia Inquirer, First Lady Jill Biden shared that Franklin Fountain in Old City is her favorite place to grab a cone.
Bonus: The First Family are huge Philly sports fans. First Lady Jill Biden is especially a big Philadelphia Flyers fan! Even if the puck isn't dropping, with four other professional teams and colleges on nearly every corner, there's always a game to catch in Philly!
Day 3 – Philadelphia
University of Pennsylvania (University City)
The first stop of day three is to explore the beautiful and historic campus of the University of Pennsylvania. The Biden family has many ties to this institution, beginning with their late son, Beau who received his undergraduate degree in 1991. First daughter Ashley Biden received her Master of Social Policy and Practice in 2010, and most recently, granddaughter Naomi received her undergraduate degree in International Relations and Affairs 2016.
In 2013, President Biden was presented with an honorary degree from Penn and was named the University's inaugural Benjamin Franklin Presidential Practice Professor and the leader of the Penn Biden Center for Diplomacy and Global Engagement.
Parc & The Dandelion Rittenhouse (Rittenhouse)
Following your tour of Penn, relax and refuel with a delicious brunch at fresh bistro, Parc or enjoy some tasty British fare at The Dandelion. These two notable restaurants have hosted the Biden family for celebratory moments. In 2016, President Biden was spotted at Parc to celebrate granddaughter, Naomi Biden's graduation from Penn. 
Franklin Institute (Center City)
From being named University of Pennsylvania's inaugural Benjamin Franklin Presidential Practice Professor, to including a portrait of Ben Franklin in the Oval Office, it's clear that Ben Franklin has had an impact on President Biden's career. For the last stop on your trip, go to the Franklin Institute for a day of fun and science. In addition to the Franklin Institute being a science museum, it's also home to the Benjamin Franklin National Memorial. The centerpiece of the memorial consists of a dramatic 20-foot high marble statue of Benjamin Franklin. Make time inside the Memorial for Benjamin Franklin Forever, a 3.5-minute show that demonstrates Benjamin Franklin's impact on the world as an international citizen, statements, civic leader, and scientist.
Bonus: It's no secret that President Biden is fan of Amtrak. So before leaving town, consider a stop at Philadelphia's Historic 30th Street Station, home to Philadelphia's Amtrak route.