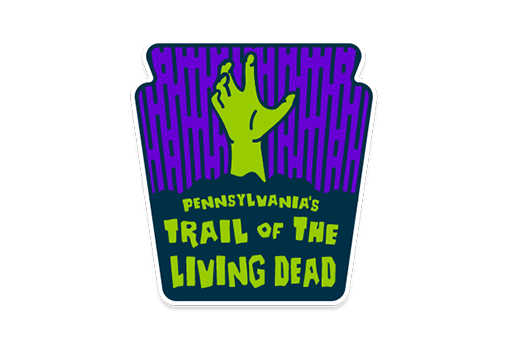 Horror Movie Destinations in Pittsburgh & Its Countryside
3 Days - 13 Stops
If you find delight in a little fright, Happy Travelers this trail is for you! More than 50 years ago, George Romero filmed the classic flick, "Night of the Living Dead," in PA, breathing life into the undead — zombies! This three-day trail is packed with film locations through Pittsburgh and its surrounding towns from the terrifying movies we all know and love. Be warned — this trail isn't for the faint of heart! The dead just may rise on this Horror Film Trail throughout western PA.
Day One: Evans City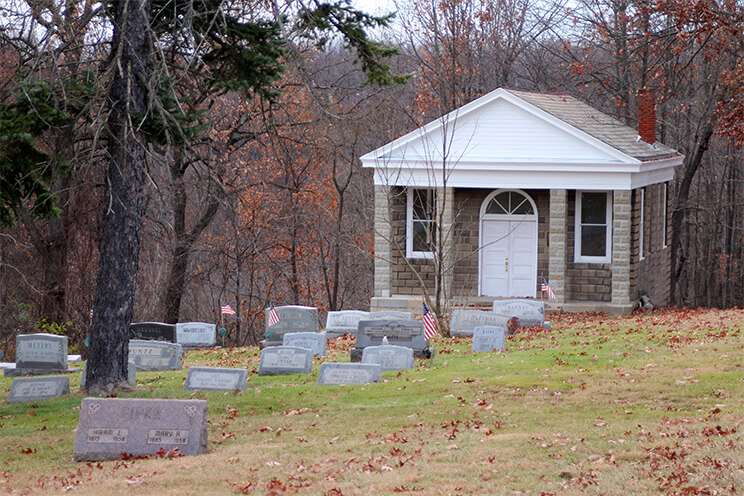 1. Evans City Cemetery
Evans City
Your first stop on this terrifying trail starts at Evans City Cemetery. Here, you too can recreate the opening scenes from "Night of the Living Dead" as you whisper that iconic line, "They're coming to get you, Barbara." More spine-tingling chills await when you view the old chapel and Nicholas Kramer's tombstone, which Barbara clung to after the first zombie attack.
2. Evans City Post Office
Evans City
Evans City is also the film location for another Romero classic, "The Crazies." In this 1973 film, the military tries to combat a virus that causes insanity and consumes the town. Filmed at various locations throughout Evans City, the Evans City Post Office is a key location in the plot. You'll have to use your imagination to picture a soldier from the movie fighting infected townspeople in front of the post office's façade.
3. Kittanning Citizens Bridge
Kittanning
Fans of the 2002 combination supernatural-mystery-horror flick, "The Mothman Prophecies," will want to journey to Kittanning — about a 40-minute drive east from Evans City. With many scenes filmed in and around Kittanning, this is where a lot of the film action took place. There's no need to worry about crossing the Kittanning Citizens Bridge. Unlike "Silver Bridge" that did collapse in the movie, Kittanning's bridge is structurally sound and continues to be a movie star in its own right!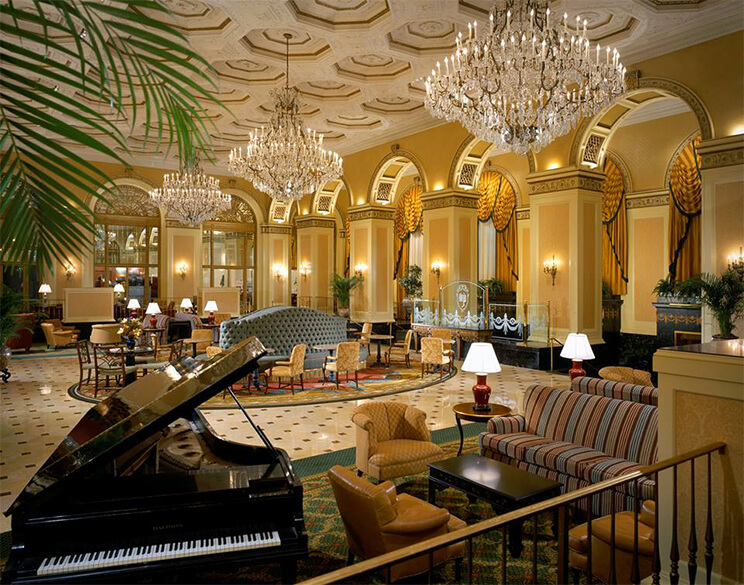 4. Omni William Penn
Pittsburgh
If you're looking to experience the dead in a different type of way, book a stay at the Omni William Penn in downtown Pittsburgh. Opened in 1916, the William Penn is on the National Register of Historic Places and has had its fair share of notable guests, including celebrities and dignitaries. With such a long, glamourous history, the hotel naturally has some spirits rumored to roam the halls.
Bonus tip: Calm your nerves at The Speakeasy — a sophisticated social lounge that whisks patrons back to the Pittsburgh of the 1920s. A secluded space, tucked beneath the hotel lobby and used as storage space for decades, it has been restored into its former historic glory with plush scarlet seating surrounded by lavish flocked wall coverings.
Day Two: Pittsburgh
5. Hillman Library at the University of Pittsburgh
Pittsburgh
Pay homage to film icon George Romero at the University of Pittsburgh's Hillman Library. The university recently acquired the George A. Romero Collection and Horror Archive , a unique and comprehensive portrait of a filmmaking pioneer. The archive captures Romero's life with drafts of screenplays, script notes, set dressing, and many other items from his directorial past including a rather scary foam zombie head.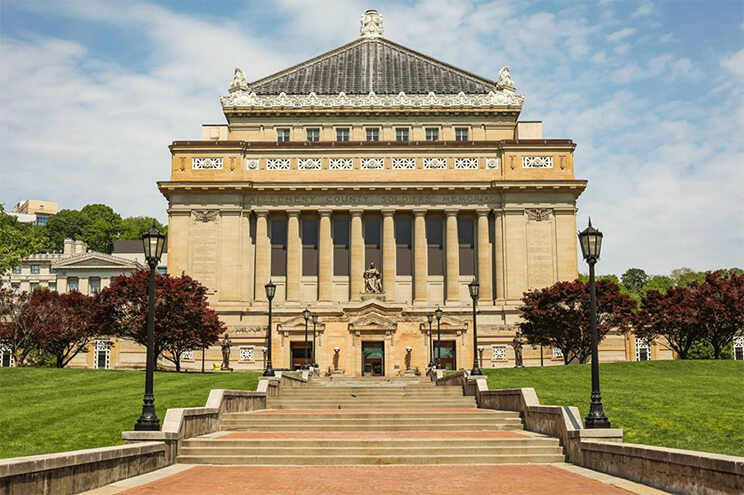 6. Soldiers and Sailors Memorial Hall
Pittsburgh
Take a stroll through the University of Pittsburgh campus then a deep breath before entering your next stop, Soldiers and Sailors Memorial Hall. The museum's Grand Ballroom was the location for the chilling cage scene in "Silence of the Lambs." Thankfully, Hannibal's long gone, but you can see a replica of the cage, complete with actors bringing to life the movie's iconic roles in the room where the scene was shot.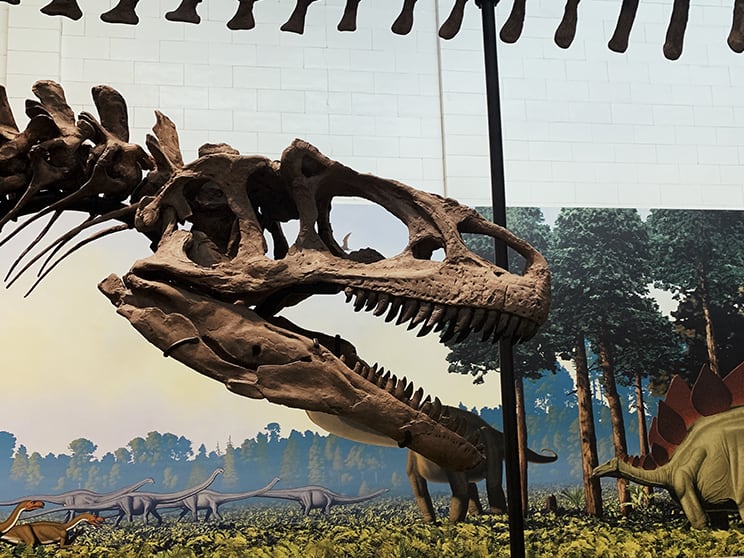 7. Carnegie Museum of Natural History
Pittsburgh
Still feeling brave? It's time for more of Pittsburgh's "Silence of the Lambs" film locations. Just like Clarice, stroll by Carnegie Museum of Natural History's famous T. Rex on your way to the museum's bug rooms where you'll be able to seek out specimens of Death's Head Hawkmoths with their skull-like markings that put Clarice on the trail of Buffalo Bill.
Bonus tip: Not far from the Museum of Natural History is Carnegie Mellon University — George Romero's alma mater! Here the director shot a segment of his 1982 film, "Creepshow," which features five terrifying tales written by the master of horror genre, Stephen King. Does Margaret Morrison Carnegie Hall look a bit familiar in a scary kind of way? It served as "Amberson Hall" in Creepshow's "The Crate" story.
8. Old Allegheny County Jail
Pittsburgh
Wrap up your "Silence of the Lambs" day with a trip to the Old Allegheny County Jail where some interior shots from the movie and exterior shots from Netflix series "Mindhunter" were filmed. Completed in 1886, this castle-like landmark in downtown Pittsburgh has been transformed into an actual court and museum. You can take a self-guided tour of the jail museum, but beware! The old jail allegedly has plenty of ghosts of its own.
9. Le Mardi Gras
Pittsburgh
Le Mardi Gras opened in 1954 and is the oldest and only cocktail lounge in Pittsburgh. The bar was featured in George Romero and Dario Argento's movie, "Two Evil Eyes." The film is an adaption of two Edgar Allan Poe short stories and features Le Mardi Gras. Notable patrons include Alice Cooper, George Clooney, Russell Crowe, Ted Danson, and the writers and producers of, "Hill Street Blues."
10. Jekyl & Hyde Bar
Pittsburgh
If you wish it was Halloween every day and horror brings you joy, then Jekyl & Hyde Bar is the spot to kick back with a spooky night cap or two of True Blood, Batty Banana, Zombie, Frankenstein, and Boogyman.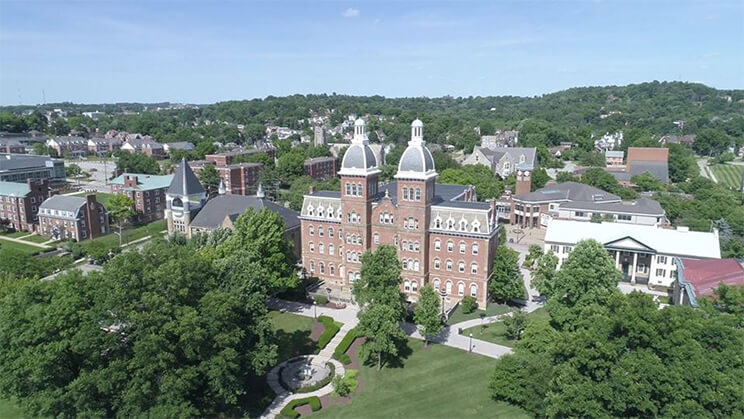 11. Washington & Jefferson College
Washington
Less than an hour from Pittsburgh, Romero fans can see another of his iconic film locations where scenes of a college campus from, "The Dark Half," were shot at Washington & Jefferson College. See the iconic Old Main building and some of its rooms as they appear in the film. The Netflix crime series, "Mindhunter," has also been filmed here.
Day Three: Pittsburgh & Monroeville
12. Little Italy
Pittsburgh
Let's travel to Italy — Little Italy in Pittsburgh's Bloomfield neighborhood that is! In the 1992 horror film, "Innocent Blood," Marie the vampire is out for blood and has a thirst for bad guys in the Mob. Spots from Little Italy can be seen in the movie as well as the stunning view of the Pittsburgh skyline and the Point. While in Little Italy, be sure to swing through the Italian grocers and bakeries for truly authentic experience.
13. Monroeville Mall
Monroeville
The undead have taken over the Monroeville Mall! Another George Romero zombie classic, "Dawn of the Dead," was filmed here. In the film you see zombies roaming the mall, riding the escalators, and exploring the fountains as the living try to survive the outbreak. Get inspired to direct your own zombie-fied scenes and pay homage to the master filmmaker by snapping a few pictures with the George Romero bust in the mall.
To see what other haunted attractions there are in Pennsylvania check out the visitPA website. Follow us on Facebook, Twitter, and Instagram to stay up-to-date on even more great ideas and places to visit around our state. Don't forget to sign up for our monthly Happy Thoughts e-newsletter so you never miss an update!