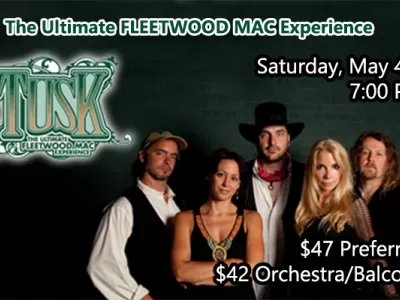 Tusk – The Ultimate Fleetwood Mac Experience
Repeats: None
Eichelberger Performing Arts Center
195 Stock Street
Hanover, Pennsylvania 17331
(717) 637-7086
Region: Dutch Country Roads
Hours of operation: 7:00 PM - 9:00 PM
Admission fee: Tickets: $42 Orchestra/Balcony, $47 Preferred.

The #1 Tribute to Fleetwood Mac in the world. Five seasoned musicians recreating the music of Fleetwood Mac to perfection with note to note renditions. The well-respected musicians comprising Tusk have been making music together for over twenty-five years. Tusk covers all the great hits of Fleetwood Mac, which has featured the talents of Mick Fleetwood, Christine and John McVie, Lindsey Buckingham, Stevie Nicks and others over the years. Authentic-sounding and always respectful, Tusk replicates the sounds of one of the world's best-loved, top-selling bands.