Soak up some of PA's maritime history this summer touring its three historic lighthouses on Lake Erie. Having safely guided vessels large and small along Erie's shoreline for well over a century, these picturesque lighthouses are waiting for you to see or explore before spending a perfect summer day at Presque Isle State Park and beyond. After all, summer is best spent at the beach and the beach at Presque Isle offers simply stunning views of the lake and its lighthouses!
1. Presque Isle Lighthouse
Square on the outside and circular on the inside, the historic Presque Isle Lighthouse is the most well-known of the three lighthouses in Erie. Affectionately called "The Flash Light" in its early days, the lighthouse was built on the north shore of Lake Erie's Presque Isle peninsula in 1873. For decades, lighthouse keepers and their families called the lighthouse and its attached living quarters home, ensuring its beacon was fully lit and functioning to guide vessels safely along Erie's shoreline until 1944 when enlisted Coast Guard personnel took over tending the light.
Today, the de-commissioned lighthouse is now a museum listed on the National Register of Historic Places and open for guided and self-guided tours Fridays through Mondays from 10 a.m. to 3 p.m. between Memorial and Labor Day. For a small fee used to maintain this priceless building, you can tour the living quarters the way they looked in the late 1800s when the first lightkeepers took up residence and that reflected a 19th-century French architectural design; then climb the same 78 winding steps to the top as lightkeepers of a century past trod each day where you'll be rewarded with spectacular views of Lake Erie and the surrounding area, including Presque Isle State Park's Goddard and Leslie Beaches.
This lighthouse is a short drive from the hidden gem of Beach #7, better known as Waterworks Beach. When you're not splashing in Lake Erie, there are plenty of activities to enjoy around this beach including bike and surrey rentals, or you can reel in a catch at the adjacent fishing pond. This beach is ADA compliant with beach wheelchairs available at the Public Safety Building and a wheelchair ramp for everyone to enjoy this great destination. Before you spend your day at Presque Isle, make a pitstop just outside the state park to get an iconic Erie meal at Sara's Restaurant. We recommend cooling down with one of their simply scrumptious milkshakes or other ice cream treats and a Doggie Dish for your favorite four-legged friend!
2. North Pier Light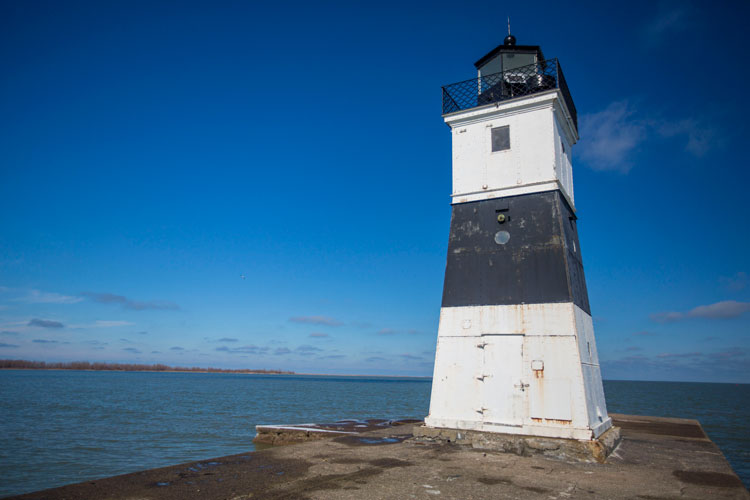 Located on the southeastern portion of Presque Isle State Park, the Presque Isle North Pier Light has helped ships and boats navigate their way into the narrow channel to Presque Isle Bay for almost two centuries. While you can't tour this quintessential lighthouse, you can take plenty of Instagram-worthy pictures with its picturesque backdrop especially at sunrise. Originally built in 1830 as a wooden tower, it was destroyed in 1857 after a schooner crashed into it and then rebuilt in 1858 when it was expanded to a two-story tower. The lighthouse has undergone many updates and been moved several times throughout its long history whenever the pier on which it stands was extended. The lighthouse with its distinctive black and white paint scheme and unique, square-pyramidal design — the last example of its kind in the United States — is a definite "must-see."
Explore more of Presque Isle State Park's beaches at the nearby Beach #11, also known as Kohler Beach, which is located about a mile north of the lighthouse. This is one of the state park's largest beaches and is perfect for families with its shallow and calm water. The surrounding facilities also include a concession stand and showers so you can go straight to exploring around town after soaking up some sunshine.
3. Erie Land Lighthouse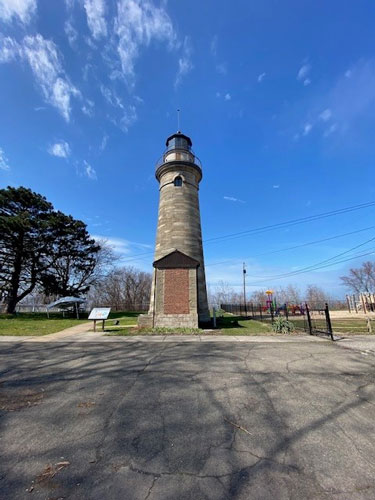 The third and final Erie lighthouse to put on your summer bucket list is the Erie Land Lighthouse, better known as the original Presque Isle Light. Built in 1818, this was the first commissioned lighthouse on the Great Lakes. Located on the mainland across the water from today's Presque Isle State Park, the tower was strategically positioned on a cliff overlooking the entrance to Presque Isle Bay. The original structure was a wooden tower that stood 20 feet tall with an enclosed lantern fueled by whale oil to guide ships to land. Over the past several centuries, the lighthouse has been reconstructed and has currently been restored preserving several of its historical elements.
You have plenty of opportunities to explore this lighthouse, including Tower Tuesdays! From April through October every first Tuesday of the month from 10 a.m. to 3 p.m., take a free self-guided tour of the tower and climb the 69 steps to the top to reach the observation deck and snap a picture of the panoramic views of Lake Erie. If you can't attend a Tower Tuesday, the lighthouse is open for the season on Saturdays and Sundays from 10 a.m. to 3 p.m.
After exploring the lighthouse, take an eight-minute drive to downtown Erie where you can explore other iconic destinations and eateries of the area. If you're up to climb some more, visit the Bicentennial Tower to get other incredible views of the Great Lake. After a day full of climbing and working up an appetite, grab a bite to eat at Woody's Backwater BARge & Grill, a floating bar and grill serving bar staples including their Bacon Bleu Burger. Be sure to wash it down with their classic Pain Killer cocktail.
Get a glimpse into the storied history of Erie's towering lighthouses and transport yourself into the life of a lighthouse keeper with immersive tours of the Presque Isle Lighthouse and Erie Land Lighthouse. You can view all the current lighthouse tours and experiences with pricing on their website.
Looking for more summer getaways in Pennsylvania? Be sure to check out the visitPA website and follow us on Facebook, Twitter, Pinterest, and Instagram for more PA inspiration. Do not forget to sign up for our monthly Happy Thoughts e-newsletter so you never miss an update.