In days past Pennsylvania's storied railroads crisscrossed the state, connecting the many communities that sprang up along the rail lines and serving as vital conduits for the goods produced by the state's burgeoning steel, coal, and iron industries that fueled the growth of our rapidly growing nation. As the years passed and transportation needs shifted, all but the most heavily used routes were abandoned. The result: hundreds upon hundreds of miles of beautiful flat pathways through some of the most scenic areas in the state just waiting for today's Happy Travelers to discover and enjoy. Hike, bike, ski, and explore these well-maintained rail trails while savoring the beauty and history of the Keystone State. We have scouted out the best made for Instagram must-have selfie views you can reach via the power of the pedal.
York County
Length: 21+ miles
Activity Types: hiking, biking, horseback riding, cross-country skiing, and snow shoeing
Surface: 10-foot wide compacted stone surface
Extending 21 miles through urban and rural landscapes, the Heritage Rail Trail County Park runs south from the City of York to the Mason-Dixon Line. Winding through farmlands, along the bank of Codorus Creek and throughout York City, the rail trail welcomes all ages to run, bike or walk the scenic path. The four historic structures along the way, including the Colonial Courthouse in York City, provide opportunities to learn the area's rich history.
Somerset, Westmoreland, Washington, Fayette and Allegheny counties
Length: 150+ miles
Activity Types: biking, hiking, cross-country skiing, snow shoeing, and certain sections for horseback riding
Surface: packed crushed limestone surface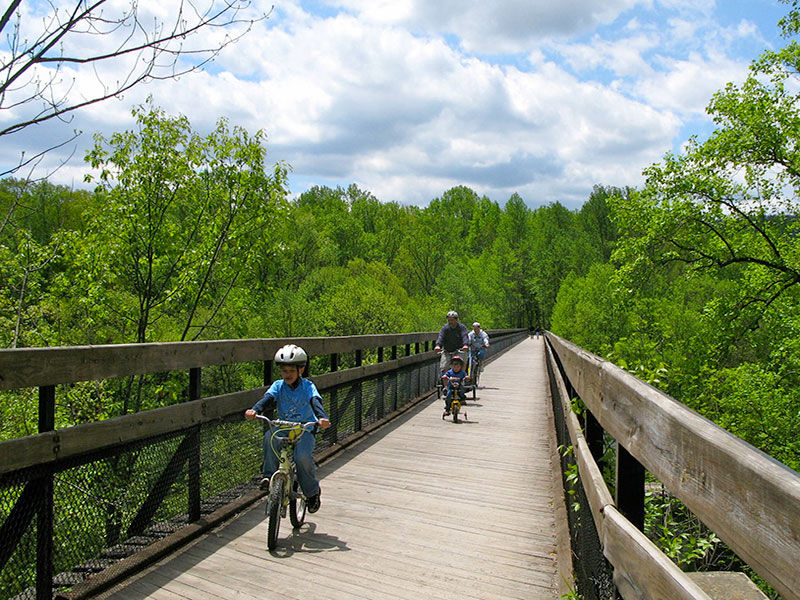 Considered to be one of the nation's most popular rail trails, the Great Allegheny Passage begins in Pittsburgh, Pa., and crosses the border into Maryland, eventually ending in the nation's capital. The 335-mile journey from Pittsburgh to the end of the trail makes it the longest unpaved bike path on the East Coast. Crushed limestone offers a smooth surface for bikers, hikers, runners and cross-country skiers to experience all the natural beauty between Pittsburgh and Washington, D.C.
Lycoming and Tioga counties
Length: 62 miles
Activity Types: hiking, biking, horseback riding, and cross-country skiing
Surface: hard-packed gravel surface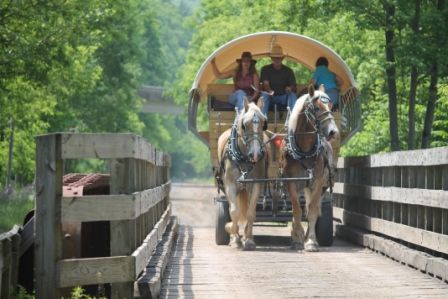 Hop on a bike or lace up those hiking boots and take a trip on the trail hailed as one of the "10 best places to take a bike tour" by USA Today. This historic 62-mile trail, once used to transport freight by train from Wellsboro to Williamsport, is perfect for a relaxing walk or bike ride. Equestrians can also join the fun with a section of the path designed specifically for horses.
Montgomery County
Length: 20 miles
Activity Types: biking, walking, jogging, horseback riding, and cross-country skiing
Surface: crushed stone and a few paved sections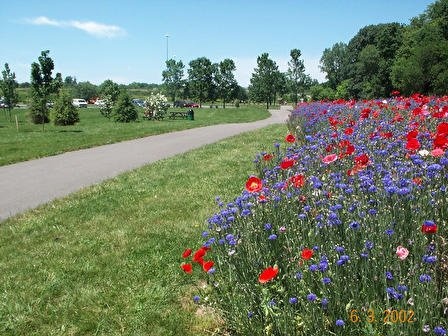 The combination of crushed stone and a few paved surfaces makes the "Perky," as some call it, a one-of-a-kind trail located amongst the history and beauty of the Philadelphia countryside. The 20-mile Perkiomen Trail connects numerous public parks and historical sites in the region and is open year-round for a variety of outdoor activities. Visitors can start their journey at the Valley Forge National Historical Park and then bike or hike along the picturesque Perkiomen Creek.
Cambria and Indiana counties
Length: 36 miles
Activity Types: biking, hiking, walking, cross-country skiing
Surface: crushed stone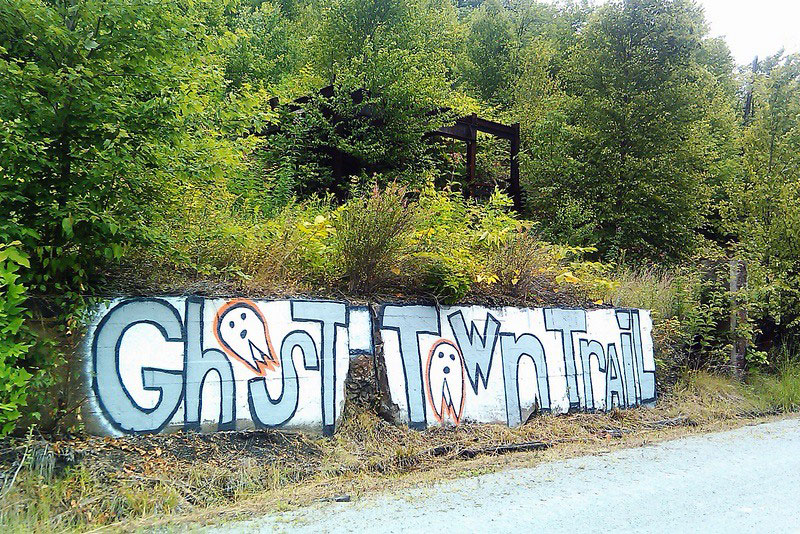 Named for the abandoned mining towns that once existed alongside the railroad corridor, the 36-mile Ghost Town Trail is an ideal spot for a hike or relaxing bike ride. The trail, designated as a National Recreation Trail by the U.S. Department of the Interior and named Trail of the Month by the Rails to Trails Conservancy in 2011, is packed with numerous historical sites to check out along the way. Markers educate visitors about the area's intriguing past, and trail goers can also view the Eliza Furnace, one of Pennsylvania's best-preserved iron furnaces.
Lackawanna, Susquehanna and Wayne counties
Length: 38 miles
Activity Types: biking, horseback riding, hiking, and walking
Surface: stone dust surface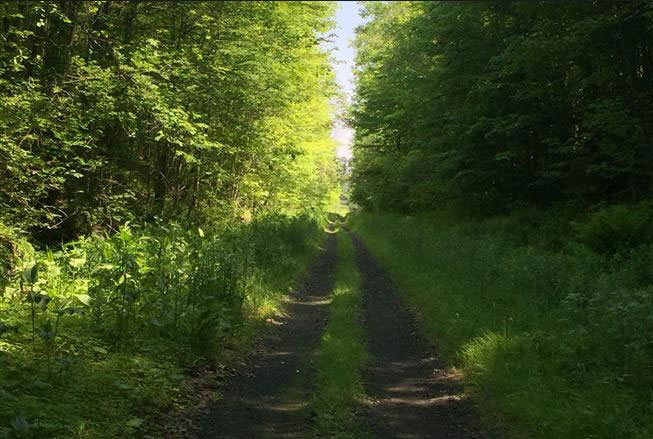 The varied trail surfaces and beautiful surroundings are what make the unique D&H Rail Trail a treat for any outdoor enthusiast. This 38-mile pathway stands in place of the historic Delaware and Hudson railroad, a small but vital rail line during the 1800s. The multi-use trail runs for several miles along the Lackawanna River and alternates between tree-lined sections and open stretches.
Dauphin, Lebanon and Schuylkill counties
Length: 22 miles
Activity Types: biking, horseback riding, walking, hiking, and cross-country skiing
Surface: dirt, gravel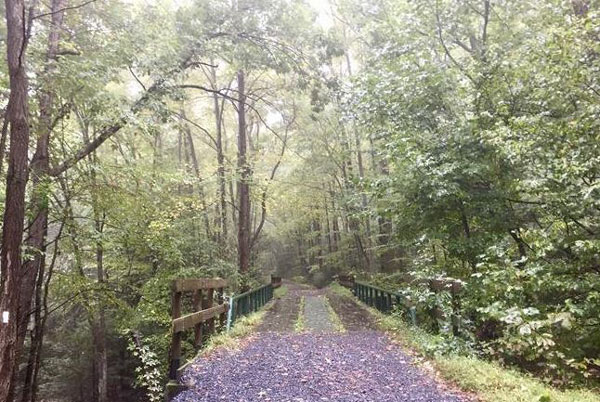 Located just outside Pennsylvania's state capital of Harrisburg, the Stony Valley Railroad Grade Trail is a 22-mile nature lover's paradise. Creating the perfect serene setting to escape the hustle of the city, this trail is open year-round to bikers, hikers and horseback riders, as well as cross-country skiers and snowmobilers in the winter. The trail, located on 44,000 acres of beautiful state game land, is also a very popular spot for hunters.
Clarion and Venango counties
Length: 32 miles
Activity Types: hiking, biking, and horseback riding
Surface: flat, smooth, asphalt surface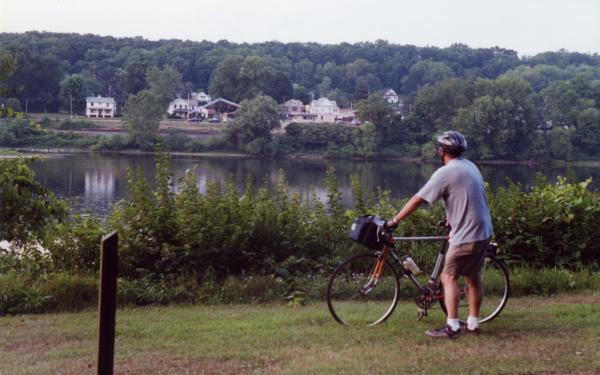 With the excitement of railroad tunnels, riverfront scenery and stunning bridges, the 32-mile Allegheny River Trail is situated in the heart of the Oil Heritage Region and has something for everyone to enjoy. Whether riding a horse on the dirt access trail, inline skating, hiking or road biking, visitors will enjoy a smooth, level and paved journey along the gorgeous river.
Chester County
Length: 2.3 miles
Activity Types: hiking, biking, and walking
Surface: dirt, gravel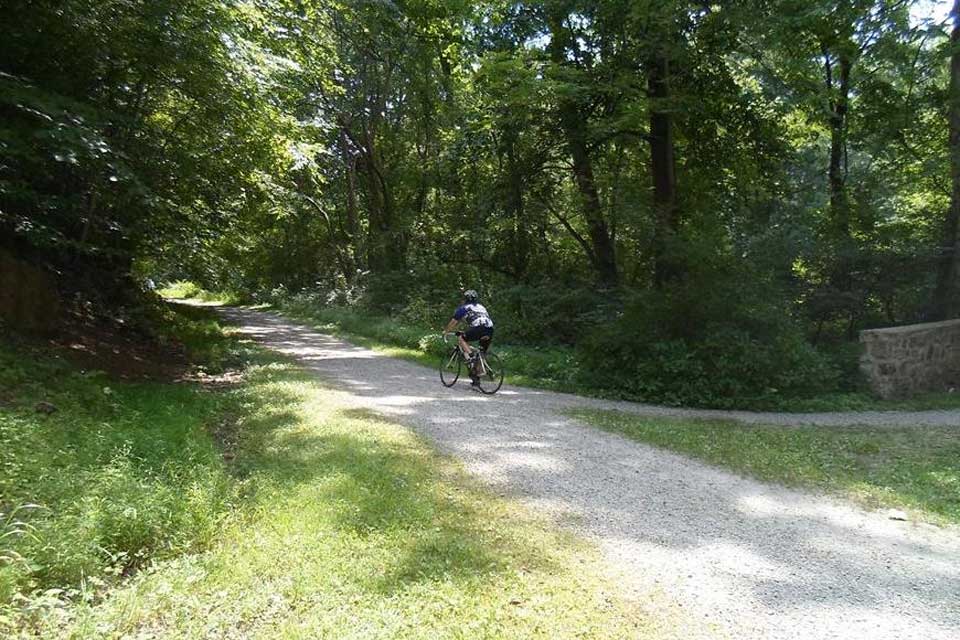 This historic rail trail follows the path of the Pomeroy and Newark Railroad, which thrived in the late 1800s. The rail line held the nickname "Pumpsie Doodle," and the trail mimics this non-threatening nickname with easy bike trails for anyone to follow. The area features several trails that interconnect, so bikers may choose from a variety of paths to follow. Visitors can be on the lookout for exciting historic information about the old railroad as they ride.
Montour County
Length: 2.8 miles
Activity Types: hiking, biking, horseback riding, walking, cross-country skiing
Surface: gravel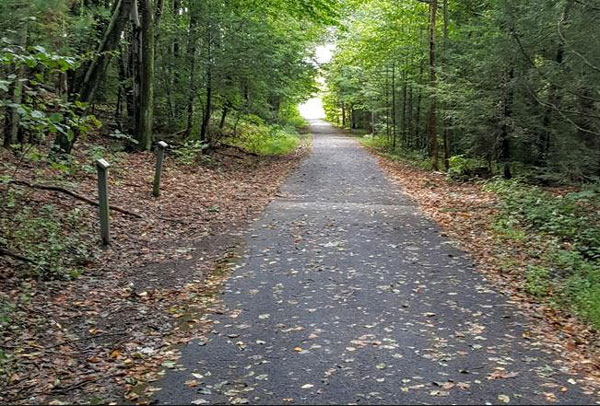 Although this trail spans only about three miles in length, its historical significance makes it a worthwhile destination for any biker, walker or runner. Rumored to be the oldest rail trail in the United States, the path leads visitors along a once-existing Reading Railroad line. The Robbins Trail is an ideal route for recreational athletes, providing them with a beautiful getaway high above the Mahoning Creek.
Armstrong County
Length: 3.5 miles
Activity Types: hiking, biking, horseback riding, walking, cross-country skiing
Surface: dirt, grass, gravel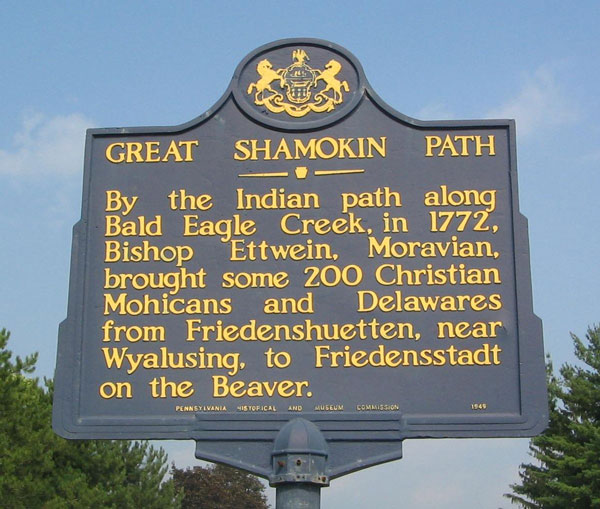 Built along the Rural Valley Railroad, the Great Shamokin Path is named after the route that once linked the Allegheny and Susquehanna rivers and ran from Kittanning to Sunbury during Native American times. This mostly grass-covered trail climbs steadily through the Cowanshannock Creek Valley and provides four miles of hiking and bicycle trails between NuMine and Rose Valley.
Venango County
Length: 12 miles
Activity Types: hiking, biking, horseback riding, cross-country skiing, mountain biking, and snow shoeing
Surface: asphalt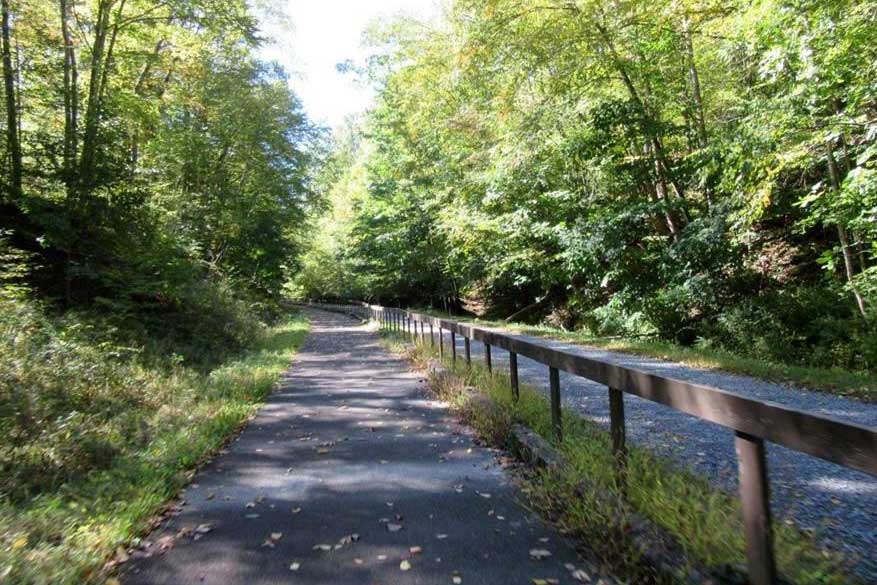 Get started with the 12-mile Sandy Creek Trail in Venango. Start in the village of Van and enjoy downhill cruising for the first eight miles of this paved trail, then pedal the final four miles along the western bank of the Allegheny River to Fisherman's Cove. Along the way, you'll cross the 1,385-foot Belmar Bridge, go through the Sandy Creek Tunnel, and cross numerous railroad trestles with far-reaching views of the surrounding forests and hillsides. For a more challenging ride, start out at Fisherman's Cove and get ready to feel the burn as you pedal those last eight miles uphill!
Butler County
Length: 19.5 miles
Activity Types: biking, horseback riding, mountain biking, and walking
Surface: asphalt, crushed stone, dirt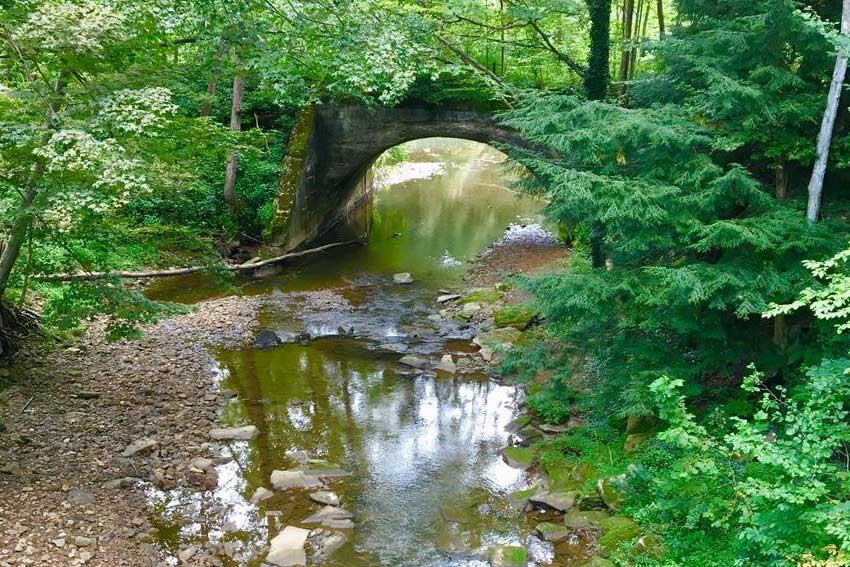 Outdoor fun abounds along the 19-mile Butler – Freeport Community Trail. Soak in the aroma of wildflowers, do a little bird watching, enjoy a passport-oriented historic geocache adventure, cast your fishing line, or simply enjoy the scenery as you bike along this fairly flat trail nestled in the scenic wooded valley linking the two communities. History abounds too — look closely and you'll see the remains of old stone quarries, brick kilns, and other late-1800s developments still visible along the trail, including the Saxon City Hotel built in 1871.
Crawford County
Length: 9.7 miles
Activity Types: biking, horseback riding, mountain biking, walking, and cross-country skiing
Surface: asphalt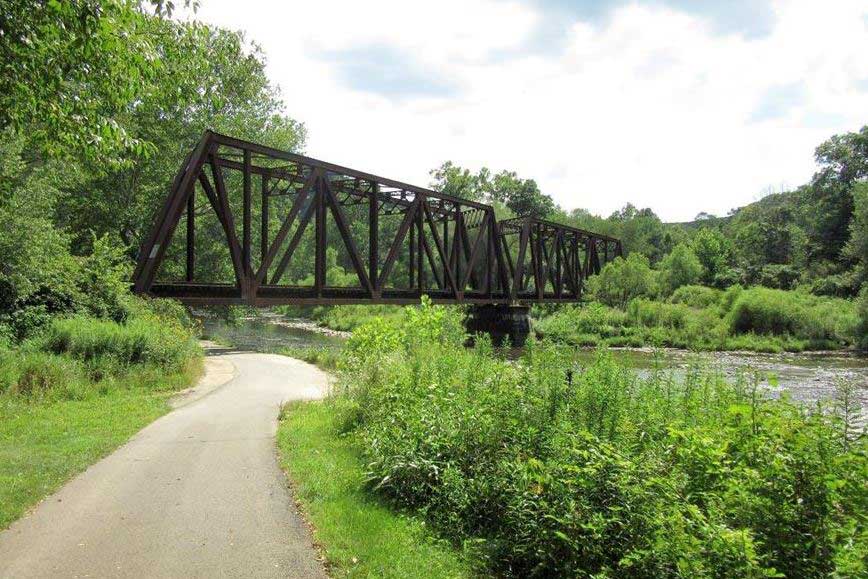 Looking for a bike trail your whole family of Happy Travelers can enjoy? The 9.7-mile Oil Creek State Park Trail has a flat and easy surface suitable for bike riders of every skill level, complete with restrooms and picnic areas strategically located along the trail, with a visitor center, bicycle rental, picnic area, playground, and restrooms at the Petroleum Centre at the trail's southern end. Looking for a slightly longer ride? The trail connects to the three-mile Queen City Trail into downtown Titusville at the northern end.
Armstrong, Clarion, Jefferson Counties
Length: 57.5 miles
Activity Types: mountain biking, walking, and cross-country skiing
Surface: ballast, crushed stone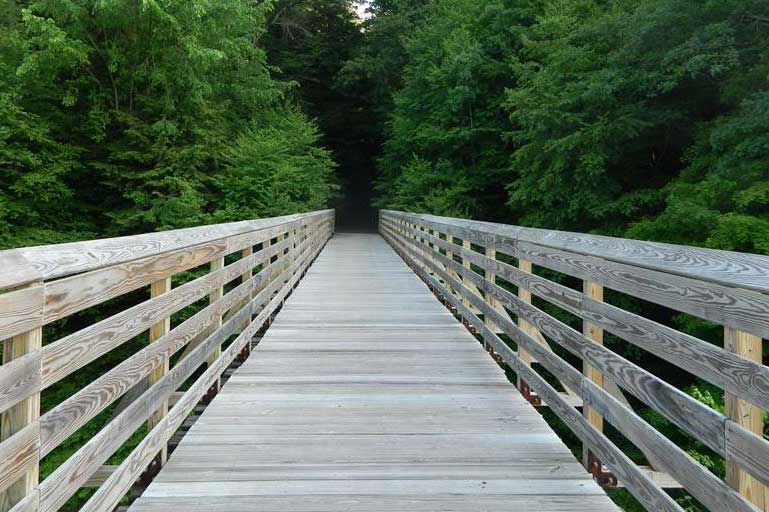 The Redbank Valley Rail Trail beckons the more fearless Happy Travelers among us, with some sections best suited for mountain bikers due to some rough terrain, while others are perfect for more casual recreational riders. And what a trail! It's over 57 miles long and traverses three counties through some of the most spectacular scenery in western PA. With 27 bridges, numerous stone arches, three former railroad tunnels (check for any tunnel closures), and 41 miles of the trail winding along Redbank Creek, it's easy to see why it was the first trail ever designated the state' Trail of the Year.
Huntingdon County
Length: 40+ miles
Activity Types: mountain biking, walking, and cross-country skiing
Surface: asphalt, rock-strewn, and dirt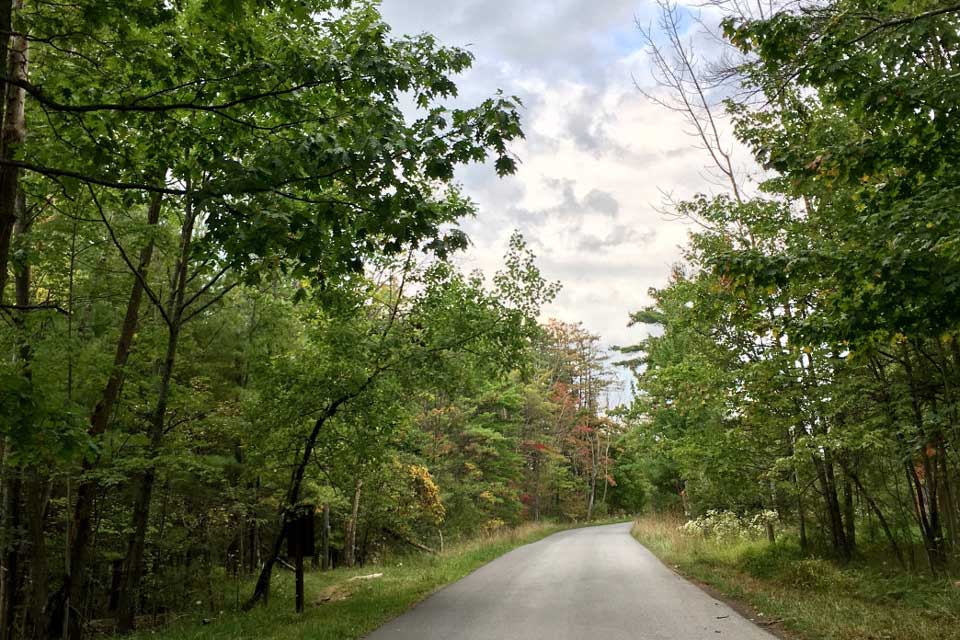 State College's Rothrock State Forest is Pennsylvania's premier destination for advanced adventure riders, is home to two International Mountain Biking Association Epic Rides — the 36-mile Rothrock Trail Mix and the 27-mile Cooper's Gap Epic — and hosts several of Pennsylvania's premier trail races throughout the year. Riders can expect sizable rock gardens, ridgetop runs, exhilarating descents, and demanding singletrack — all amid some of the forest's most spectacular scenery. Not into extreme adventure biking? No worries: the forest's access roads are ideal for mountain bike newbies and families looking for a non-technical off-road experience and some beautiful scenery.
Philadelphia County
Length: 7 miles
Activity Types: bike, horseback riding, mountain biking, walking, and cross-country skiing
Surface: asphalt and gravel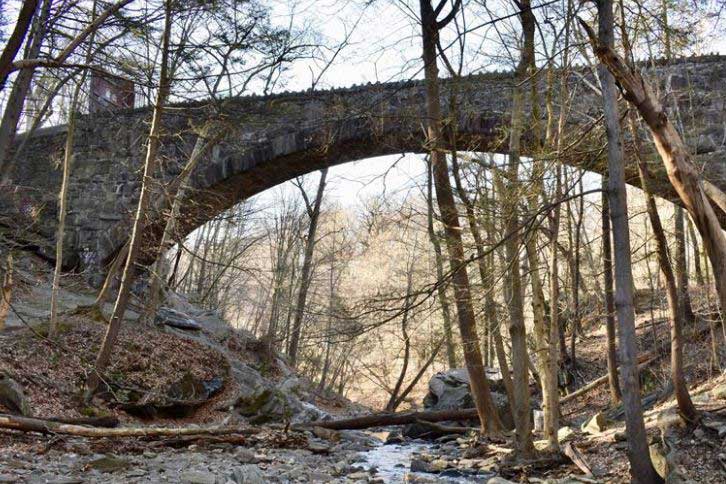 Don't let the name fool you: Pennsylvania's 2018 Trail of the Year is just waiting for you to visit. Forbidden Drive, also known as Wissahickon Valley Park Trail, in Wissahickon Valley Parkstretches seven miles, following its namesake creek and passing by the Thomas Mill Covered Bridge, Valley Green Inn, and numerous other landmarks. The park has 57 miles of trails total, many of which offer ideal mountain biking terrain with plenty of up-and-down hill sections guaranteed to get your heart pumping! Please note: permits from Philadelphia Parks & Recreation are required to use the upper trails for off-road biking.
Philadelphia County
Length: 1.1 miles
Activity Types: bike and walking
Surface: asphalt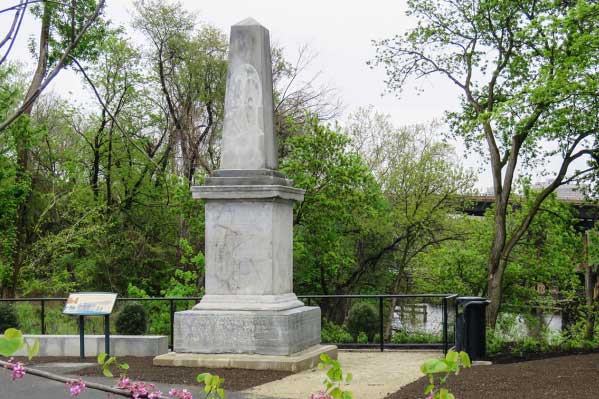 The 1.1-mile Bartram's Mile Trail in Philadelphia, completed in 2017, offers Instagram-worthy skyline views as you pedal along the banks of the Schuylkill River, as well as public art installations, outlook areas, and flowers that will brighten any day. Stay tuned: construction is well underway for a new, fully operating swing bridge just south of the Grays Ferry Bridge, connecting the trail to the Schuylkill River Trail's Gray's Ferry Crescent and opening in 2019 for an even longer ride.
To learn about more rail trails in PA, check out the visitPA website. Follow us on Facebook, Twitter, Pinterest, and Instagramto stay up-to-date on even more great ideas and places to visit around our state. Don't forget to never miss an update and sign up for our monthly Happy Thoughts e-newsletter.