Start the cool weather season right with a trip to one of PA's apple orchards! Pennsylvania has one of the longest, most diverse apple seasons in America with dozens of apple varieties ripening at different times from mid-July to early November. We've picked the best spots for you and your family to enjoy the ultimate autumnal vibes across the state with pick-your-own apples, hayrides, and orchard adventures galore.
10. Heller Orchards
Wapwallopen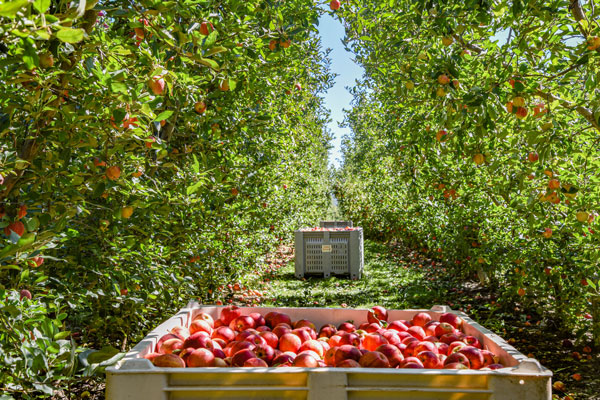 A hotspot for high quality, crisp autumn apples since 1919, Heller Orchards is the perfect pick to get your apple fix this fall. Fall is the busiest time of year at this family farm—in fact, they pick about 40,000 bushels of apples every year! This orchard currently has more than 20 varieties of apples, and their store has more take-home goodies, like their fan-favorite apple cider. Their annual Apple Festival hosted in October offers even more seasonal festivities against the picture-perfect backdrop of the Council Cup scenic overlook.
11. Lakeland Orchard and Cidery
Scott Township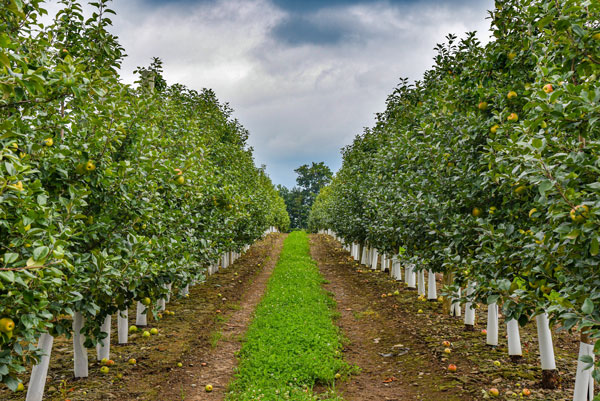 Lakeland Orchard and Cidery delivers the ultimate autumnal experience starting with a wagon ride out to the orchards where you can fill up your basket with juicy apples. This u-pick apple orchard has more than 20,000 trees and 30 varieties from which to choose including some wacky—yet delicious—choices such as Pixie Crunch. While you're there, sip some brews at the Cider Garden, try your hand at axe throwing, or sway to the sounds of local live music.
12. Mt. Airy Orchard
Dillsburg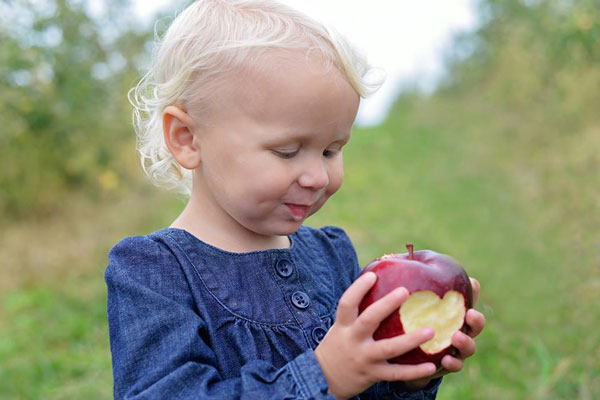 Pick the ripest, juiciest apples at Mt. Airy Orchard from Labor Day until the end of October. Stroll through the grounds and hand-select your flavors from more than 25 apple varieties. When not perusing the 150 acres of fruit trees, dive into some fun fall activities such as a wagon ride, corn maze, and the kids' fun zone.
13. Flinchbaugh's Orchards​
Hellam
Flinchbaugh's Orchards is calling your name this fall! This fourth-generation family-run farm hosts pick-your-own apple season from mid-September to mid-October. The orchard features apple favorites such as Gala, Golden Delicious, Fuji, and Cameo. More seasonal fun includes picking your own pumpkins and sunflowers and getting lost in their five-acre corn maze. The theme for the maze this season is "Bee Kind"!
14. Maple Lawn Farms
New Park
Maple Lawn Farms is ready for you this pick-your-own season! Until November, fill up your basket with apples then fill up your glass with wine made from fruits straight from the orchard at the Maple Lawn Winery. Their Apple Blossom Wine features sweet flavors and a crisp finish that goes down smoothest when admiring PA's countryside.
15. Apple Castle
New Wilmington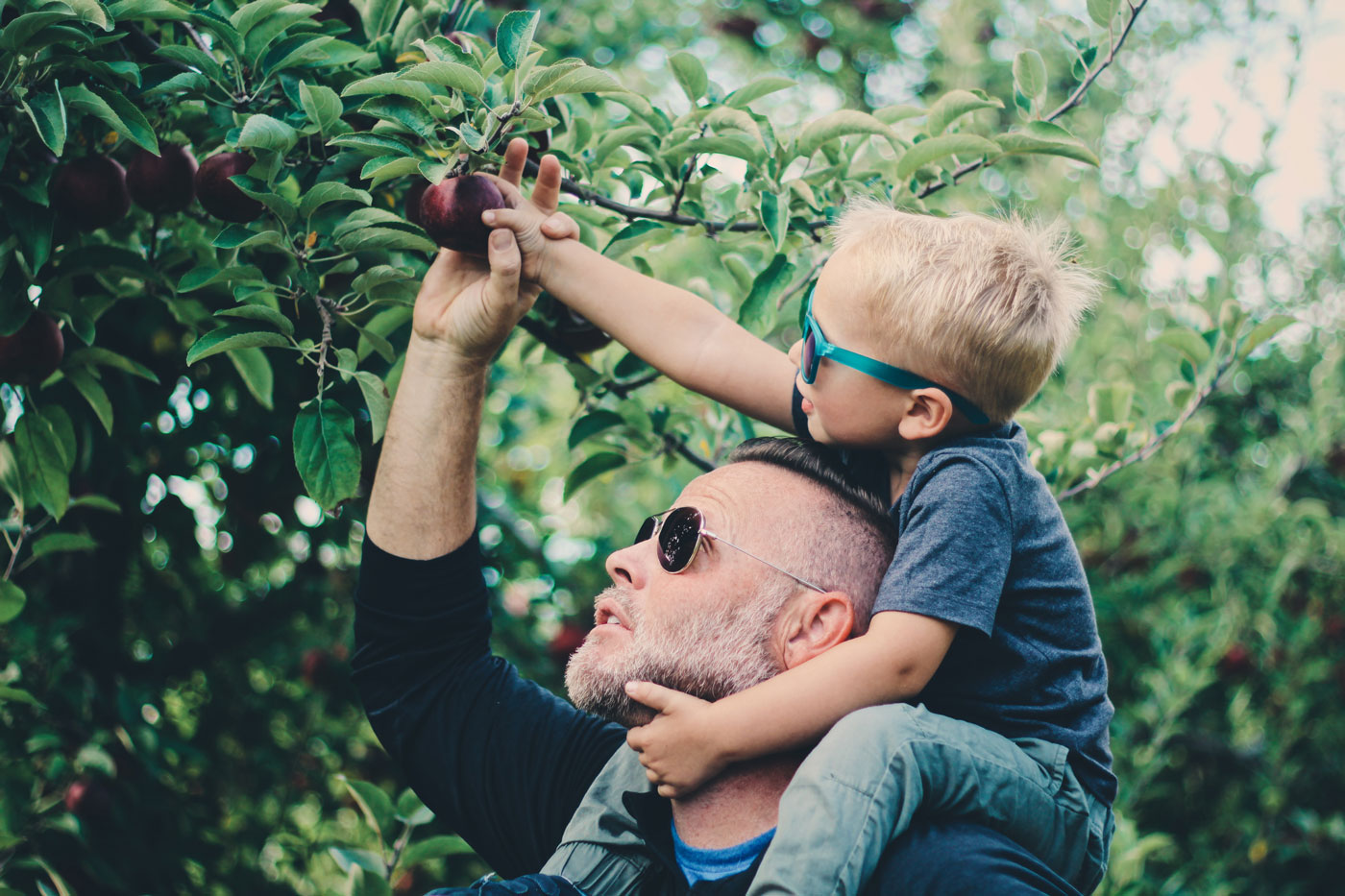 Hand-pick fond memories this fall at Apple Castle. The longevity and tradition of Apple Castle has made this family orchard a favorite spot for more than 150 years. Have fun on the farm with pick-your-own apples and pumpkins and other farm events. Don't forget to visit their farm market and try their famous apple spice donuts made from their very own cider and apples.
16. Donnelly Orchards
Huntingdon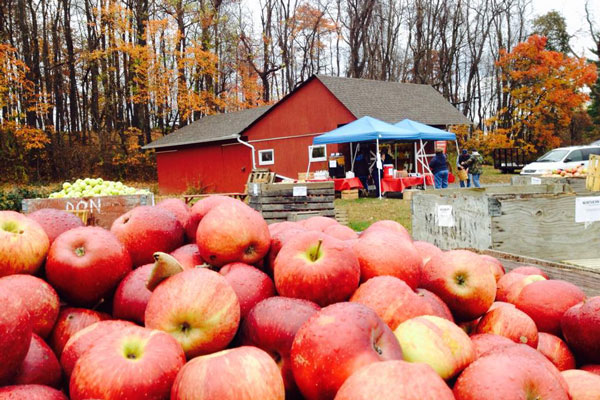 Specializing in apples, peaches, and cider, Donnelly Orchards hosts their annual end-of-season sale—Bin Day—on the last Saturday of October every year. On Bin Day, you're invited to help clean out all their apple bins and take home some apple-solutely delicious varieties. Be sure to try their well-known fresh cider and cider slushies as a reward for all your hard work!
17. Triple B Farms
Every weekend from mid-September through October, Triple B Farms opens their orchards for the ultimate pick-your-own experience. Select from a wide variety of apples from Honeycrisp to Jonagold to Fuji. Among the farm's many fun activities are hayrides, the corn maze, "Farmcade" games, and you won't want to miss the singing chicken show!
18. Rodale Institute
Kutztown
Well ahead of the times, the Organic Apple Orchard at Rodale Institute was first planted in the 1980s to research best practices for growing apples organically. Today, the orchard grows 30 varieties of McIntosh apples ready to be picked starting in mid-September! Have the ultimate apple-filled fall at their Organic Applefest where visitors venture to Rodale Institute to pick organic fruit from the orchard, enjoy live music, participate in games, and indulge their creative side with arts and crafts.
19. Hollabaugh Bros.
Biglerville
Located just minutes from historic Gettysburg, Hollabaugh Bros. is a family owned and operated fruit and vegetable farm that has been growing seasonal fruits and veggies for more than 67 years. During prime apple season, experience their Bin Porch where guests can fill their own bag mixing and matching more than 20 different varieties at a low price. When you're not picking from the porch, you can take advantage of their pick your own experience and select your favorite variety right off the branch.
Looking for more pick-your-own experiences oor farmers markets in Pennsylvania? Be sure to check out the visitPA website and follow us on Facebook, Twitter, and Instagram for more PA inspiration. Do not forget to sign up for our monthly Happy Thoughts e-newsletter so you never miss an update.