For gardeners, autumn is bittersweet. We begin to miss the sounds, sights, and smells of the garden in bloom. At the same time, there's a part of us that looks forward to the break. During the cold winter months, we can slow down — no more lifting heavy bags of mulch or weeding out tenacious thistle.

Fall Cleanup: Your Choice
Many gardeners think of "fall cleanup" like you'd think about cleaning the house before a big trip: You wouldn't want to come home to a dirty house, would you!? If you don't prepare the garden in autumn, will it turn into a bigger chore in the spring?
Well, here's a secret, a surprise, a gift, even: Your garden isn't dirty. You don't have to clean it. And in many ways, your garden might be better off left alone.
Allow fallen leaves to remain on your garden beds. Use the forest as your guide: Autumn foliage adds a natural layer of mulch that breaks down over time and nourishes the soil. Plus, native wildlife depends on the leaves for food and shelter. Think of that layer as an extra blanket you've given your garden. If you're motivated — and have a leaf chipper — you can grind the leaves up and then return them to the beds. Shredding the leaves will allow them to decompose, enriching the soil, more quickly.
Then there's cutting back perennials, which is often seen as an essential winter cleanup task. We've already established that gardens aren't dirty and generally don't need cleaning up, but there are some pros to pruning perennials. First off, some perennials that have died back — the upper part of the plant has died, while the roots are alive and waiting for spring — look unappealing. The stringy mush that is frost-zapped hosta just isn't pleasing to look at. It's perfect for the compost bin. The other benefit to cutting back perennials in the fall is that it will be one less thing to do in the spring, when you'd rather be planting.
On the other hand, wildlife makes use of the plants, even those brown stalks that look dead. Goldfinches, for example, appreciate echinacea seedheads, and you'll have fun watching them feast. Bonus: the seedheads are pretty, especially with dew and frost clinging to their edges. Old stems also help to insulate the roots of the plant from the elements, so you may be doing your plants a favor by keeping your clippers at bay.
As for me, cutting back perennials is one of my favorite very-early spring rituals. I do it on that wondrous day when I first smell spring and the temperature approaches fifty. Usually this happens in February or early March.

To-Do List
So now that you're off the hook for raking leaves or cutting back perennials, you have time to do other projects. Autumn is the best time to plant bulbs, perennials, shrubs and trees. There are a few exceptions, but for the most part, if you can get planting done now, rather than in the spring, your garden will reward you. In autumn, there's less need for water and by the time the heat of summer hits, plants have had time to settle in and develop a strong root system.
October through December is bulb-planting season. Before the soil enters deep freeze, you can place daffodils, tulips, and alliums with abandon. Wait until bulbs go on clearance in November or even December and plant them for yourself or others as a Christmas gift. In the spring, when they burst forth from the thawing earth, it almost feels like a surprise, the chilly November afternoon they went into the ground a distant memory.
Autumn is also the best time for planting or moving perennials. Watering needs are low as temperatures cool and plants prepare to go dormant. When spring arrives, those fall-planted plants will flourish. An important exception: You usually don't want to move a plant while it's flowering. Flowering plants exert a lot of energy into their blooms. Asking a plant to recover from a move at the same time that it's in the throes of fulfilling its reproductive destiny is a big ask.
If you must move a plant while it's blooming, you can improve its chances by keeping it well watered or by cutting off all flowers and buds — heresy, I know! Nevertheless, it will make the move easier on the plant and provide a nice bouquet for your kitchen table. Overall, the general rule is to transplant spring-blooming plants in fall and fall-blooming plants in spring.
Another benefit to transplanting in autumn is that you've just been through a summer in your garden — you've walked your paths, looked at the beds, moved your pots around, admired the view from your windows — and have a finely-honed sense of what's working and what isn't. That big tree peony at the front of the bed? It would look better in the back. The hardy geraniums getting lost (and shaded out) in the middle? Time for them to take their spot front and center.
For all the talk of looking forward to spring, there is still some color to be squeezed out of the shortening days. You can replace summer annuals — the ones turning to mulch — in high visibility spots like window boxes and planters with bright, cheerful pansies. The little violas called Johnny Jump Ups are smaller and tend to bloom more reliably and exuberantly than their larger cousins. Small evergreen shrubs, heucheras, sedges, and sweetflags also make lovely seasonal plantings. Winter container plants are durable and many can be transplanted into the garden in spring.
So if I've imparted one piece of wisdom here, it's that fall gardening is what you make of it. Do a lot. Do a little. Take a break. Get the spring vision board going. Just make sure you soak up every sunny afternoon. They won't last forever.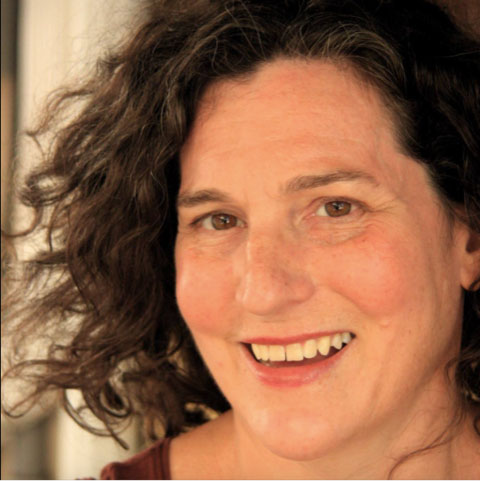 Carrie Borgenicht runs Earthly Delights, a small gardening company in Philadelphia. Each year, she proves, once again, that more plants can fit into a city garden than even she could have imagined. This is the first in a series of stories about inspired gardening at home.
Photo credit: Bob Bruhin