Whether you garden on the edge of the woods, in a subdivision, or on a concrete pad behind a city row home, you can plan a garden that showcases each season's unique beauty. And regardless of your style — meticulous planner versus more of an experiment-as-you-go type — the process can be just as rewarding as the end result.
We've got some tips for creating an eternal garden, a space that inspires satisfaction and joy while you're actively pruning shrubs, appreciating it from a bench among the flowers or peeking out a kitchen window at snow-covered branches.
Tip #1: Wait
This is the most important piece of advice given to new gardeners or to gardeners in new homes.
Spend a year getting to know how the sun moves across your outdoor spaces, feel out the soil conditions, and map the sight lines of your garden. Take your time determining the best places to dig garden beds, plant trees and shrubs, and to place containers.
It's good advice. And nearly impossible to follow.
The first warm day in April, it's tempting to put on your jeans, throw a tarp in the back of the car, drive to the nursery and load up the car with a dozen (or three dozen!) flowering shrubs and perennials. But since nurseries carry plants in their peak season, the greenery you bought in April is likely to be finished blooming by mid-May. By then, you may have run out of room to plant summer sunflowers, fall asters, and winter evergreens.
Tip #2: Plant (mostly) annuals the first year
The good news is that you don't have to sit on your hands while you're getting to know your garden. Annuals, which grow, bloom, and die within the growing season, can satisfy the urge while you're planning more permanent plantings — and they'll help you learn about your garden in the process.
For example, impatiens flower in the shade, but even they have their limits. If impatiens aren't blooming under the oak tree, that may be an indication that hosta and ferns, which thrive in the deepest shade, might do well there.
Tip #3: Get to know your garden
If the garden is new to you, get to know your existing plants. It might be worth inviting a plant savvy friend for an identification walk. A bunch of bare sticks in February may turn into a lovely blue hydrangea in June, and a low growing patch of nondescript green might burst into a patch of daisies in July.
Create a simple "sun log." Note where the sun rises and sets on the garden, and for how many hours it lingers at different times of the year. Choose three or five areas and jot monthly notes or develop a simple chart: "March: front door bed, 9 a.m. - 1 p.m." Plants that prefer morning sun may bake with too much afternoon summer sun. Note different levels of shade, too. The shade under a birch tree, for example, is often dappled, letting spots of sun shine down. Underneath an evergreen holly it will be almost dark, with almost no light getting through.
Get to know your soil, too. The first and best thing to do is to order a soil testing kit from the Penn State Agricultural Extension, available online for $9. The soil test will give you vital information about the nutrients in your soil. Most importantly, you'll learn the average pH, which will help you determine which plants will thrive in your specific conditions.
While you're at it, consider the best place for a compost bin or two. Compost gets you a lot of bang for your buck: It reduces solid waste and improves your garden soil. The best place to put your compost is where you'll actually use it.
Pay attention to sight lines. What's the view when you pull into the driveway or turn onto the sidewalk in front of your home? Is there a window you look out while you're doing dishes? How about the breakfast table? Those are the areas you'll want to plant first.
Tip #4: Go for walks, volunteer, make (garden) friends
The next step is to look for inspiration. Walking in your neighborhood, a local botanical garden or public green space like a college campus is one of the best ways to learn about what blooms — and when. And if you encounter a gardener at work, catch their eye. You might be surprised at how eager they are to share their knowledge. The same applies to home gardeners you might know through work or other parts of your life.
Colleges offering horticulture or landscape degrees are terrific places to visit. You'll find less common plants there, they're free, and they sometimes offer classes to the general public.
Public gardens often have robust volunteer programs. Volunteering is a great way to learn and to meet people who are passionate about gardening.

Tip #5: Get organized
If you're just starting out, recording what you've observed on your walks in a weekly calendar or chart, either electronically or on paper, will be invaluable. Note plants that are blooming or at their peak, be it showcasing flowers, or sporting attractive foliage.
Bring a notebook (or make notes on your phone) and your camera. Note the date and the conditions of the plants that catch your eye. If you don't know a plant's name, show a photo to a gardener, nursery employee, or post on one of many ID forums online.
In early spring, buds and flowers are what we're most likely to notice. In the summer, grasses move in the breeze. In the autumn, seedheads and colorful foliage play a starring role, and in winter, evergreens, interesting bark, and the structure of trees is revealed.
Pro tip: Some plants have multiple seasons of interest, for example a spring bloomer with lovely fall foliage, a tree that provides shade in the summer and pretty bark in the winter. In small gardens, where we're limited in how many plants we can grow, these plants get priority.
Tip #6: Or don't (get organized)
If the advice to make charts and take careful notes makes you want to pout, protest, and stomp your feet, that's okay. There are other ways.
Some of us prefer a more laid back, organic planning process, one that feels less like planning and more like playing.
Go for walks. Plant colorful annuals. Find people who are passionate about plants and gardens, join walking tours and classes at your local public garden, read gardening books and magazines.
Your garden may evolve more slowly, but will be no less lovely. One of the best ways to dream your garden into existing is by doing just that. Dreaming.
Some Early Spring Plants to Try
Snowdrops (Galanthus) and winter aconite (Eranthis) are among the very first bulbs to bloom in our region, sometimes peeking through melting snow. They go completely dormant early in the season, so can be interplanted among later blooming perennials or even in the lawn. They won't take up valuable space.
Spring starflower (Ipheion), Iris reticulata, glory of the snow (Chionodaxa), and Siberian squill (Scilla siberica) — they add color and charm to any garden.
Witch-hazel (Hamamelis) blooms early, with fragrant flowers and the added bonus of gorgeous fall color.
Flowering quince (Chaenomeles) blooms with lovely, large flowers in shades of red and pink — just watch out for the thorns. A note of caution: As with Forsythia, witch-hazel and flowering quince can grow fairly large. Wait until you have an overall plan to plant these wonderful shrubs.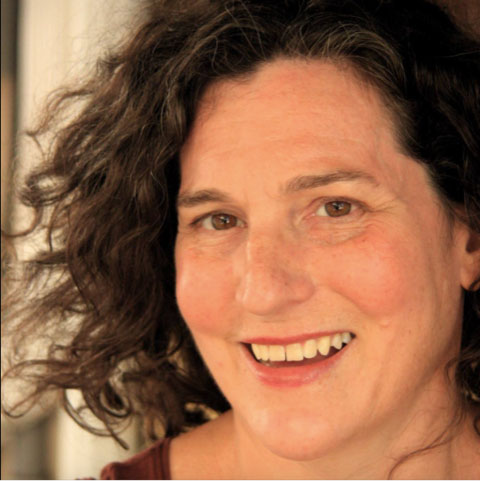 Carrie Borgenicht runs Earthly Delights, a small gardening company in Philadelphia. Each year, she proves, once again, that more plants can fit into a city garden than even she could have imagined. This is the first in a series of stories about inspired gardening at home.