April's the perfect time to plan to see your favorite wildflowers in full bloom during the warmer days of spring! Tie up your hiking boots and hit one of these PA trails to get a glimpse of the wild side of nature in PA. Please be sure to "just look with your eyes" and leave these wildflower beauties where they grow best to be admired for generations to come.
11. Eliza Furnace Trail
Pittsburgh
Part of the Three Rivers Heritage Trail, the Eliza Furnace Trail is a six-mile hike that starts in the southwest corner of Schenley Park and winds from Point State Park to the downtown section of the Heritage Trail and back. Open year-round, the trail offers iconic views of Pittsburgh from along the Monongahela River where you can point out the South Side, the Hot Metal Bridge, and Mount Washington. The already scenic experience is elevated when in-season wildflowers line the path.
12. Strawberry Hill Nature Preserve
Gettysburg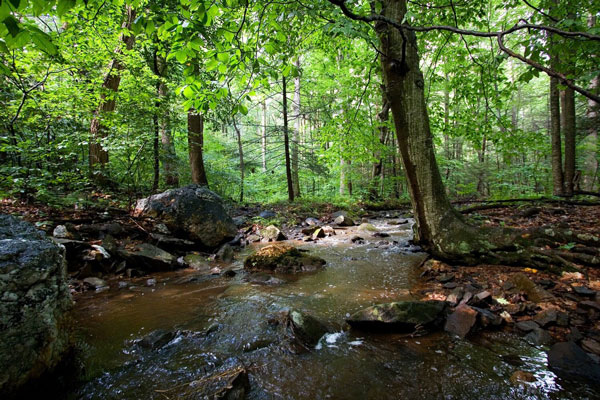 Follow the white blazes of the one-mile Nature Trail at Strawberry Hill Nature Preserve for a great introduction to the preserve's many varied habitats. Passing through wetlands, woodlands, and glimpses of Swamp Creek, the trail promises a variety of beautiful wildflowers. The pink blazes of the scenic, 2.25-mile Swamp Creek Trail offer a slightly more challenging hike through forested groves of towering tulip poplars and beech and hemlock trees.
13. Ricketts Glen State Park
Benton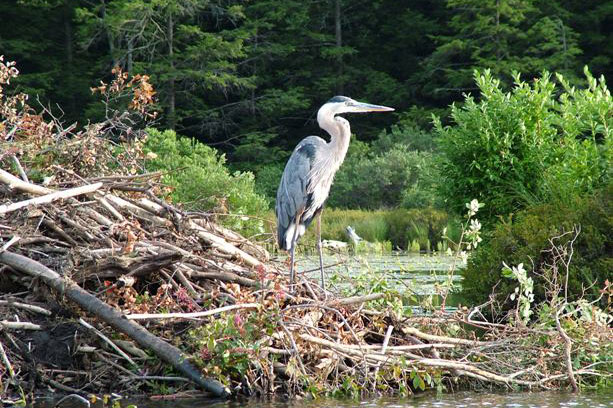 Known for some of the most scenic spots in PA, it's no surprise that Ricketts Glen State Park offers an abundance of trail experiences where you can view a wide variety of beautiful spring wildflowers. These include Jack-in-the-pulpit, wild ginger, Marsh marigold, and bluets along paths leading to the park's famous waterfalls, meadows, and around Lake Jean. Before you go, be sure to download the guide to the flora of Ricketts Glen.
14. Ghost Town Trail
Dilltown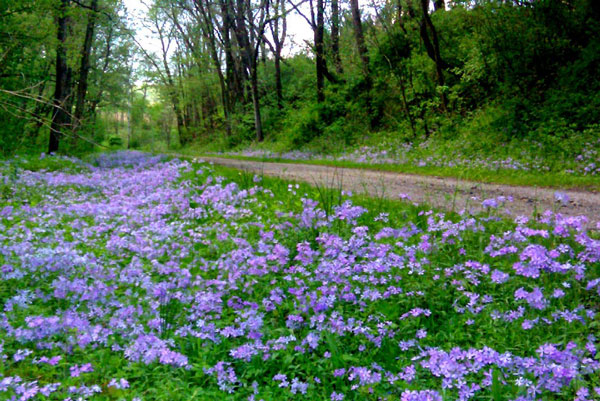 Hiking along the 46-mile Ghost Town Trail it's easy to see why the trail was voted Pennsylvania's 2020 Trail of the Year! During April and early May, gaze at dozens of gorgeous wildflowers along the route. You can walk, hike, bike, or run the trail that traverses Indiana County and continues into neighboring Cambria County, passing numerous historic sites, including the Buena Vista and Eliza Furnaces. View the interactive flipbook, which is loaded with maps and info on the area's history, trail mileage, and advice on trip planning.
15. Wolf Creek Narrows Natural Area
Slippery Rock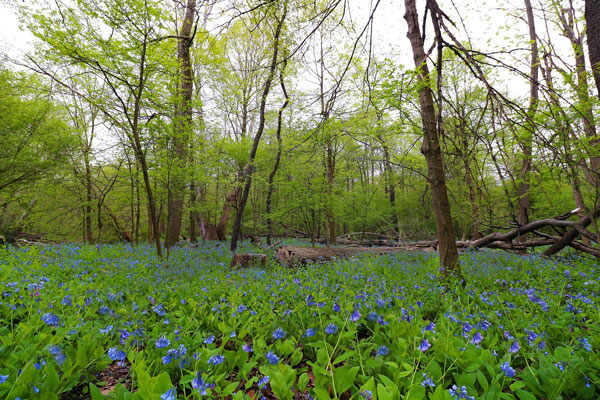 Virginia bluebell, spring-beauty, trout-lily, and white trillium are just a few of the stunning spring flowers to see along the 2.8-mile loop trail at the Wolf Creek Narrows Natural Area. The spectacular display of spring wildflowers is followed up by summer's violet and white flowers of the Water willow that grows in thick beds within the shallow, rock-bottomed waters of Wolf Creek.
16. West Park Nature Center
New Castle
Explore the 100-acre West Park Nature Center with its multiple trails, picnic area, observation deck overlooking several acres of wetlands, and beautiful wildflower meadow. Twenty-five acres of the park is dedicated as a Certified Audubon Society Wildlife Sanctuary.
17. Sunfish Pond County Park
Canton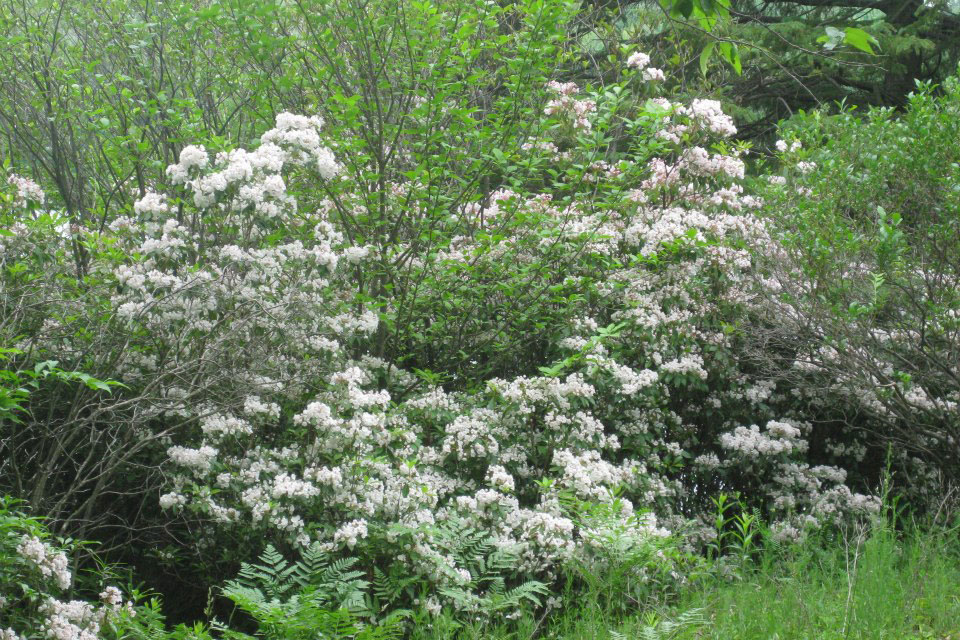 While the 70-acre Sunfish Pond County Park is perhaps best known as a prime fishing spot with its 30-acre pond stocked with trout, bass, pickerel, perch, and sunfish, the park is also home to a wide variety of wildlife including several bald eagles. Located on top of Barclay Mountain, the park's trails come alive with wildflowers and the green shoots of other plants in spring making it a great spot to connect with nature!
18. Schuylkill River Trail
Philadelphia
The 120-mile-long Schuylkill River Trail features a host of different habitats and sights to see, but the portion that runs through Philadelphia's Fairmount Park perhaps offers the best locale to spy beautiful spring wildflowers in bloom. Enjoy views of the river, the city skyline, the park's flowering trees, and one of the greatest collections of wildflowers to be found on the green lawns of Kelly Drive that border the trail.
19. Laurel Highlands Hiking Trail
Rockwood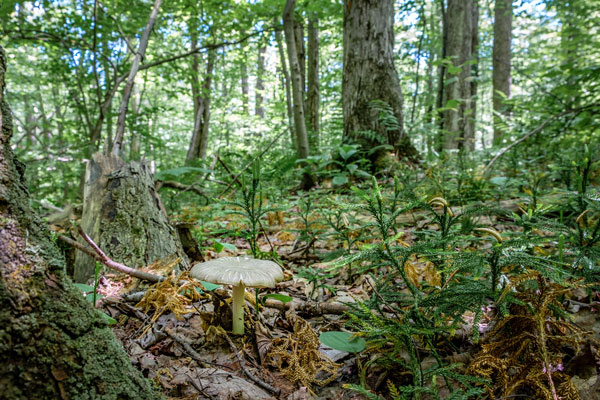 The 70-mile Laurel Highlands Hiking Trail is a favorite for hikers and nature lovers alike. Going from mile marker 0 to mile marker 3 isn't just one of the most challenging sections of the trail, it also features some of the best and most diverse wildflower viewing opportunities on the Laurel Ridge.
20. Enlow Fork Natural Area – State Game Lands 302
Graysville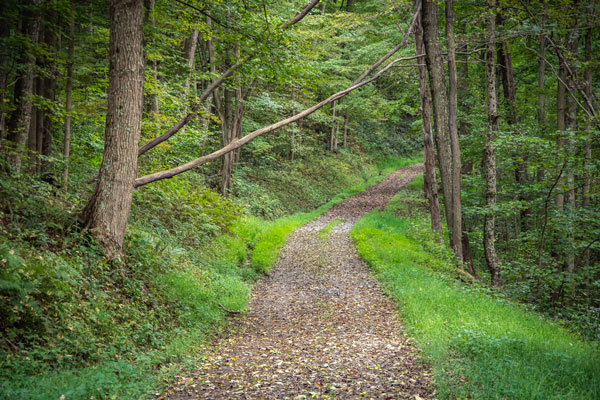 While birders flock to the Enlow Fork Natural Area to spy a variety of birds from a wide variety of species, the area also offers prime viewing for wildflower lovers. Here, you'll have a chance to discover several rare, protected species of flowers, such as the Blue-eyed Mary, a prairie-remnant species. Mature sycamores dominate Enlow Fork's streambanks, along with silver maple and other characteristic riparian species, that provide habitat for the area's wildlife.
21. Mountain View Trail Loop
Laughlintown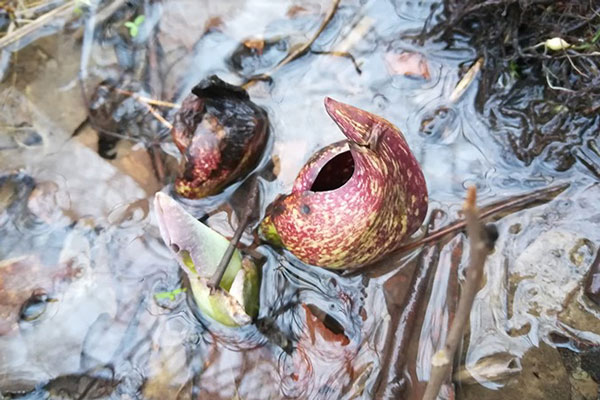 Pennsylvania's Forbes State Forest offers more than 100 different trails covering over 250 miles of terrain and a variety of habitats, as well as playing host to a wide range of outdoor activities and educational experiences. For spotting some of the most colorful wildflowers in the forest, including Jack-in-the-Pulpit and trillium blanket in early May, the 3.9-mile Mountain View Trail Loop is great place to start.
Looking for more hikng spots in Pennsylvania to add to your #PABucketList this spring? Check out the visitPA website. Follow us on Facebook, Twitter, Pinterest, and Instagram to stay up-to-date on even more great ideas and places to visit around our state. Don't forget to sign up for our monthly Happy Thoughts e-newsletter so you never miss an update!