From glorious goudas to marvelous mozzarellas and charming cheddars, these 13 PA cheese and dairy shops will have you mooing for more!
7. Titusville Dairy Products Company
Titusville
Titusville Dairy Products Company (TDP) is 95 years young and a staple of PA's Oil Region. Known for their delicious yogurt, cottage cheese, and cream cheese, TDP also supplies ice cream mix to shops around the western Pennsylvania. All their products are certified kosher and crafted to provide the most delicious taste possible. Be sure to grab their best-selling cottage cheese for your next charcuterie board!
8. The Cheese House
New Wilmington
Every cheese lover simply must make a pilgrimage to The Cheese House for its selection of more than 100 types of domestic and imported cheese. Sharp cheese, swiss, baby swiss, smoked swiss, and colby can all be found, as well as dozens of unique flavors such as bruschetta jack, blueberry cheddar, ghost pepper, and Mediterranean Sunset Cheddar. They also offer products ranging from foods from around the world, puzzles, gifts, pickled goods, jams and jellies, and beef jerkies.
9. Pennsylvania Macaroni Company
Pittsburgh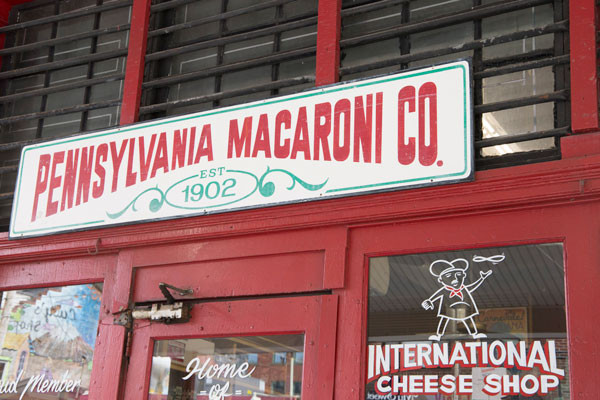 No visit to the Strip District is complete without a stop at the Pennsylvania Macaroni Company's cheese counter! This family-owned store is a true hotspot for gourmet cheese and authentic Italian food. Shop their most popular cheeses including pecorino-romano, Beemster Extra Aged-Welsh, and Cheddar-Alta Badia-Danish Blue. With more than 5,000 specialty products from which to choose, your charcuterie board will be the talk of the town!
10. The Grand Fromage
Shippack
Another "must-visit" for cheese aficionados, The Grand Fromage offers a wide selection of cheeses from around the area and around the world. With over 100 cheeses from the Americas and Europe, you'll be sure to create a charcuterie board that satisfies all taste buds! Can't decide on where to start on their cheese menu? Danablu, Mimolette extra-vieille, Saint Angel, and P'tit Basque are among their featured selections.
11. Town Clock Cheese Shoppe
Gap
Town Clock Cheese Shoppe is one of Lancaster County's most-loved hidden gems. Their cheese selection is vast — with counters brimming with local, domestic, and imported options. From softer varieties such as fresh mozzarella and burrata to hard cheeses including colby jack and cheddar, owner and "fromager" extraordinaire, Bill Houder, is always willing to impart his vast knowledge of the world's cheeses — honed from more than 80 years of his family's cheese-loving heritage, providing you with suggestions gleaned from your cheese preferences.
12. The Cheese Company
Narberth
Established in 1976, The Cheese Company offers not only a wide variety of scrumptious, high-quality cheeses but delicious specialty sandwiches. With a selection of more than 50 hard and soft cheeses from throughout the world, owner Sohelia Sobhani provides every customer with the perfect options for their charcuterie boards. Try their Cashel Blue, made from pasteurized cow's milky that features a sweet, milky, and pleasantly acidic flavor, or a classic option such as their aged provolone.
13. The Cheese Store & More
Hazelton
The Cheese Store & More is one of Hazleton's small hidden gems. Known for their premium cheese selection, friendly staff, and reasonable prices, this store is a town favorite and go-to place for every cheese need. In addition to cheddar, natural cranberry muenster cheese, and gorgonzola, Cheese Store & More lives up to its name, serving deli meats, homemade pastas including ravioli and pierogis, antipasto platters, hoagies, and desserts!
Follow us on Facebook, Twitter, Pinterest, and Instagram to stay up-to-date on even more great ideas and places to visit around our state. Don't forget to never miss an update and sign up for our monthly Happy Thoughts e-newsletter.