Calling all ATV enthusiasts! With more than 900 miles of ATV trails throughout Pennsylvania, get ready to buckle up for some incredible heart-pumping, off-road adventure. PA's state forests provide almost 265 miles of designated ATV trails with a variety of terrain guaranteed to produce the adrenaline rush that comes from an epic ride, while many private trails offer ATV tours in PA well into the fall. Before the summer riding season ends, be sure to check out these thrilling ATV tours and experiences throughout PA.
1. Mines & Meadows ATV/RV Resort
Wampum
For a truly epic and unique ATV experience, visit Mines & Meadows ATV/RV Resort to travel 250 feet underground to ride in total darkness guided only by your headlights as you explore a labyrinth of trails and three-acre underground lake of the abandoned limestone mines near Pittsburgh. The fun continues aboveground with close to 85 miles of trails on 877 acres where rides of all skill levels can challenge themselves on this ATV tour near Ohio.
2. Elk County Riders ATV Trail of Dreams
Kersey
Strap on your helmet and hit the trails throughout Kersey on the Trail of Dreams. An initiative of the non-profit organization Elk County Riders ATV, the group's goal is to connect communities with local ATV routes to showcase Pennsylvania's awesome recreational opportunities. Check in often for exciting updates about ongoing trail additions and route extensions.
3. ATV Riding in Allegheny National Forest
Marienville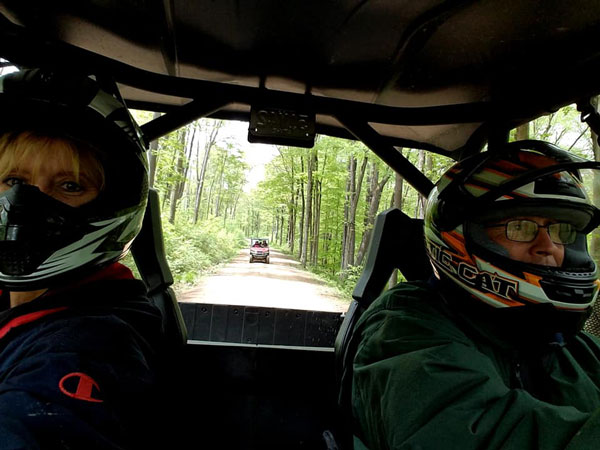 Enjoy 100+ miles of trails designated for ATV riding throughout the Allegheny National Forest. Beginners can steer their way along the Timberline Trail while experts can tackle the Rocky Gap south loop. Be mindful of the designated trails and follow all rules of the riding experience.
4. Susquehannock ATV Trail
Coudersport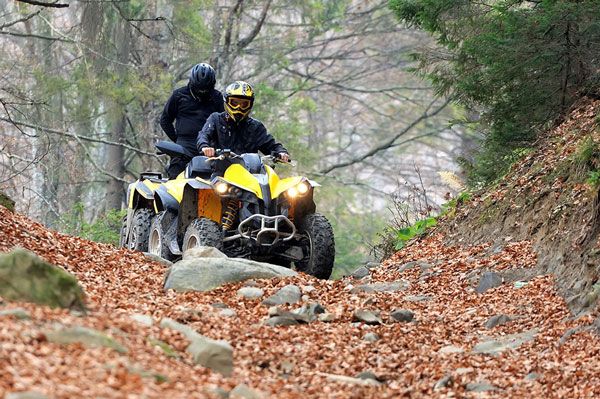 With an "Easy Difficulty Level" rating, the 43-mile Susquehannock ATV Trail is perfect for beginning ATV riders and enthusiasts alike. The trail is open for summer riding (that ends in late September) and features several interconnecting loops throughout Susquehannock State Forest. Access the trail at the Sunken Branch, Route 44, Rock Run, or Lyman Trailheads for a fun-filled day of adventure!
5. Rock Run Recreation Area
Patton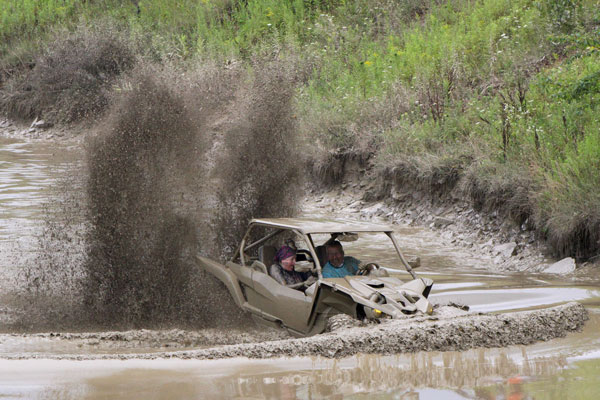 Riders of all levels and all kinds of off-road-vehicles can strap in for a day of fun and spectacular scenery at the Rock Run Recreation Area. With 140 miles of trails across 6,000 acres of land, four-wheelers, dirt bikes, and jeeps all have plenty of room to explore the area's rolling green trails. Experienced riders are invited to tackle Rock Run's black diamond trails. Regardless of skill level, be sure to stop along the way and take in the spectacular views from atop the Allegheny Mountains.
6. Mountain Ridge ATV Park
Central City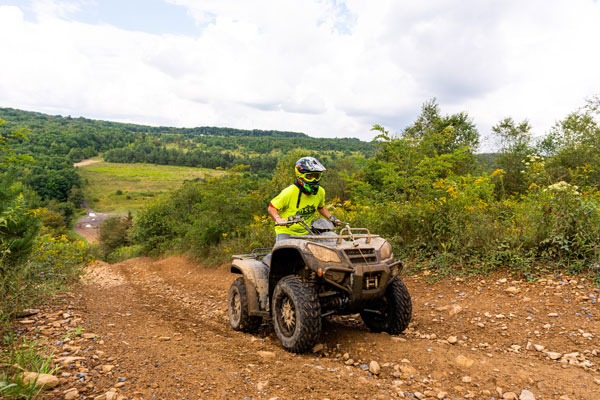 With a kids track, MX track, drag strip, hill climbs, night rides, mud bogs covering a range of terrain, 150 miles of trails, and 40 miles of single track, the good times just keep rolling at the 3,000-acre Mountain Ridge ATV Park. A top place for ATV tours in PA with campsites and rustic cabins available to rent and a brand new PA skills game room, be sure to book your reservation to ensure a day (or more!) of fun!
7. ATV at Quiet Oaks Campground
Cross Fork
Atop a beautiful hilltop, the Quiet Oaks Campground provides an exceptional ATV experience for its guests and other visitors along breathtaking northcentral PA trails. As you ride through the area's forests, fields, and hillsides, keep your eyes peeled for deer, elk, wild turkeys, fishing streams, and seasonal wildflowers. No worries if your ATV is in the shop or you simply want to try ATVing without the investment. Their new onsite ATV rentals will have you out on the trails and enjoying the great outdoors in no time!