Recovery to Resilience, PA's Only National Forest
Nature lovers, outdoor enthusiasts, and indeed, all Pennsylvanians, it's time to party! Pennsylvania's Allegheny National Forest (ANF) is celebrating its centennial year with a host of special events and activities. Whether you're into camping, kayaking, canoeing, fishing, hiking, biking, ATVing, dirtbiking, picnicking, horseback riding, cross-country skiing, snowshoeing, or nature watching, the forest's mountains, waters, and woodlands provide an abundance of opportunities to celebrate one of nature's paradises.
Through The Ages
The lands that comprise today's Allegheny National Forest have gone through several monumental changes throughout the past hundreds of millions of years. The unglaciated Appalachian Plateau on which the forest largely sits rose from the depths along with the Appalachian Mountains when ancient North Africa slammed into the southern and central Appalachian region way back in the late Paleozoic age, or about 250+ million years ago. Fast forward about 250 million years or so and humans started to inhabit the land where towering trees, naturally formed dry-rock shelters, and an abundance of wildlife and edible plants provided the necessities of life.
Fast forward again, this time thousands of years when the discovery of oil in these parts and the expansive old-growth forests attracted commercial enterprises, especially in the late 1800s and early 1900s until very little remained of the formerly towering forests. With so few trees left, massive soil erosion, extensive water degradation, and just a fraction of the formerly abundant wildlife, the area became known as the "Allegheny Brush Patch" with little to no appeal to outdoor lovers or even to commercial enterprises that simply moved on.
All was not lost! In 1921, the federal government appropriated funds for the purchase of land throughout the country for the creation of national forests, including the land that encompassed Pennsylvania's watershed area of the Allegheny River. On Sept. 24, 1923, President Calvin Coolidge signed Proclamation 1675 designating these lands as the Allegheny National Forest.
During the next several decades, hundreds of thousands of trees were planted, two stands of old-growth forestland preserved and protected, recreational facilities and cabins built, trails laid out, campgrounds established, and a major reservoir constructed, heralding a century of recovery and resilience.
Things to do in the Allegheny National Forest
No matter where you go in the ANF, you're in for a treat! The forest, rivers, streams, and trails all offer truly unique experiences, including a night sky free from light pollution that's perfect for stargazing. Nevertheless, there are a few places where the experience is nothing short of extraordinary!
Stroll Among the Ancients
Look up and get ready to be awe-struck when you through a mile of towering 300 - to 400-year-old white pines, hemlocks, and beech trees along the Hearts Content Scenic Interpretive Trail. Harboring one of the few remnants of the old-growth forests-that once covered the land, this 20-acre stand of old-growth woodlands is a must-visit for a truly mystical, outdoor experience. Reserve your spot to sleep beneath these giants at the 27-site campground or pack a picnic lunch for a daytrip to the area.
Equally stunning is the 4,000-acre, old-growth forest found in the Tionesta Scenic and Research Natural Area. Pennsylvania's newest member of the Old-Growth Forest Network and the largest tract of old-growth forest between New York's Adirondacks and the Great Smoky Mountains, you'll find large stands of hemlocks soaring into the sky, along with birch, oak, maple, ash, and black cherry trees. This is also your chance to witness the forest's natural regeneration following the F4 tornado that swept through this area in May 1985.
Spend a Night (or Two) in Relative Luxury Surrounded by Nature and History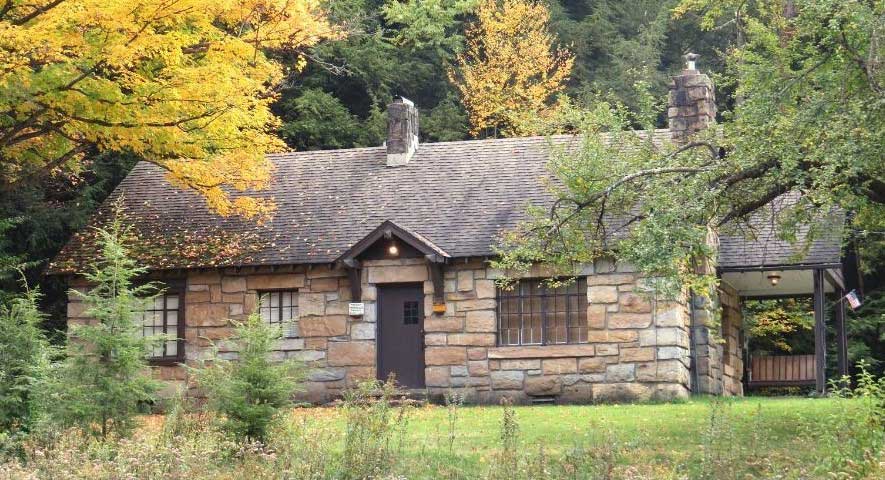 If tent camping or RVing just aren't your thing, the Farnsworth Cabin could be just the ticket for a night surrounded by the sights and sounds of nature. Built in the 1930s by the Civilian Conservation Corps, the two-bedroom stone cabin is brimming with charm and even all the modern amenities, including indoor plumbing, heat, a modern kitchen, and even Internet, satellite TV, and phone service, though these latter may have spotty reception. But who needs these latter "conveniences" at all when there are bears, deer, turkeys, barred owls, and pileated woodpecker to possibly spy, the trout-stocked Farnsworth Stream to fish, nearby trails to explore, and the large wooden swing to while away the afternoon!
Perfect Your Mountain Biking Skills
Whether you're new to mountain biking or a seasoned biker up for an extreme, adrenaline-pumping challenge, the series of mountain biking trails at Jakes Rocks has got you covered! With nearly 35 miles of stacked loop trails ranging from "easiest" to "most difficult," Jakes Rocks has fast become a must-visit destination for mountain biking experts and enthusiasts. The 0.6-mile Blacksnake gravity trail features an epic downhill ride, complete with berms and jumps. If you're looking for a "Classic Old School East Coast singletrack," the 10.2-mile out and back Tanbark Trail offers plenty of challenges, beautiful scenery, and a bit of technical riding and climbing. Mountain biking newbies can try out their skills on the Tuttletown and Coal Knob trails, each a bit over two miles long and with slightly challenging terrain for upgrading those beginner skills.
Pack a Picnic For a Scenic Drive
In decades past with "blue laws" intact, families would pack the family car and hit the road for a scenic Sunday drive. You can relive the experience traveling along one of the most scenic drives in the nation, the 36-mile Longhouse National Scenic Byway. Enjoy a leisurely trip under a canopy of black cherry and oak trees as you pass by stately forests, bustling campgrounds, and the Allegheny Reservoir. Be sure to take a break and stretch your legs at the Jakes Rocks Overlook with its expansive views of the surrounding forests and countryside. Another notable stop along the byway is the restored Old Powerhouse that helped fuel the region's oil boom. Be sure to download The Old Powerhouse Audio Tour from the website!
Saddle Up and Enjoy a Night Under the Stars
While horse lovers can ride in most areas of the park as long as they obey the rules, the Allegheny National Forest has a designated horseback riding trail and campground, complete with horse stalls. The 40-mile Spring Creek Horse Trail features loops of varying lengths and duration, taking riders near Wolf Run, Spring Creek, Little Hunter Creek and Bank Run on the national forest's lands and Hill Run in Pennsylvania State Gamelands #28. After a day in the saddle, relax and unwind camping out under the stars at the Kelly Pines Equestrian Campground. Located along the Spring Creek Horse Trail, the campground offers seven spacious campsites alongside a stream, with five sites solely for equestrians and their horses.
Escape With Some Island Camping
The Allegheny National Forest has four rustic campgrounds with 110 tent campsites that are most easily, or only, accessible by boat. Most of the campgrounds provide a picnic table, fire ring, and grill at each campsite and all have vault toilets for that true rustic, camping experience! No boat? No problem! You can rent a boat, kayak, or canoe from the ANF outfitter, Allegheny Site Management (ASM). Need other gear for your camping experience? ASM has you covered with all sorts of outdoor equipment, clothing, and other gear with 20 locations throughout the Allegheny National Forest.
Dining Near the the Allegheny National Forest
Enjoy a break from the campfire stews and s'mores for a wonderful meal after a day spent in the ANF's great outdoors. These fine restaurants in nearby towns are sure to delight.
Places to Visit Near the Allegheny National Forest
Looking for more outdoor activities in PA? Be sure to check out the visitPA website and follow us on Facebook, Twitter, Pinterest, and Instagram for more PA inspiration. Do not forget to sign up for our monthly Happy Thoughts e-newsletter so you never miss an update.