Pennsylvania's history is built into its civic buildings, educational facilities, and private homes. Discover eight architectural wonders, each relating a chapter of the state's storied past. Now is the perfect time to explore these amazing buildings on a road trip through the Keystone State — whether virtually or in person. Remember to check before hitting the road to see if your destination is open to visitors and of any special restrictions.
1. The Mercer Mile
Doylestown
Journey The Mercer Mile to learn about the amazing life and times of Henry Mercer – artist, archaeologist, and tile maker. Along the way, admire his home, Fonthill Castle with its 44 rooms covered in decorative ceramic tiles. Next stop: Moravian Pottery & Tile Works Museum – Mercer's Spanish Mission-style factory that still produces handmade tiles and mosaics in the same style of his original designs. Your tour ends at the aptly name Mercer Museum, the home of Mercer's vast collection of pre-industrial American culture with eight virtual exhibits where you can learn about the museum and the fascinating history of Bucks County.
2. Fallingwater
Mill Run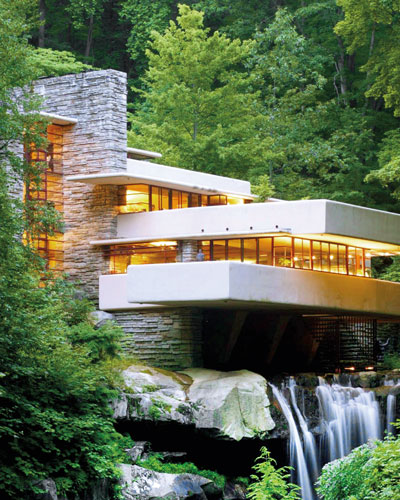 Frank Lloyd Wright's architectural genius is on full display in the homes he designed. Cantilevered over the rushing waters and waterfall of Bear Run, his most well-known work and architectural masterpiece, Fallingwater, is the ultimate showcase of Wright's unique ability to seamlessly connect architecture with its environment. In 2019, it was inscribed as a UNESCO World Heritage site.
3. Kentuck Knob
Acme
Just six miles from Fallingwater is Kentuck Knob, one of the last homes completed by the country's greatest architect, Frank Lloyd Wright. Both dramatic and serene, the house is situated just below the crest of a hill, making it appear almost part of the mountain itself with cantilevered overhangs and great expanses of glass.