Summer is just around the corner, which means there's plenty of time for your next outdoor adventure! And what better way to escape the hustle and bustle than a relaxing weekend retreat on your own island? Each campsite offers unique amenities and activities. There are hiking, biking, and kayaking options for the adventurous visitor, and hammocks and fire pits for those who just want to relax. So pack your bags, load up the car, and experience the joys of island camping in PA!
1. Shawnee Inn and Golf Resort
Shawnee on Delaware
Transport yourself to an outdoor oasis at the Shawnee Inn and Golf Resort and one of their private island glamping sites. Accessible only by canoe, you will get to take in views of the beautiful Delaware River along the way. Your island glamp site includes a camp attendant, fire pit, hammocks, and sturdy tents with beds, comforters, and bedside tables, making this a hassle-free way to explore and enjoy the great outdoors without having to lug (or break down!) all the essential camping supplies.
2. Susquehanna Outdoor Adventures
Bloomsburg
Family owned and operated for 40+ years, Susquehanna Outdoor Adventures is the perfect island camping destination for those that want to get out and explore. The site offers more than 10 miles of hiking trails, two treehouses, and areas for kayaking, fishing, and hunting. Wondering how to get to the island? Guests can kayak or canoe on their own or let the Outdoor Adventure team ferry you and your gear straight to the island.
3. Lakeshore Camping on Tionesta Lake
Tionesta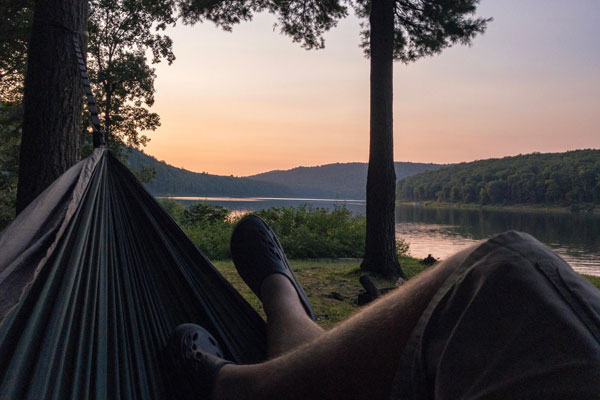 Nestled in the Allegheny National Forest, this rustic campground offers 21 shoreline campsites along Tionesta Lake accessible only by boat. While visiting, you can get out and explore daytime activities that include fishing and hiking and end the evening with a toasty campfire. Don't forget to bring your pup along as the site is pet friendly!
Insider tip: Looking for a more primitive camping experience? Go slightly up river and stay at the Allegheny River Island Wilderness Area, which features seven islands totaling 372 acres designated as part of the National Wilderness Preservation System.
4. Hooks Brook Campground
Russell
With more than 30 campsites, Hooks Brook Campground offers four reservoir campgrounds, six non-reservoir campgrounds, and more than 1,200 sites that are all located within the beautiful Allegheny National Forest. For lovers of the great outdoors, this campground offers hiking, biking, fishing, and kayaking that will keep your heart pumping! While there is a hand pump for water, you must bring your own potable water supplies, so please come prepared.
Insider tip: Reservations are not required, and guests are accepted on a first come, first serve basis, so make sure you hit the road early!
5. Pine Grove Campground
Bradford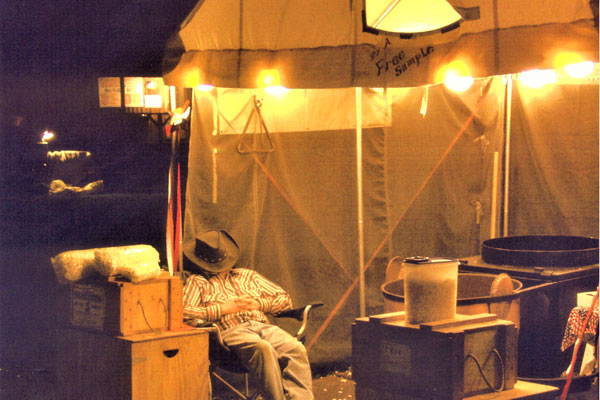 Accessible by boat, your island camping adventure at Pine Grove Campground will be filled with scenic views to kick off your trip. This small, rustic campground is located on the east bank of the Allegheny Reservoir just north of Kinzua Wolf Run Marina. Facilities at the 13 campsites include a table, fire ring, grill, vault toilets, and hand pump for water.
Inside tip: While there is a hand pump for water, you must bring your own potable water supplies, so please come prepared!
To learn about more top places to camp this season, check out the visitPA website. Follow us on Facebook, Twitter, Pinterest, and Instagram to stay up-to-date on even more great ideas and places to visit around our state. Don't forget to never miss an update and sign up for our monthly Happy Thoughts e-newsletter.