Franks, footlongs, red hots, weenies, or simply hot dogs — whatever you call these tasty treats, Pennsylvania's strong German roots make us one of the hottest spots to find them. In fact, one PA town has gone as far as deeming themselves the hot dog capital of the world!
After exploring these 27 stands, spots, and shops in the dog days of summer, you'll be expert enough to settle the age-old internet debate: is a hot dog a sandwich?
1. Yocco's
Allentown, Emmaus, and Trexlertown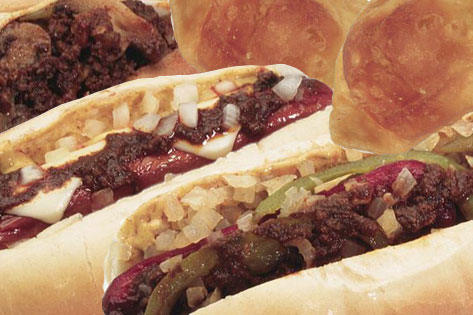 If you're in search of the best secret sauce for a hot dog, your first stop should be one of Yocco's locations in the Lehigh Valley. For 100 years, Yocco's has served as a community landmark, helping to propel the hot dog to celebrity status among residents and visitors. What makes Yocco's an iconic dog — is it the freshly chopped onions, the tangy mustard, the secret sauce, or the steamed bun? It's time for you to have a taste and decide for yourself!
2. Iron River Grille
Lewistown
A newer spot to the Allegheny region, Iron River Grille at the Lewistown Country Club provides guests dinner with a beautiful view of the Juniata River. Three delicious dogs can be found on the menu, and golf enthusiasts will feel transported to the Master's Tournament with the pimento dog. Doused in melted pimento cheese and layered with diced red onions, it's a uniquely themed take on the classic dog.
3. The Hot Dog Stand
Folsom
The Hot Dog Stand is a Delaware County staple offering outdoor seating and ice-cold drinks that perfectly pair with your dog and fries. Order the Classic with chili and cheese or opt for a more adventurous option such as the Texas Tommy, a grilled dog topped with crispy bacon and melted cheese.
4. M+P Coney Island
New Castle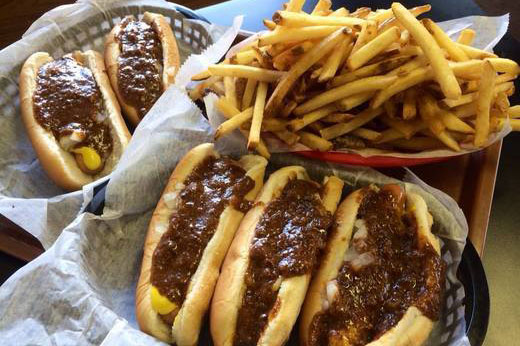 In the town self-proclaimed as the "Hot Dog Capital of the World," M+P Coney Island has been in the heart of it all since 1923. Founded by teenage immigrants from Greece, this Greek-style hot dog establishment has remained family owned for nearly 100 years! Visitors will experience why this spot is so popular once they get a taste of their secret chili sauce recipe.
5. Abe's Hot Dogs
Wilkes Barre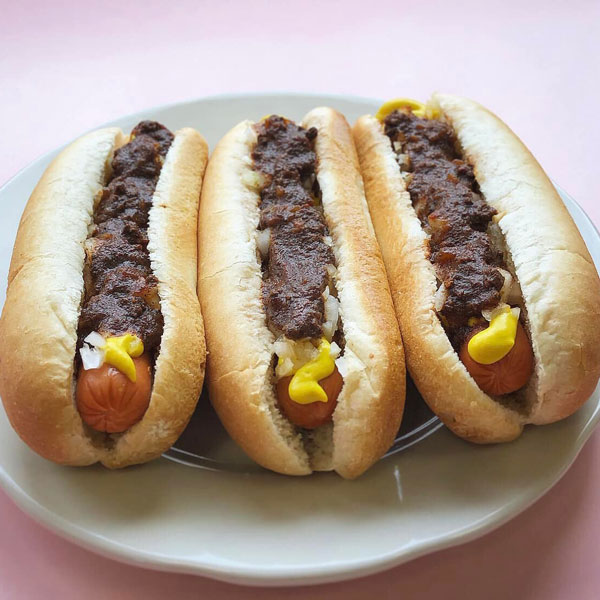 Get as hungry as possible before heading into Luzerne County for a hot dog duel starting at Abe's Hog Dogs in Wilkes Barre. Abe's has a classic diner vibe and serves breakfast, lunch, and dinner — but, of course, you'll want to grab a hot dog so you can taste Abe's sauce along with your choice of toppings. You'll be tempted by their choice of sides, but try to save some space...
6.Ferris's Lunch
Plains
...Because just across the parking lot is hot dog competitor Ferris's Lunch! As a classic hot dog joint, Ferris's pride is in its classic dogs topped with a chili sauce and a heap of toppings. Your mouth will be watering even before you enter when you see the dogs being cooked fresh in the front window. Once you've had a taste, you can finally decide which hot dog hotspot takes the crown for top dog!
7.Torony's Giant Hot Dog Stand
Plains
Since 1952, the Torony family has been serving some of the best hot dogs, fresh-cut french fries, and a special chili sauce sure to cure your cravings. Torony's Giant Hot Dog Stand began as a seasonal outdoor corner roadside stand that has since grown to an indoor location where folks can sit by the counter and munch away on a footlong topped with mustard, onions, and homemade chili.
8. Ranch Wagon
Shavertown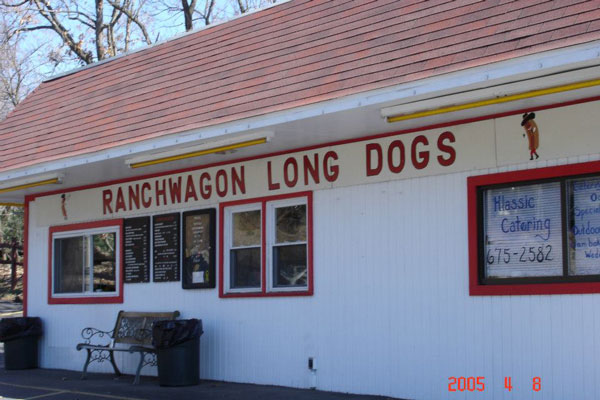 No short, skimpy dogs served here! The Ranch Wagon restaurant, located in the heart of the Back Mountain, is home to the famous Long Dog. Established in 1955 as a simple hot dog stand, they have made a name for themselves as the perfect spot to get some delicious homemade hot dogs! Their car side servers will assist you, so you can enjoy a hot fresh meal without leaving your car.
9. The Sub Hub
Reynoldsville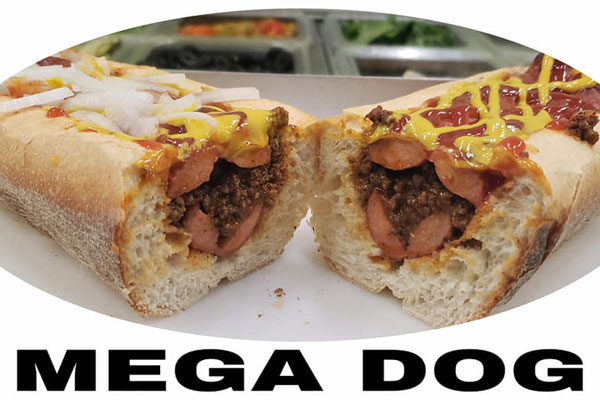 Hot dogs are sandwiches too, right? The Sub Hub sandwich shop, voted "Best Sandwich" in 2021 by Best of Tri-County, makes the biggest hot dog in Pennsylvania's great outdoors. The Mega Dog consists of two grilled footlongs coated with The Sub Hub's homemade sauce, a choice of cheese, and veggies on a fresh sub bun. Come hungry so you can devour this fantastic footlong.
10. Jimmy John's Pipin' Hot Sandwiches
West Chester
Featured on the Food Network's "Best Of: Roadside Stands," Jimmy John's Pipin' Hot Sandwiches has been cooking up fast food favorites for more than 70 years and is a go-to roadside stop for hungry travelers seeking a savory snack. Their Special Frankfurter comes with a variety of topping selections including chili, cheese, and bacon fresh from the grill!
11.The Squeeze-In
Sunbury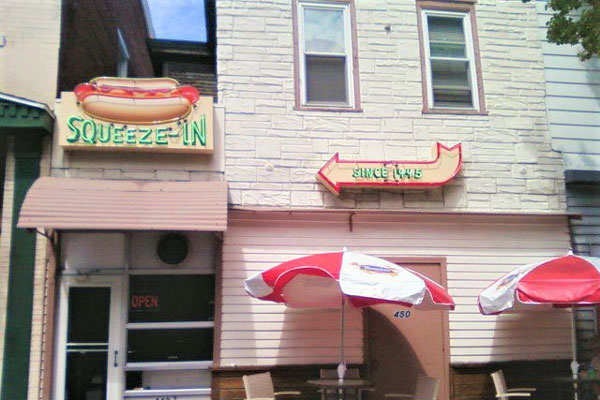 Serving up delicious dogs since 1945, The Squeeze-In holds national renown. With just five bar counter seats, this must-visit destination is famous for its tiny size and has even been listed in the Guinness Book of World Records as one of the smallest restaurants in the country. Though this spot is small, make sure to come with a big appetite so you can try all of the delicious dogs.
12. Harry's Hot Dogs
Sadsburyville
Family-owned and operated since 1973, Harry's Hot Dogs serves an abundance of offerings, but you must try Harry's famous hot dog. Topped with a special meat sauce, mustard, and chopped onions, this delectable dog is best complemented with a side of loaded fries. Choose from cheese, Texas barbecue, crab, Old Bay, and other crazy creations.
13. Greer's Burger Garage
Dover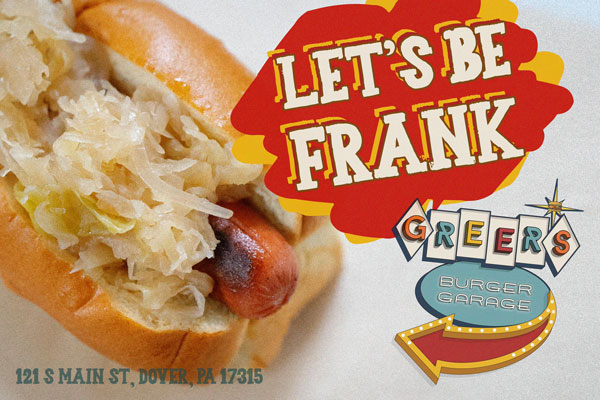 With the slogan, "Where old school meets new school," Greer's Burger Garage makes some of the best smash burgers and piled-high hot dogs in the region. With their juicy Sabrett hot dogs nestled in a fresh New England style roll, all that's needed is a pile of toppings to make this a must-try experience. Try one of their unique dogs, such as the Dutch Doggo with Dijon mustard and Dutch sauerkraut or the Seattle Sounder with jalapeno cream cheese, sauteed peppers, and onions. Add sriracha for an extra kick!
14. Pittsburgh Street Dogs
Springdale
Steel City's newest dog destination, Pittsburgh Street Dogs, has already made a name for itself in the hot dog market. This quaint shop combines its old school look with an outdoor seating area where guests can enjoy their meal. Try a dog from their rotating specialty hot dog menu or go with a classic with ketchup and mustard – and don't forget to add in a side of fries or chips.