On June 19, 1865 – two and a half years after President Lincoln signed the Emancipation Proclamation, enslaved African Americans living in Texas finally learned that the abomination of slavery was officially over and they were free.
Celebrate and commemorate this momentous "Day of Freedom" at these 26 events being held throughout Pennsylvania for Juneteenth 2022. Find more inspirational content on how to celebrate Juneteenth in PA on our website.
1. Continuing the Journey: An Evening with Dr. Eddie Glaude Jr.
Longwood Gardens plays host to Voices Underground and distinguished author, scholar, and political commentator, Dr. Eddie Glaude Jr., for an evening of dynamic conversation about Juneteenth and its importance to the ongoing journey toward freedom at Continuing the Journey: An Evening with Dr. Eddie Glaude Jr. Join in the conversation and enjoy a jazz performance by the acclaimed Kendrick Scott Trio, which kicks off the evening's lively discussion.
When: Jun. 17
Where: Kennett Square
Cost: $25
2. Freedom" Illuminated Fountain Performance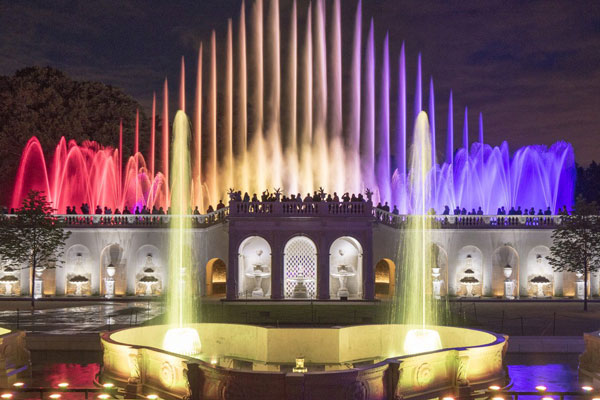 Dance to the music of Aretha Franklin, Marvin Gaye, Curtis Mayfield, Nina Simone, and other black artists as the night sky glows with Longwood Gardens' illuminated fountain performance, Freedom. This Juneteenth tribute to the end of slavery in the U.S. honors and recognizes the themes of freedom, hope, and strength, ending with Beyonce's heart-felt and spirit-lifting rendition of Lift Every Voice and Sing.
When: Jun. 17, 18, & July 31
Where: Kennett Square
Cost: Price varies
3. Western Pennsylvania Juneteenth Homecoming Celebration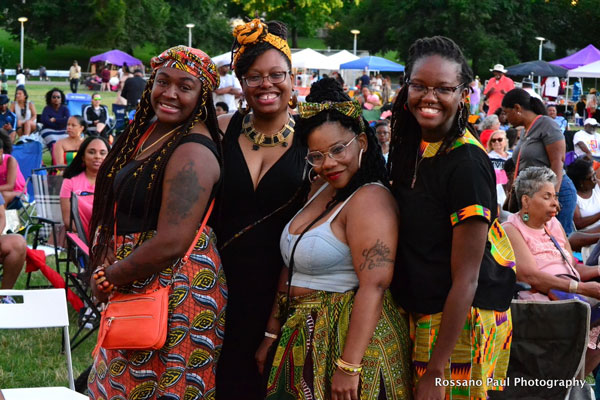 It's three days of music and celebration at the largest free Juneteenth concert in the nation featuring both national and local music artists at Pittsburgh's Point State Park and Market Square at the Western Pennsylvania Juneteenth Homecoming Celebration. Funk-soul band War is among the national headliners at Point State Park, while DJ Spinderella and DJ Holiday headline the performances at Market Square. There will also be dozens of minority-owned small businesses, artisans and other vendors at a Juneteenth Minority Vendor Plaza along Liberty and Penn Avenues.
When: Jun. 17-19
Where: Pittsburgh
Cost: Free
4. Juneteenth 2022 Reading PA
Reading kicks off its four-day Juneteenth 2022 celebration and commemoration with a flag-raising ceremony on the steps of City Hall at 1 p.m. on Jun. 17. St. John Missionary Baptist Church is hosting the opening service on Jun. 18 describing the importance of Juneteenth to the nation and community, along with music and recognition of local unsung heroes. It's a party at Berks Lodge #47 on Jun. 19 with free food, games, and entertainment at the Community Family Barbecue, followed by the closing service on Jun. 19 at Holy Trinity Church of God.
When: Jun. 17-19
Where: Reading
Cost: Free
5. Reflections of Black Experiences: Voices of Freedom through the Ages Art Exhibition
The State College NAACP is kicking off its third annual Juneteenth Celebration with an art exhibition at the Woskob Family Gallery featuring original 2D and 3D art, photography, sculpture, and crafts submitted by local individuals of color. The exhibition, Reflections of Black Experiences: Voices of Freedom through the Ages, is curated by Grace Hampton, Penn State professor emerita of art, art education and integrative arts. The public reception and awards ceremony includes music by the Lake Ensemble.
When: Jun. 17
Where: State College
Cost: Free
6. State College NAACP Juneteenth Block Party
Sample delicious dishes, support Black vendors, and come vibe with DJ Winner as he drops the beats. Enjoy the sound of live jazz, blues, funk, gospel, hip-hop, and R&B by a host of bands at the Juneteenth Block Party on Fraser Street and Martin Luther King Jr. Plaza in downtown State College. There will be poetry readings by local youth, musical performances by Grammy-nominated artist Ronnie Burrage, dance by Kikora Franklin featuring Tubist Dr. Velvet Brown-MOJATUBA, and a dramatic reenactment by renowned actor Charles Dumas.
When: Jun. 18
Where: State College
Cost: Free
7. Grand Jubilee Juneteenth Parade
In 1870, African Americans, whites, veterans, politicians, activists, poor, wealthy, men, women, and children paraded through the streets of Pittsburgh to celebrate the ratification of the 15th Amendment to the U.S. Constitution giving Black Men the right to vote. The 2022 Grand Jubilee Juneteenth Parade in downtown Pittsburgh celebrates that momentous day in the city's and the nation's history, followed by a voting rights forum at 1 p.m.
When: Jun. 18
Where: Pittsburgh
Cost: Free
8. Juneteenth Lehigh Valley
Historical Menu Tastings, live music performances, art exhibitions, poetry readings, quilting demonstrations, and a host of other events are being held in celebration and commemoration of Juneteenth at the SteelStacks. There are so many fun, educational, inspirational, and delicious events going on, you will want to try to get to them all during Juneteenth Lehigh Valley!
When: Jun. 18
Where: Bethlehem
Cost: Free (RSVP required for Historical Menu Tastings)
9. Journey to Freedom Juneteenth Festival
Celebrate Juneteenth and the rich, unique culture and history of African Americans at the Journey to Freedom Juneteenth Festival at the Creamery of Kennett Square. It's an afternoon and evening filled with live performances, historic re-enactors, authors, artists, drum line, live music, unique vendors, delicious food, and drinks from African American breweries. Enjoy a private beer tasting & panel discussion with local brewers (tickets required) and a live performance by Group Therapy to end the day.
When: June 18
Where: Kennett Square
Cost: Free; $20 for Brewer Tasting and Panel Discussion
10. JuneTeenth Freedom Festival
Commemorate Emancipation Day and celebrate freedom at the African American Network's 20th annual JuneTeenth Freedom Festival in downtown Stroudsburg. Enjoy fun-filled and educational games, entertainment, face painting, food, and a host of vendors at this wonderful and free community event.
When: Jun. 18
Where: Stroudsburg
Cost: Free
11. Juneteenth Freedom Day Celebration
Racial Reconciliation of Franklin County with host support by Wilson College invites you to a day of service and fun, entertainment, and fine food at the third annual Franklin County Juneteenth Freedom Celebration. Spend the morning helping out with a variety of local service projects, then party away the afternoon with free music, performances, food, and even free books and a raffle!
When: Jun. 18
Where: Chambersburg
Cost: Free (registration ahead of time is requested)