Find the lodge, cottage, cabin, or campground of your dreams for a scenic stay on the shores of Pennsylvania's lakes.
1. Bella Vista Raystown Lakehouse
James Creek
With six bedrooms and three and a half bathrooms, have the ultimate getaway at the Bella Vista Raystown Lakehouse. You will love the stunning, unparalleled views of Raystown Lake, the mountains, and valleys. When you stay here, you'll have quick access to the boat launch with amazing amenities such as a hot tub and an outdoor firepit with fire roasting sticks perfect for s'mores and hot dogs. In the mornings, sip coffee in the sitting room while watching the surrounding nature like deer and eagles, and at night relax on the deck with comfortable seating while enjoying food made in the barbecue pit.
2. Arroyo Cabin
Ridgway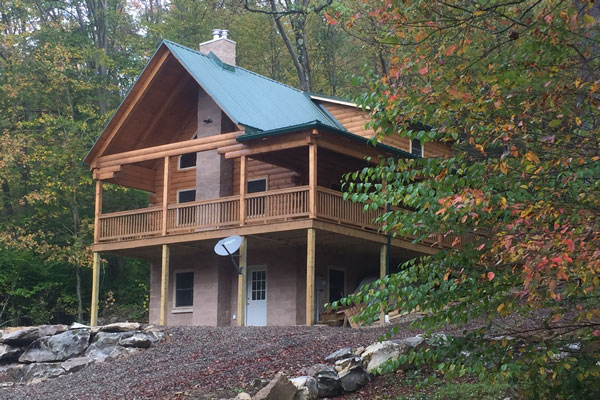 Plan your summer getaway for the whole family at Arroyo Cabin. The two-bedroom property has an additional loft and bunk beds to accommodate up to eight guests. Pets are welcome. Located in the Allegheny National Forest, you can see the Clarion River and Arroyo canoe launch from the wrap-around deck. The modern cabin is equipped with free Wi-Fi, smart TV, and a full range of appliances. Guests can enjoy themselves by participating in seasonal outdoor activities around the property and in the surrounding area.
3. Level Lakefront Home
Lake View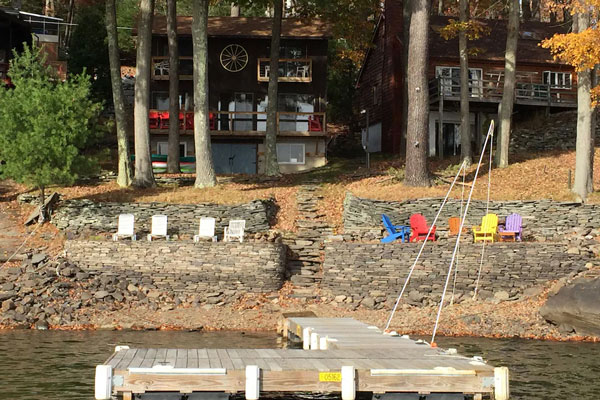 Situated on Lake Wallenpaupack, this Level Lakefront Home is made for water lovers. Bring your own boat and take advantage of the private dock – perfect for swimming, fishing, and water fun; take one of the six kayaks out for a row. Picturesque lake views can be found from a majority of the five bedrooms, while the indoor fireplace or outdoor firepit can help keep you warm. There are many fine restaurants around the lake and outlet shopping is a short drive away.
4. Luxury Log Home
Lake Ariel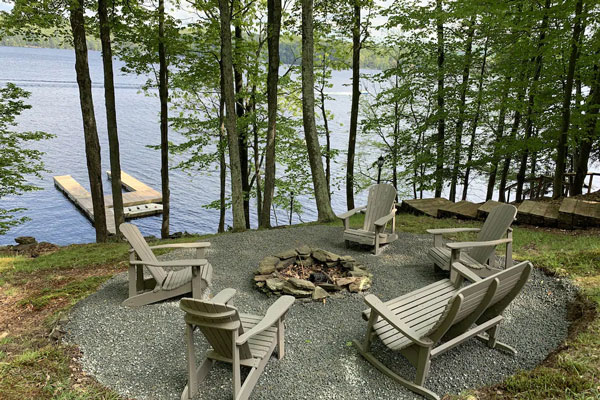 This Luxury Log Home will bring you water-ful views of Lake Wallenpaupack both indoors and outdoors. BYOB (bring your own boat) and park it right outside on your own dock. Don't have a boat? Rent a pontoon boat, wave runner, or speed boat for the day. When not on the lake, explore the on-site amenities. From two outdoor pools and a tennis court to fishing and nearby attractions, there's always something to do on and off the lake.
5. Dreamy Lake House
Erie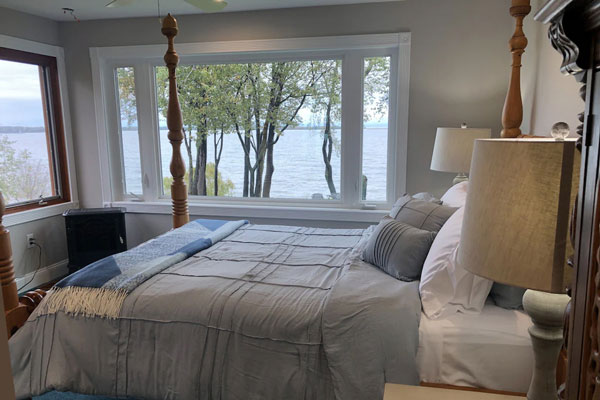 Achieve your summertime dream and stay at this brand-new Dreamy Lake House on Lake Erie! Nestled atop a 60-foot cliff above the Great Lake, you will be in awe of the epic views from every room and the private, fenced in yard that overlooks the lake. This peaceful retreat comes with three bedrooms, each with large windows providing expansive views of the water. Ask about their 12-passenger executive limo or wood-fired pizza oven rental to complete your lake vacation!
6. The Corner at St. Luke's Getaway
Saylorsburg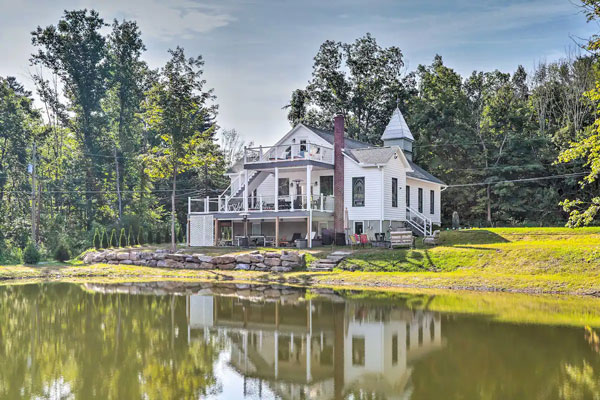 Transport yourself through time to an 1871 historical country church that was renovated into a four-bedroom, six-bathroom rental villa nestled in the Pocono Mountains. The Corner at St. Luke's Getaway is a breathtaking retreat located on Hiawatha Lake. Pictures simply can't capture the beauty of the stained-glass windows and colorful rooms. Explore the area and enjoy the abundance of attractions and outdoor activities or go wine tasting. Return home and stargaze from the deck, shoot pool, play poker, or warm up by the fire.
7. Summit Lakefront Cottage
East Stroudsburg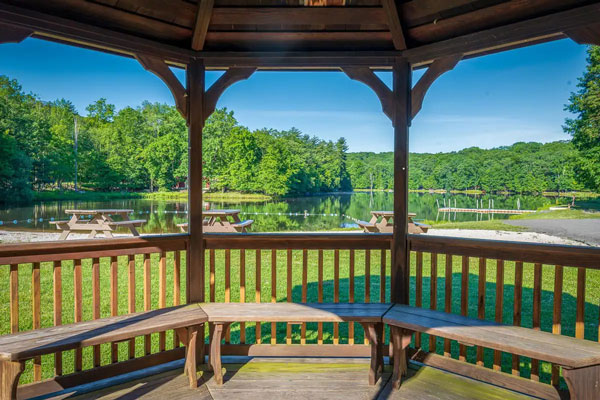 Find tranquility at the Summit Lakefront Cottage at Penn Estates. Located on the Upper Twin Lake, this five-bedroom, two-bathroom lake house will make you feel cozy and secluded on a large, private, wooded property with direct access to the backyard lake. The back deck screams summer barbecue with easy access from the living room, equipped with a gas barbecue grill. Just steps from the deck is the patio with a hot tub, fire pit, and easy access for you to jump into the lake. When not taking part in outdoor fun, enjoy the cozy tv room with its 65" television, board games, giant Jenga, and throw blankets.
8. Pine Tree Lake Getaway
Long Pond
Stay on the shores of Pine Tree Lake in this four-bedroom, three-bathroom cabin. This Pine Tree Lake Getaway is a secluded stay – you won't be sharing the lakefront with anyone else. So, monopolize the hot tub, hog the grill, and make the sunsets your own. The Getaway is starting point for daytime activities include hiking, biking, swimming, fishing. When you return from your adventures, relax on the back porch or soak in the year-round hot tub while taking in the impeccable lake views.
9. Virginia's Beach Lakefront Cabins and Camping
North Springfield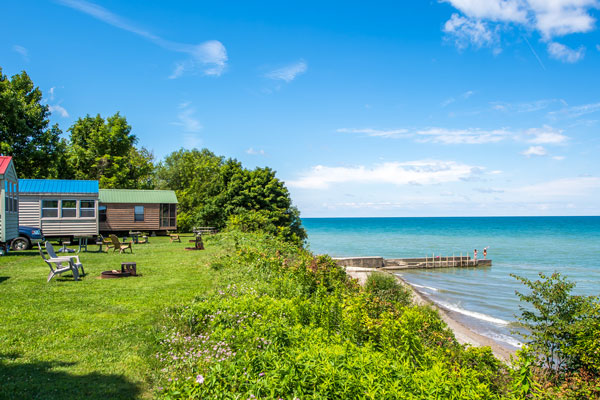 If you're thinking about booking a stay on Lake Erie, visit Virginia's Beach Lakefront Cabins and Camping. Virginia's Beach offers many accommodations including deluxe lakefront cottages, cabins in the woods, and lakeview campsites. Enjoy the natural beauty of Lake Erie by chartering a fishing boat, renting a kayak, or taking a guided lake boat tour. Land-lovers can visit Erie Bluffs State Park and the Erie Maritime Museum. No matter what you do on Lake Erie, make sure you check out the sunsets over the water.
10. Belltown River Lodge
Sigel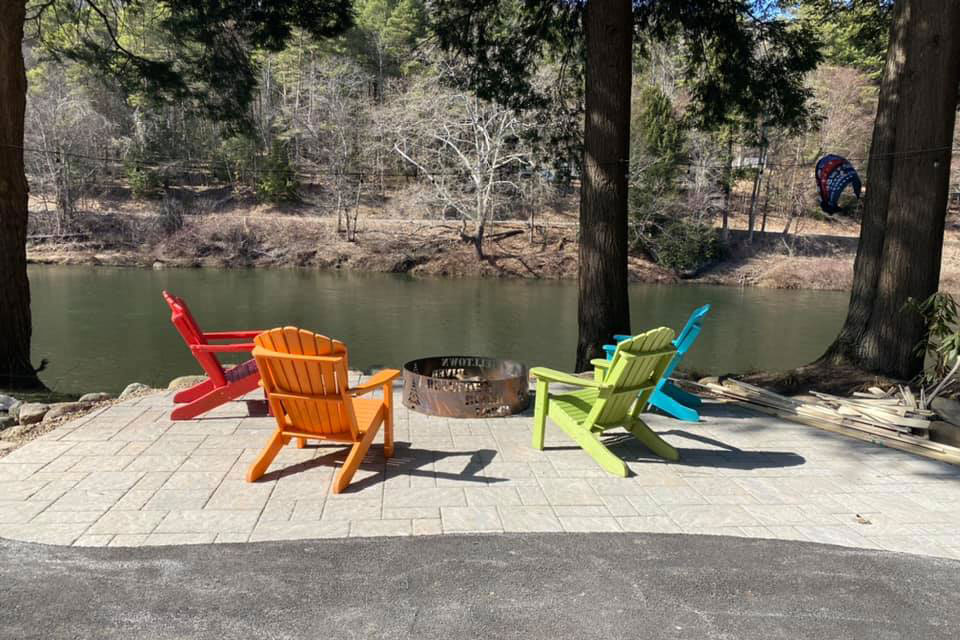 The Belltown River Lodge is a waterfront bed and breakfast located on the Clarion River. Visitors have direct access to the river and can enjoy the outdoor scenery from the lodge's wraparound deck or other outdoor seating areas. Located near Cook Forest State Park, you have access to a variety of activities including hiking, canoeing, and kayaking.
To learn more about PA lake vacations, check out the visitPA website. Be sure to follow us on Facebook, Twitter, and Instagram to stay up to date on even more great trip ideas and places to visit around our state.