It's the most wonderful (and sparkling) time of the year! There's no better way to celebrate the holiday season than by visiting one of the many spectacular holiday light shows in Pennsylvania. Buckle up and explore these spectacular drive-through light shows in the comfort of your own car – guaranteed to put you in the holiday spirit.
Know before you go: We recommend contacting your destination before your visit for their latest rules and regulations. Find up-to-date COVID-19 traveler resources on the visitPA website.
9. A Christmas Light Winter Wonderland at Refreshing Mountain Retreat
Stevens
Be sure to reserve your spot in advance for A Christmas Light Winter Wonderland at Refreshing Mountain Retreat where you'll find three fun ways to experience their holiday lights, Nov. 27-Jan. 10. Drive-through eight miles of holiday lights and show your holiday spirit by making a donation (optional) to the weekend's featured non-profit. Get the adrenaline-pumping ziplining through 400+ feet and thousands of holiday lights, followed by a ride on their 35-foot swing, and finished off with the obstacle course. Option 3: Book a restful stay in one of their cabins festooned with holiday lights.
Before heading to the lights, spend an enjoyable day seeking out unique finds in nearby Adamstown, known as Antiques Capital USA, with more than 5,000 dealers in a seven-mile stretch of Rt. 272, including mom-and-pop shops, co-op dealer malls, and outdoor markets.
10. Holiday Lights on the Lake at Lakemont Park
Altoona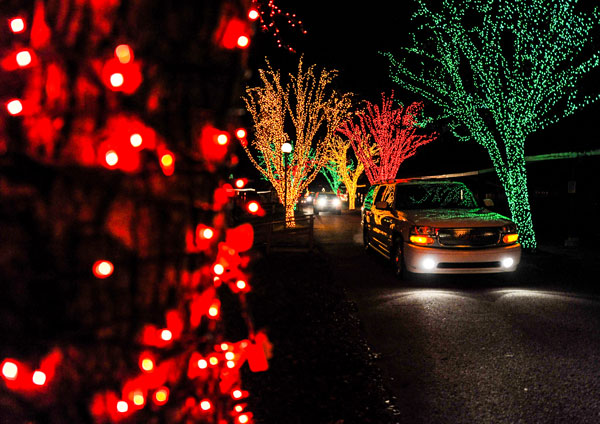 Prepare to be mesmerized by holiday magic as you drive through a dazzling array of more than a million lights at Holiday Lights on the Lake at Lakemont Park, Nov. 13-Jan. 3. Complete with animated displays and a holiday tradition dating back more than 20 years, the holiday lights continue to delight generations of families. Be sure to stop in and see Santa at his gift shop where you'll also find unique holiday gifts and ornaments, delicious baked goods, and decorations from local crafters.
11. Holiday at Burgess Drive-Thru
Light Display
Titusville
Open nightly from Black Friday to New Year's Eve, the Holiday at Burgess Drive-Thru Light Display is filled with festive lights that create displays of reindeer, polar bears, penguins, and toys that come to life. Surrounding the pond and playground of Burgess Park, this light show is best viewed with snow on the ground, but a wonderful winter tradition no matter the weather.
Drive into downtown Titusville and grab a delicious, locally brewed beer or PA wine at Orr's Brewery or knock out some holiday shopping on the weekends at Stonehouse Jack, a unique collection of home decor, antiques, and art.
12. Linesville Lighted Tractor Parade
Linesville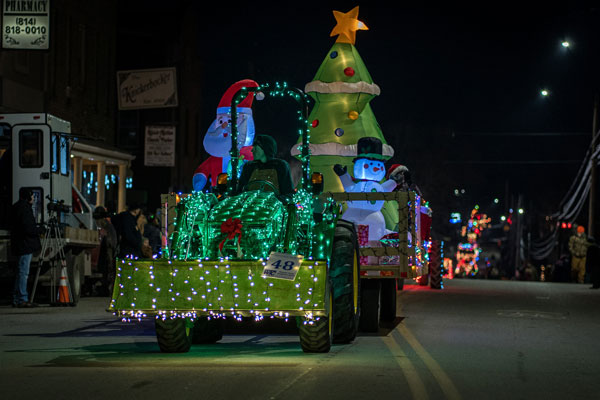 It's a magical and mechanical night of holiday splendor at the Lighted Tractor Drive-Thru Display, Dec. 5. Everything from lawnmowers and compact tractors to antique tractors, farm tractors, and floats will be decked out in its holiday best attire of sparkling lights and decorations that showcase each participant's creativity and imagination.
Complete your visit to Linesville by stopping in Twin Pies for a taste of their traditional homemade pies crafted from old and new family recipes. The café features daily selections of sessional fruit and classic flavors such as chocolate silk, lemon meringue, and key lime pie.
13. PHestivaL of Trees at the Greater Philadelphia Expo Center
Oaks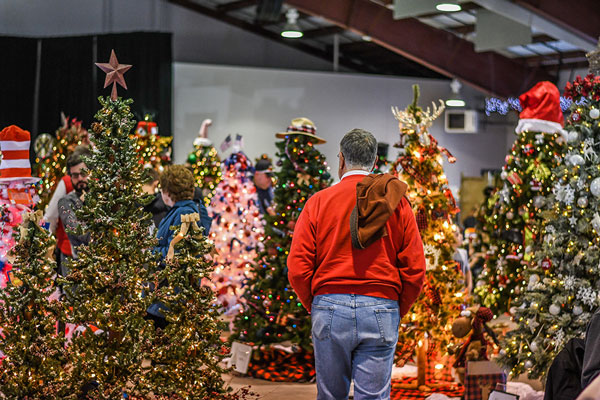 You'll be brimming with holiday joy at the PHestivaL of Trees on the fairgrounds of the Greater Philadelphia Expo Center, Nov. 27-29. The festive drive-through event features 200 uniquely decorated holiday trees, a live nativity scene, Hanukkah menorah, Kwanzaa display, 30-foot decorated live tree, light show, and Santa himself! The event benefits local animal shelters & rescues!
After all that holiday excitement, stretch your legs with a quiet stroll through Valley Forge National Historical Park, one of the most famous sites of the Revolutionary War. For another "drive-through" experience, the park offers a streamable, 60-minute audio tour of the park for a small fee.
14. Tall Pines Forest of Lights at Tall Pines Players Club
Friendsville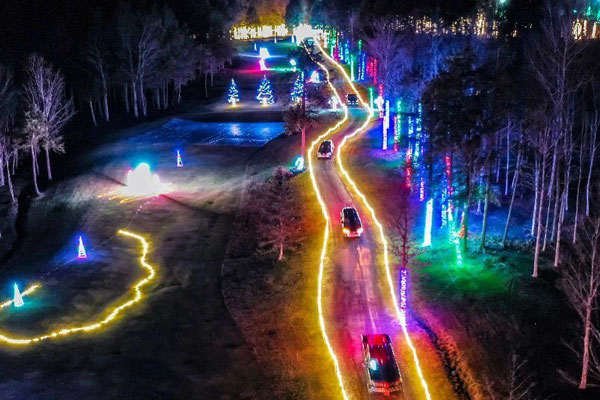 A spellbinding and magical holiday light experience awaits at the Tall Pines Forest of Lights, Nov. 27-Dec. 30. Enjoy a more than mile long, enchanting light trail with fanciful displays and trees glowing with holiday lights in the warmth and comfort of your own car. You're sure to come away filled with the beauty of the season.
Be sure to stop by Chocolates by Leopold for some sweet treats. You'll find some of the finest gourmet, artisan chocolates and candies on the market today, crafted from fourth generation chocolate recipes and ranging from truffles to creams and caramels to nuts.
15. Festival of Lights at Stone Hedge Golf Club
Tunkhannock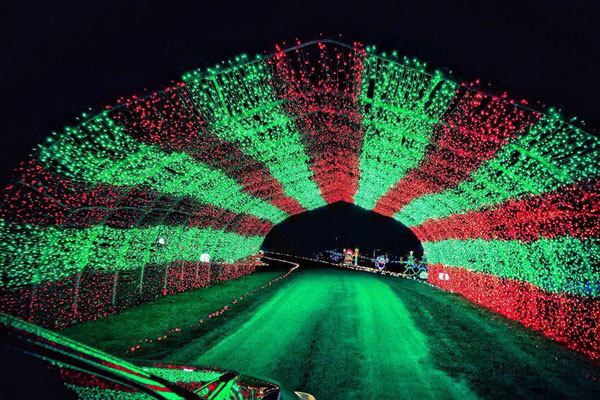 There's no shortage of holiday fun and cheer at the Stone Hedge Festival of Lights, Nov. 20-Dec. 31. Enjoy a 2.5-mile journey through a spectacular display of holiday lights strung in fanciful displays and an amazing tunnel of glowing lights. Then enjoy s'mores roasted over a fire pit and a visit to the vendor marketplace for some unique gifts. The kids will definitely be filled with the spirit and fun of the season as they board the Christmas train and meet Santa.
Don't leave town before stopping by the very quaint Twigs Café for a delicious meal and warm cup of one of their house-made soups.
16. F.N.B. Corporation Presents Zoo Lights Drive-Thru at the Pittsburgh Zoo & PPG Aquarium
Pittsburgh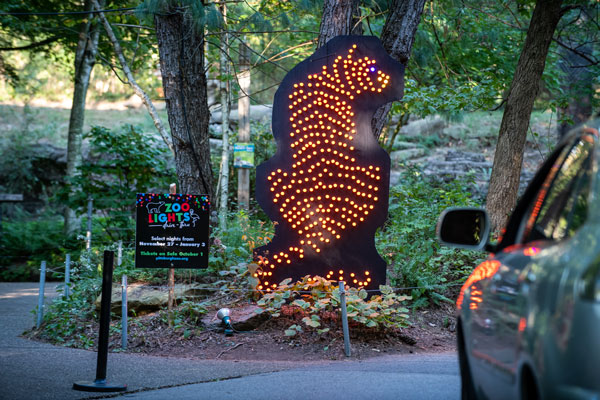 Make your holiday spirits bright journeying through the Zoo Lights Drive-Thru, select nights Nov. 27-Jan. 3. Winding your way through the zoo's grounds guided by the holiday-themed audio tour, you're sure to delight in their light displays, classic frosted characters, carols, and the thousands of lights that transform the zoo into an unforgettable winter wonderland. Be sure to reserve your spot for this fun holiday adventure!
And, don't forget to stop by the Strip District, one of Pittsburgh's 90 unique neighborhoods. A foodie heaven, you'll find a tremendous selection of eateries and shops to enjoy.
17. Conneaut Lake Trees of Light
Conneaut Lake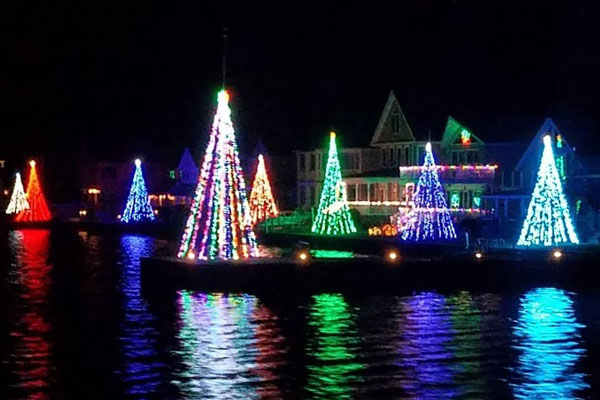 The shores of Conneaut Lake are all aglow spreading joy during the holiday season at the annual Conneaut Lake Trees of Light, Nov. 26-late Dec. Hundreds of "flagpole trees" surround the lake with their colorful lights illuminating the night sky and reflecting off the lake. The official "Light Up" of holiday lights is Thanksgiving evening.
Don't forget to drop by Al's Melons Farm Market and Greenhouse , the light show's official sponsor, with its great selection of produce as well as fresh cut trees and wreaths for the holidays.