Pennsylvania knows its outdoor enthusiasts embrace adventures and challenges of all kinds in the wilderness. Experience breathtaking mountain biking trails, including a number rated "epic" by the International Mountain Biking Association (IMBA) in PA's greater-than-great outdoors!
1. Trails at Jakes Rocks, Allegheny National Forest
Warren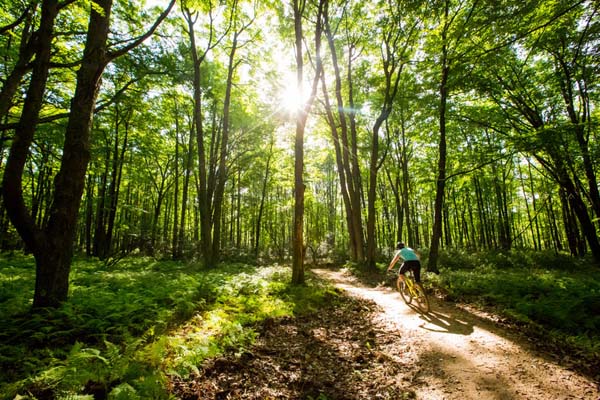 Get ready for a stacked loop mountain biking trail at the Trails at Jake Rocks. Tie your laces tight because this 30+ mile, expertly designed trail will take you on a sweet adventure. Immerse yourself within the Allegheny National Forest while experiencing this premier mountain biking trail system.
2. Cooper's Gap Trail, Rothrock State Forest
State College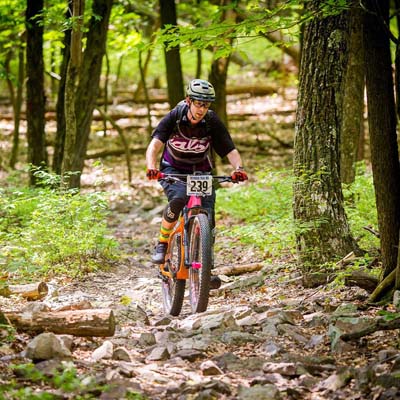 Arguably the best singletrack in PA, the Cooper's Gap Trails offers almost 30 miles of mountain biking bliss! With challenging climbs, extended downhills, and a bunch of technical aspects, these IMBA-epic trails are perfect for the intermediate to expert rider.
PS: Beginning bikers, singletrack means the trail is equivalent to the width of the bike.
3. Lebanon Valley Rail Trail
Lebanon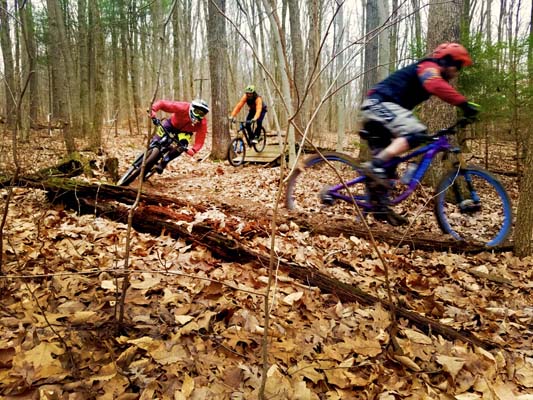 The 18-mile Lebanon Valley Rail Trail may not have all the thrills and technical challenges of a classic singletrack, but is perfect for the budding mountain biker! Here you'll find riders of all age groups and abilities as the trail features a few inclines and passes by the Lebanon Expo Center and Fairgrounds, Cornwall Iron Furnace, and Mt. Gretna.
4. Bear Creek Mountain Resort
Lehigh Valley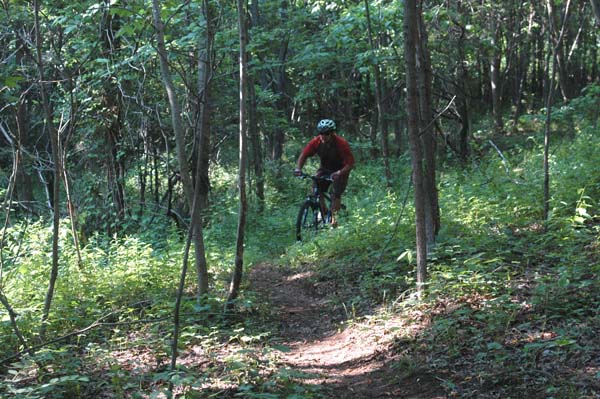 Grab your bike and make your way to Bear Creek Mountain Resort for a true test of your mountain biking skills. Host to numerous mid-Atlantic races and two national championships, the technically challenging, rock-filled, rugged trails are the quintessential example of east coast riding that will leave you out of breath!
5. Blue Mountain Resort
Palmerton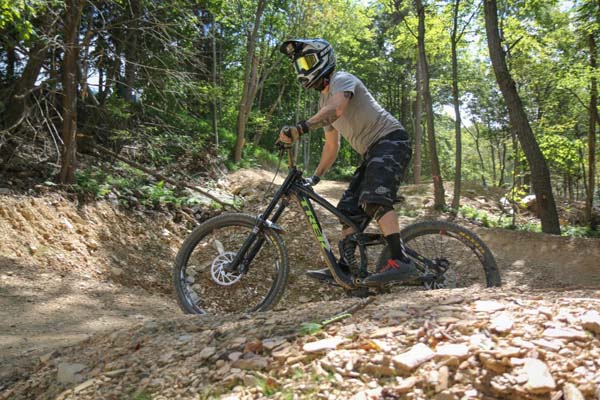 There are 28 (yup, 28!) mountain biking trails at Blue Mountain Resort just waiting for you to conquer. Looking for an easier ride? Try the green trails with some rocky and rooted sections, dirt berms, and rollers, or kick those imaginary downhill training wheels off on the intermediate blue trails. Feeling fearless? The adrenaline-pumping jumps and drop-offs on the expert-level black trails are definitely not for the faint of heart! Then take the high-speed Comet Quad Lift to get you back to the top to do it all again!
6. Alameda Park Singletrack
Butler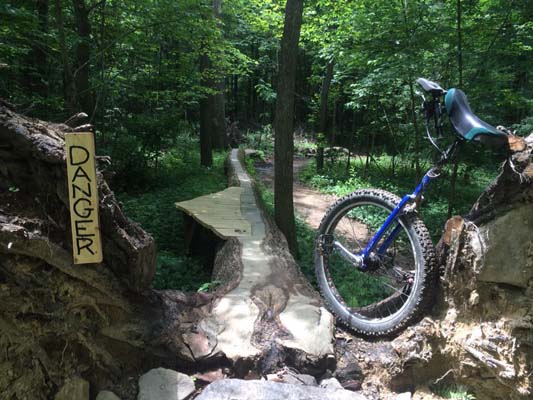 With 13 miles complete and two more to go, Alameda Park Singletrack is built to the latest IMBA standards, which means you're in for a great ride! The trails offer rolling contours, banked corners, berms, and even a ramp built entirely along the length of a huge, fallen tree!
7. Yellow Creek State Park
Penn Run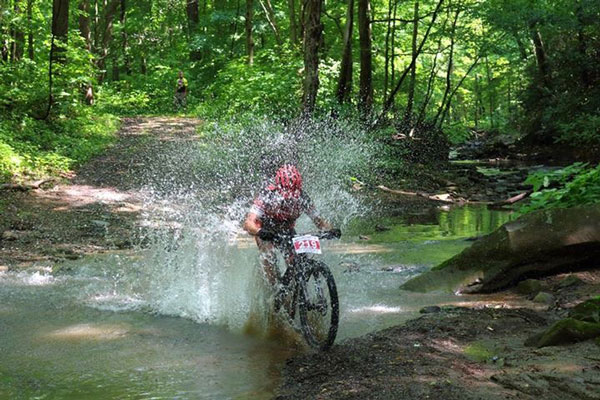 Strap on your helmet for more than 20 miles of fun and thrilling, multi-use singletrack mountain biking at Yellow Creek State Park. The trails feature a typical southwestern PA landscape with short, steep climbs, fast rolling hills, and variety of rock gardens. Pass through secluded forestland and along the shores of Yellow Creek Lake on trails designed for every skill level.
8. Greater Reading Trails System
Reading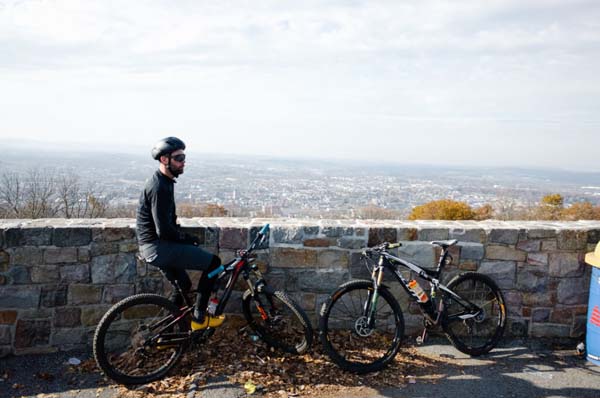 The 125+ mile Greater Reading Trails System is an officially designated, IMBA Bronze Level Ride Center. This means that whether you're a weekend warrior or a hard-core mountain biker, you'll find your perfect ride here. Not only is there an extensive trail network, masterfully designed for mountain bikers of every skill level, but an abundance of in-town amenities — perfect for your post-ride celebration.
9. Nockamixon State Park
Quakertown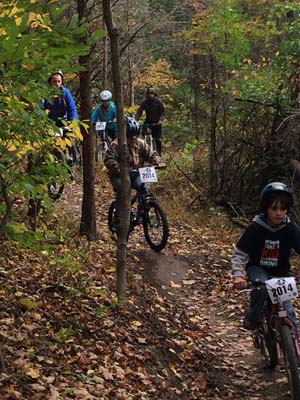 While geared towards novice and intermediate riders, even those with advanced skills will find something to like on the mountain biking trails at Nockamixon State Park. The 10-mile, stacked loop trail system features everything from rolling terrain with a few rocks and roots — perfect for the beginner — to rocky sections with steep hills, creek crossings, and other technical challenges for the highly-skilled rider.
10. Wissahickon Valley Park
Philadelphia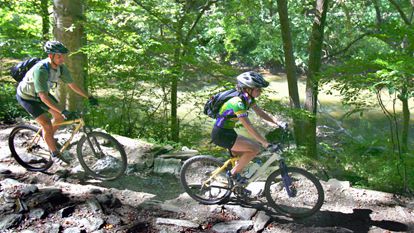 Mountain biking doesn't get much better than this with technical challenges galore on the trails of Wissahickon Valley Park — a National Natural Landmark! The 10-mile, singletrack loop has short, steep climbs, rocks and roots, log-overs, jumps, a balance beam, old water viaducts, and some rubble-filled descent — an ideal challenge for intermediate and advanced riders!
11. Allegrippis Trails
Raystown Lake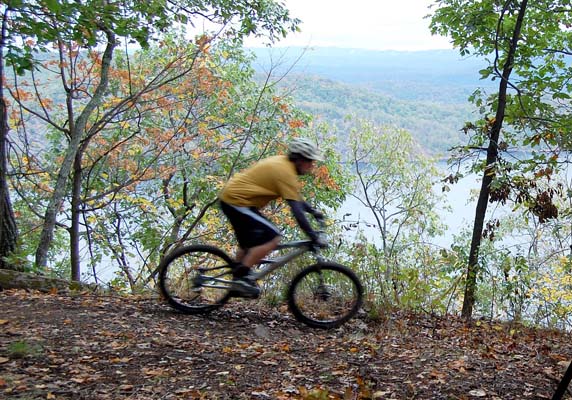 The Allegrippis Trails is one of the best premier stacked loop, singletrack mountain biking trail systems in the entire eastern U.S. Designed by and for mountain bikers and built by the International Mountain Bicycling Association, you know you're guaranteed an amazing ride on any one of the 24 trails!
12. Rattling Creek
Lykens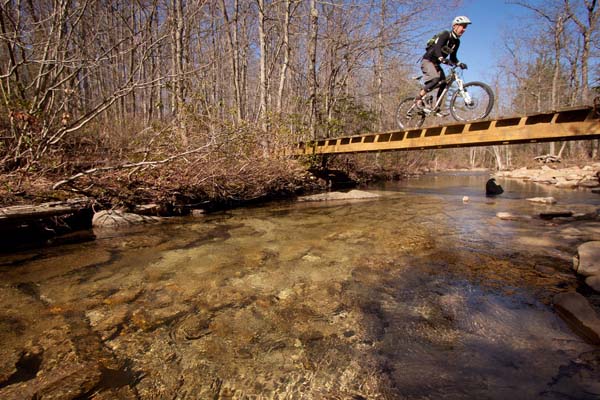 Looking for a super-challenging ride?! We've got you covered with Rattling Creek, a 22-mile IMBA-Epic loop trail. With its mix of rocky and flowy singletrack, woods roads, steep climbs, and technical challenges aplenty, your mountain biking skills will be put to the test on this difficult trail!
13. Cowbell Hollow Trail
Bald Eagle State Forest
Cowbell Hollow Trail is a definite must ride! This eight-mile, intermediate-rated trail features great technical challenges including a steep climb, a fast and exciting downhill, and several wooden bridge crossings — all in the midst of some pretty spectacular scenery!
To learn about more biking experiences in PA, check out our biking webpage. Follow us on Facebook, X, Pinterest, and Instagram to stay up-to-date on even more great ideas and places to visit around our state. Don't forget to never miss an update and sign up for our monthly Happy Thoughts e-newsletter.
You might also like:  Pennsylvania's Trails of History