Grandma is coming to town, Aunt Diane just had a baby, and cousin Katie asked to bring a friend — sometimes the holidays are a lot to handle in your own home. Fear not, Happy Travelers, Pennsylvania has an unmatched B&B scene to make the whole family feel right at home without, well…staying in your home. Your whole crew can enjoy a wholesome getaway at a quaint bed and breakfast, complete with rich history and adventure. Now that's what we call a happy holiday season!
1. Eagles Mere Inn
Eagles Mere
Located in the Endless Mountains of northeastern Pennsylvania, Eagles Mere Inn is a warm and inviting country inn nestled in the middle of the "last unspoiled resort." Right in the center of the Eagles Mere Historic Village and adjacent to the iconic Eagles Mere Lake, the inn was built in 1887 and renovated in 2015. With 17 charming rooms to choose from, your family members are bound to each find one that perfectly suits them.
2. The Parador Inn
Pittsburgh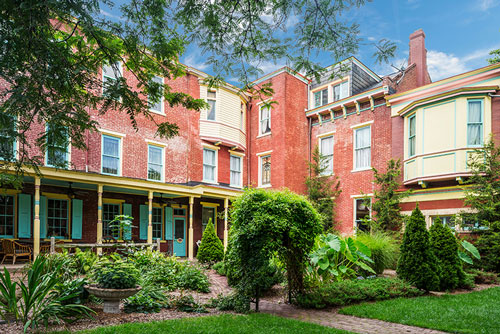 Craving a uniquely themed bed and breakfast experience? You'll find just that at The Parador Inn, a Caribbean-themed spot conveniently located on Pittsburgh's North Shore. Your family can take in the sights of elegant guest rooms, beautiful gardens, exquisite historic spaces, and tropical surprises both inside and out.
3. The Inn & Manor at Deer Creek Winery
Shippenville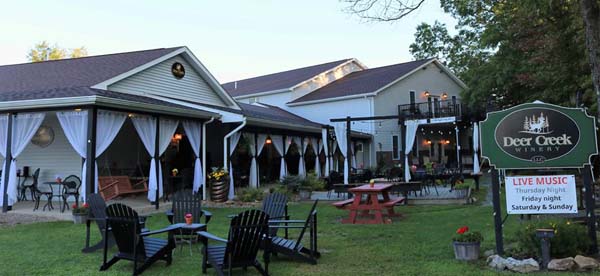 Nestled in the foothills of the Allegheny National Forest, the The Inn & Manor at Deer Creek Winery is in a unique countryside setting just 30 minutes from Franklin, Clarion, and Cook Forest State Park. The original Inn offers eight private guest rooms while their newest addition, The Manor, has five private guest rooms, each offering a variety of amenities including a fresh-cooked breakfast with delicious seasonal selections and their signature mimosas. This B&B may just end up becoming a new family tradition!
4. The Inn on Maple Street
Port Allegany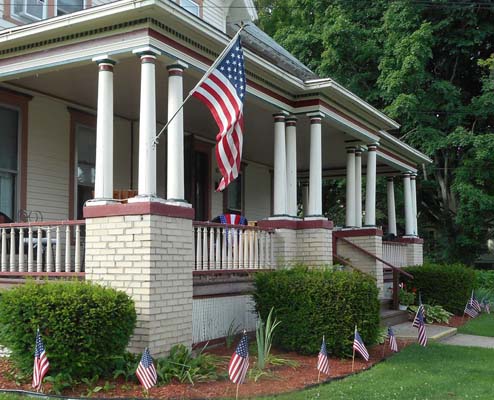 The Inn on Maple Street is a nine-bedroom grand Victorian beauty that offers high ceilings, a double split staircase, pocket doors, stain glass windows, and all the charm you expect for a bed and breakfast stay. Book one of their guest rooms or a suite that may just accommodate your whole extended family! Located in Port Allegany, just one block off scenic Route 6, there's no doubt your family getaway weekend will be filled with gorgeous views.
5. Kane Manor Inn
Kane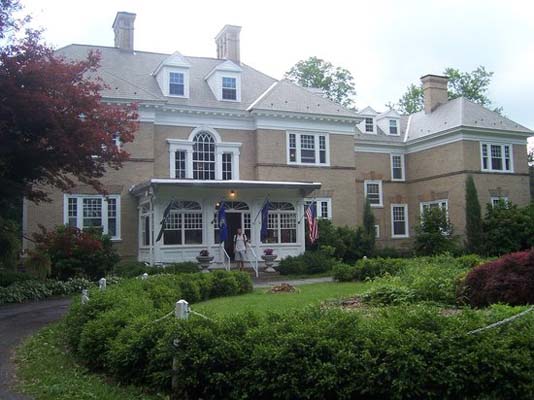 Sitting atop the Allegheny Plateau and featuring 14 spacious guest rooms, the Kane Manor Inn offers a relaxed atmosphere and access to 250 acres filled with miles of hiking and cross-country skiing trails. Tastefully decorated with antique furnishings, it's perfect for family reunions, romantic weekends, company meetings, or just a friendly get-together.
6. Maple Shade Mansion
Brockway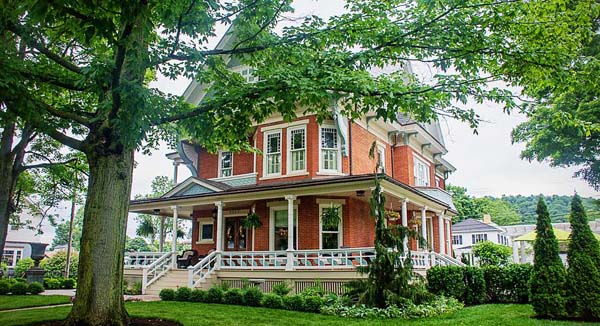 Surrounded by beautifully landscaped gardens, the stately Queen Anne Victorian Maple Shade Mansion offers the perfect setting for a romantic getaway, business trip, relaxing reprieve for the family, or social event. Built in 1889, the Maple Shade Mansion is in the heart of Brockway, where you'll find the Clarion/Little Toby Trail offering year-round hiking and biking through the remote and scenic Little Toby Creek Valley.
7. Mayor Lord's House Bed & Breakfast
Meadville

Mayor Lord's House offers guests the choice of four rooms with both shared and private baths — important to keep in mind when planning overnight accommodations with the entire family! If four rooms aren't enough The Carriage House offers an additional four on-suite rooms with private baths in a beautifully restored large carriage house, while the Garden Flat can accommodate up to three guests and has its own private entrance with the privacy and freedom of an efficiency apartment.
8. The Brafferton Inn
Gettysburg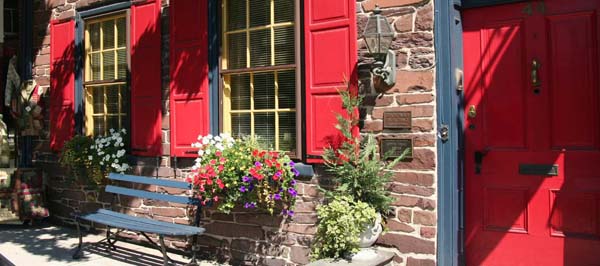 The Brafferton Inn is an 18-room, nine-suite bed and breakfast individually decorated with styles ranging from Colonial and Victorian to shabby chic and farmhouse. The inn offers a delicious home-cooked breakfast each morning along with delectable afternoon treats for its guests, while the serene garden and outdoor deck offer relaxation. For history buffs and art lovers, the parlor has many books on Gettysburg and the Civil War, along with original artwork by historical painter Keith Rocco.
9. Blackberry Inn
Smethport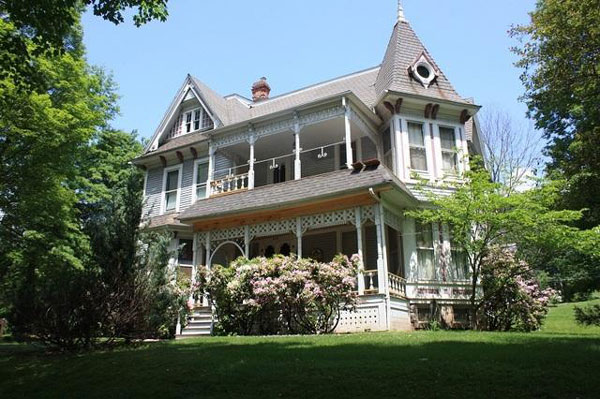 Within Smethport's Mansion District, the Blackberry Inn offers five rooms in 1880s Queen Anne style grandeur. Each room is named after a different President of the United States. Guests will enjoy classic east and west formal parlors, a backyard fire pit, and a gazebo. The inn is within walking distance of great fishing at Hamlin Lake, downtown restaurants, and a variety of hiking trails.
10. 1870 Roebling Inn On the Delaware
Lackawaxen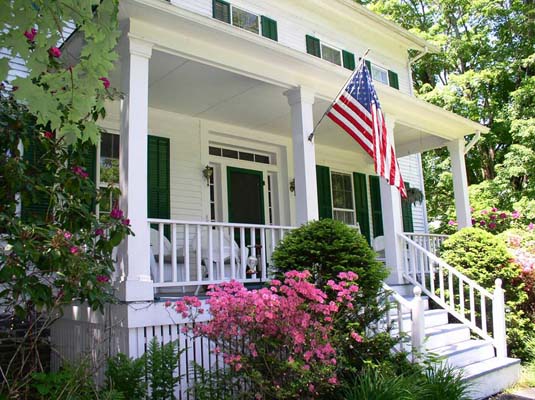 The 1870 Roebling Inn On the Delaware is a unique, six-bedroom, Pocono Mountains getaway that caters to nature lovers, history buffs, hikers, cyclists, soul seekers, AND romantics. What more could you ask for? Since it's located along the Delaware River, your family will love the beautiful backdrop for your holiday photo.
11. The Rosemont Inn
Montrose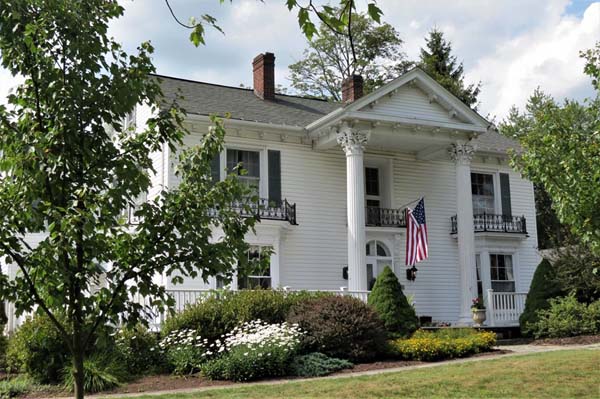 The Rosemont Inn features 12 comfortably appointed guest rooms including a two-bedroom suite that sleeps four and an ADA-accessible guestroom on the first level of the inn with its own private outside entrance as well as an entrance into the main house. Accommodations provide different spectacular views of the surrounding historic landscape and your family will come to appreciate the unique amenities like homemade organic shampoos, soaps, and lotions made by local artisans.
12. The Jacqueline House
New Castle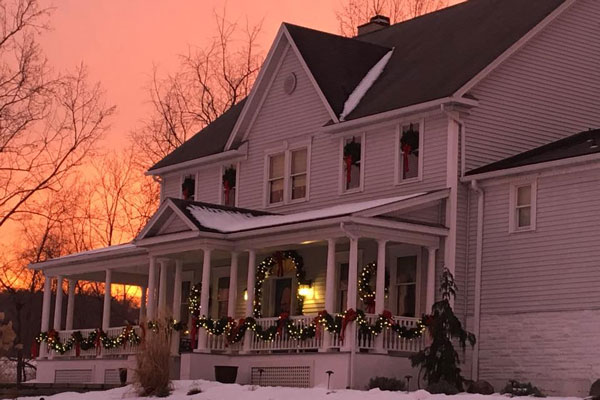 At The Jacqueline House you'll receive a 5-star experience embodied in Victorian luxury and modern comfort in a peaceful, rural setting. The four guest rooms are named after nearby towns, while the on-site spa offers a whole host of services to enjoy. The Grove City Outlets are a short drive away to satisfy your holiday-shopping needs.
For more bed and breakfast ideas in Pennsylvania, visit our Bed and Breakfast Experience webpage. Follow us on Facebook, Twitter, and Instagram to stay up-to-date on even more great ideas and places to visit around our state.