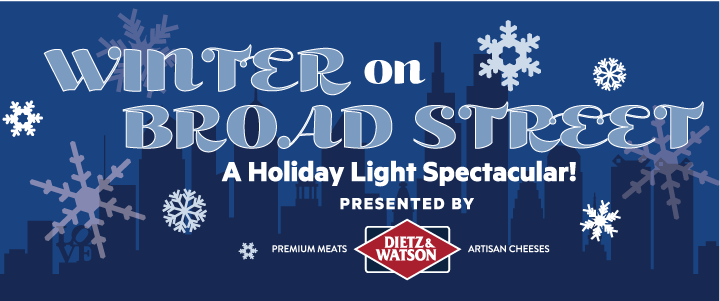 Winter on Broad Street: A Holiday Light Spectacular! presented by Dietz & Watson
Repeats: Every Day
Wells Fargo Center
3601 S. Broad St.
Philadelphia, Pennsylvania 19148
Region: Philadelphia & The Countryside
Hours of operation: Sunday-Thursday: 5-10 p.m. | Friday-Saturday: 5-11 p.m.
Admission fee: Tickets start at $20 for adults and $15 for children under 13. Admission is FREE for children five and under.

Feel the glow of holidays past and present as you step into an illuminated escape with your friends, family, and loved ones. Sprung just steps from Wells Fargo Center, Winter on Broad Street: A Holiday Light Spectacular! presented by Dietz & Watson welcomes you to find the magic of the season as you meander through 193 larger-than-life light sculptures and displays. Indulge in yuletide confections and fill your senses with your favorite holiday traditions. With seasonal surprises along the path, every inch of this twinkling wonderland comes to life for winter lovers of all ages.