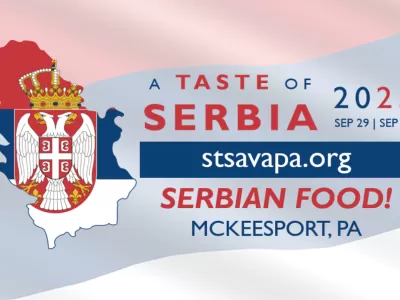 A Taste of Serbia!
Repeats: None
St. Sava Serbian Orthodox Church
901 Hartman Street
McKeesport, Pennsylvania 15132
Region: Pittsburgh & Its Countryside
Hours of operation: Fri, 9/29 3-7pm & Sat, 9/30 12-7pm
Admission fee: Free

St. Sava Serbian Orthodox Church (McKeesport, PA) invites you to join us as we celebrate Serbian food and culture for "A Taste of Serbia" - Friday, Sep. 29th (3-7 PM) and Saturday, Sep. 30th (12-7 PM)! Lamb Sandwich, Fish Sandwich (a Friday special only), Cevaps (Serbian sausages), Burek (Serbian meat pie in phyllo dough), Grah i kupas (Traditional sauerkraut and bean soup), Nut rolls, Apricot Rolls, Apple Strudel, Palacinke (Serbian crepes), many more items... You can pre-order (Sep. 11-25) or order in-person during the event. For the full menu and ordering options, please visit: https://stsavapa.org/atasteofserbia LIVE ENTERTAINMENT: Featuring Serbian Band, Orkestar Pobeda (Sat, Sep. 30th only from 3-7PM) There is no admission fee and parking is free at the church or street parking.