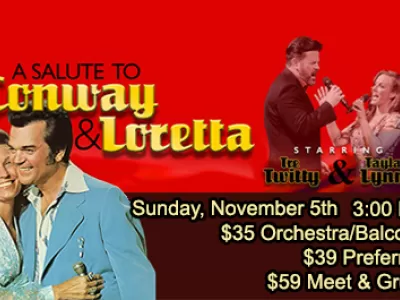 A Salute to Conway and Loretta
Repeats: None
Eichelberger Performing Arts Center
195 Stock Street
Hanover, Pennsylvania 17331
(717) 637-7086
Region: Dutch Country Roads
Hours of operation: 3:00 PM - 5:00 PM
Admission fee: Tickets: $35 Orchestra/Balcony. $39 Preferred. $59 Meet & Greet.

A Salute to Conway and Loretta starring Tre Twitty and Tayla Lynn. The pair will be honoring their grandparents in a heartfelt tribute that has brought tears to the eyes of many. Covering many of the number 1 hits and beloved classics of their grandparents that will hold the audience captive.