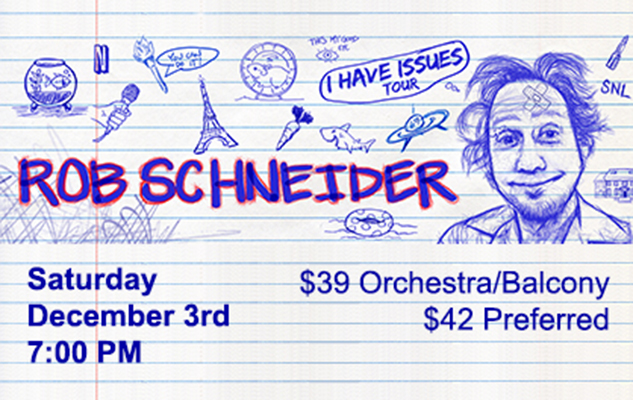 Rob Schneider: I Have Issues Tour
Repeats: None
Eichelberger Performing Arts Center
195 Stock Street
Hanover, Pennsylvania 17331
717-637-7086
Region: Dutch Country Roads
Hours of operation: 7:00 PM - 9:00 PM
Admission fee: Tickets: $39 Orchestra/Balcony, $42 Preferred.

Rob Schneider is an accomplished actor, comedian, screenwriter and director. A stand-up comic and veteran of the award-winning NBC sketch comedy series Saturday Night Live, Schneider has gone on to a successful career in films, television and continues his word-wide standup tour. He starred in some of the top comedy features of the past 20 years including 'Grown Ups,' 'You Don't Mess With The Zohan,' 'Big Daddy' and 'The Waterboy.