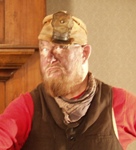 Porch Performance: Fire in the Hole!
Repeats: None
Pennypacker Mills
5 Haldeman Road
Schwenksville, Pennsylvania 19473
610-287-9349
Region: Philadelphia & The Countryside
Hours of operation: 4-5 pm
Admission fee: Free, suggested donation $2/person

Coal was the fuel of America's Industrial Revolution and no one knows the dangers of "life below ground" better than Irish miner, Frank Kehoe. Learn of life in the "patch," the company store, the progression from breaker boy to "miner with papers," the Mollie Maguires and the United Mine Workers Strike of 1902. Living Historian Rich Pawling will share his in-depth knowledge and musical talents. Bring a chair or blanket to sit on. Sponsored by the Friends of Pennypacker Mills. Why not take a guided tour of the historic Pennypacker mansion? Explore two floors of the home of former Pennsylvania Governor Samuel Pennypacker (1903-1907). View completely furnished rooms, see the guest quarters, view our new exhibit on stereoscopes, and visit our Museum Shop. Pre-register for a tour of the mansion at 610-287-9349. Tour hours 10 am to 3pm. Tours take approx. 1 hour. Masks required. All ages welcome. Free, suggested donation $2/person. Pennypacker Mills is operated by the County of Montgomery and is open year-round offering guided tours, seasonal events, changing exhibits and education programs.