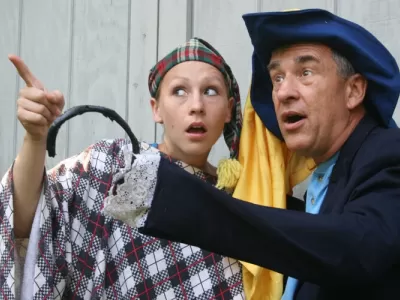 Peter Pan
Repeats: None
Ambler Theater
108 E. Butler Avenue
Ambler, Pennsylvania 19002
(215) 740-2156
Region: Philadelphia & The Countryside
Hours of operation: 11:00am-12:00pm
Admission fee: $12.00, Seniors $10.00. Under age 3 free.

Family Stages brings the youthful exuberance of Peter Pan to life! Audiences meet all their favorite characters as two actors deliver the story in a whirlwind of hilarious activity. Peter and Tinkerbell lead the Darling children, Wendy, Michael and John, off to Neverland. There they join Tootles and the Lost Boys in adventures with Tiger Lily, Captain Hook, Mr. Smee and the rest of the pirates. Add Nana, the dog, and a ticking crocodile, and the result is a delightful forty-five minute show for family audiences of all ages!