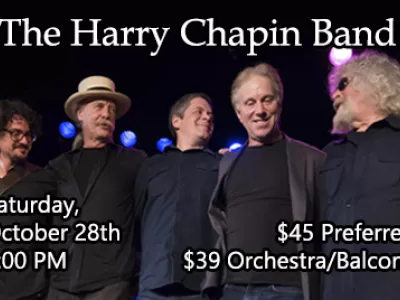 The Harry Chapin Band – Tribute to Harry Chapin
Repeats: None
Eichelberger Performing Arts Center
195 Stock Street
Hanover, Pennsylvania 17331
(717) 637-7086
Region: Dutch Country Roads
Hours of operation: 7:00 PM - 9:00 PM
Admission fee: Tickets: $39 Orchestra/Balcony, $45 Preferred.

The stirring musical tribute to Harry Chapin featuring his brother Steve with original Chapin band members. They'll perform stunning portrayals of some most loved songs like "Cat's In The Cradle," "Taxi," "Mr. Tanner," "WOLD," "Mail Order Annie" and "Better Place To Be" plus Steve's songs as well. The music of Harry Chapin lives on!