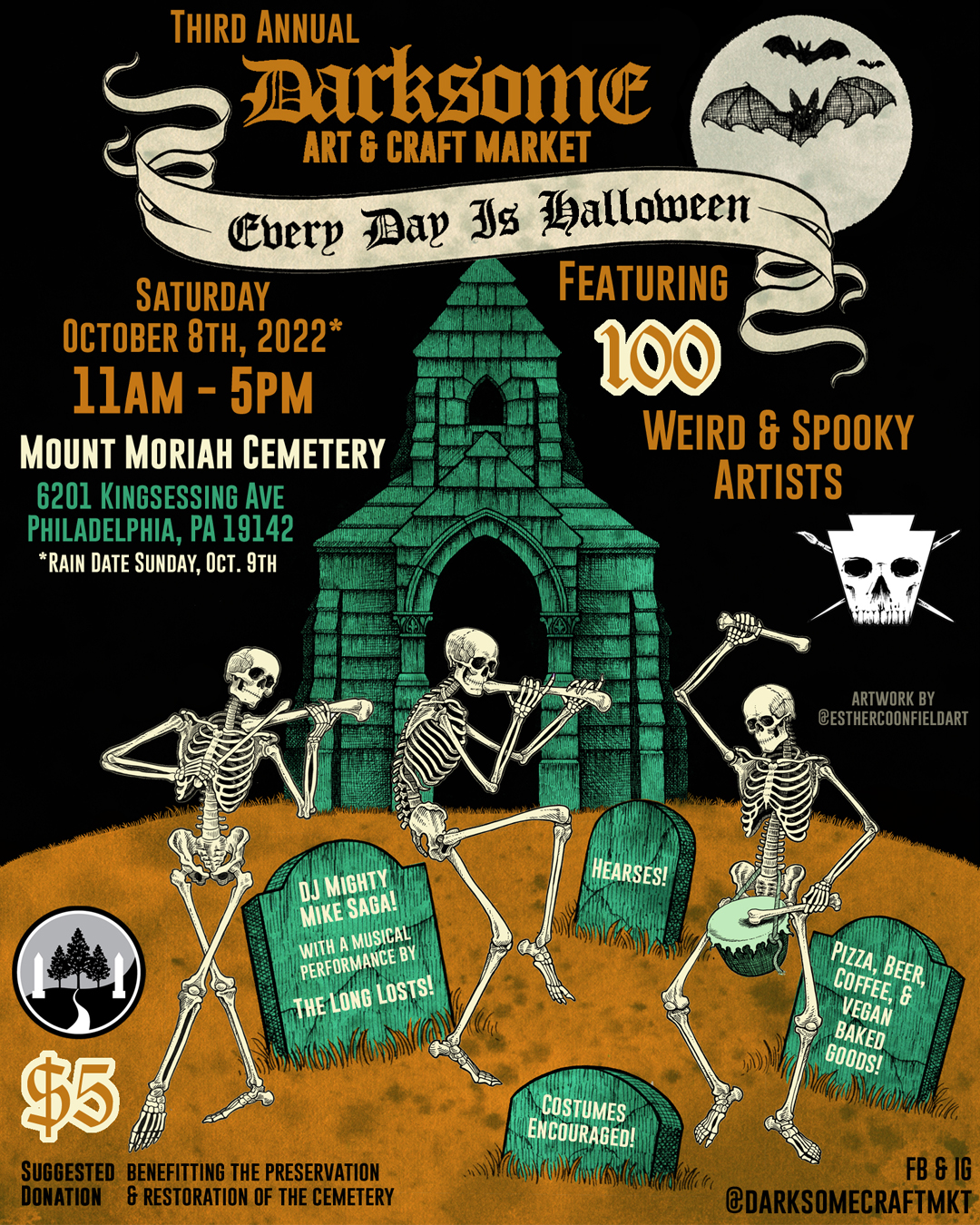 Darksome Art & Craft Market: Every Day is Halloween
Repeats: None
Mount Moriah Cemetery
6201 Kingsessing Ave

Philadelphia, Pennsylvania 19142
Region: Philadelphia & The Countryside
Hours of operation: 11am-5pm
Admission fee: Suggested donation $5

Darksome RETURNS to Mount Moriah Cemetery in Philadelphia, PA for our 3rd annual event every October! Shop with 100 weird and spooky artists in a gigantic, historic cemetery! Rain date: Sunday October 9th, 11am - 5pm
⚰️ IMPORTANT VENUE INFO ⚰️
Mount Moriah Cemetery was abandoned in 2011 and was placed in a receivership in 2014. The grounds are cared for by the non-profit Friends of Mount Moriah Cemetery, Inc., but there are many overgrown areas, uneven ground, rugged roads, and unsteady stones. Visitors enter at their own risk! Please do not climb on, lean on, or otherwise touch stones or mausoleums. 
💲RAISING MONEY FOR THE CEMETERY 💲
5 Suggested Donation supports the preservation and restoration efforts for the cemetery!
CASH ONLY. Pay at the gate.
👻 COSTUMES ENCOURAGED! 👻
🚫 No real or fake weapons allowed.
Hearse show
Special Musical Performance by The Long Losts
DJ Mighty Mike Saga
Pizza and beer
Coffee and vegan baked goods
🚗 LOCATION & PARKING 🚗
Customer parking on the Philly side, enter at: 6201 Kingsessing Ave Philadelphia, PA 19142 Event held on the Yeadon side, enter at: 1004 Cobbs Creek Pkwy Yeadon, PA 19050 There will be a crossing guard to assist those parked on the Philly side to cross over Cobbs Creek Parkway to the event on the Yeadon side.