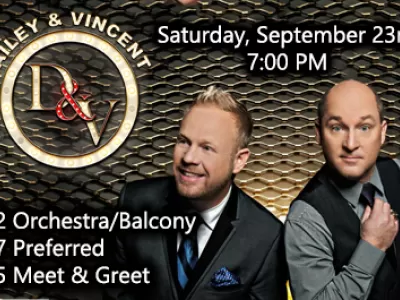 Dailey and Vincent
Repeats: None
Eichelberger Performing Arts Center
195 Stock Street
Hanover, Pennsylvania 17331
(717) 637-7086
Region: Dutch Country Roads
Hours of operation: 7:00 PM - 9:00 PM
Admission fee: Tickets: $42 Orchestra/Balcony, $47 Preferred.

Jamie Dailey and Darrin Vincent, backed by one of the best bands on tour today, are some of the most reputable and elite entertainers in American music; bluegrass, traditional country and gospel music. The concoction of the fantastically instinctive vocal blends of Dailey's tenor and Vincent's reedy harmonies, has gained them well-deserved praise for their own distinctive style and worldwide recognition as American Music gold.