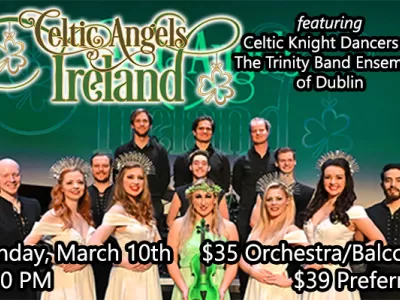 Celtic Angels Ireland
Repeats: None
Eichelberger Performing Arts Center
195 Stock Street
Hanover, Pennsylvania 17331
(717) 637-7086
Region: Dutch Country Roads
Hours of operation: 3:00 PM - 5:00 PM
Admission fee: Tickets: $35 Orchestra/Balcony, $39 Preferred.

A joyous celebration of everything Irish will touch American soil this spring when the energetic, exciting young stars of Celtic Angels Ireland tour the U.S. Through their shared zeal and passion for Ireland's musical traditions, this troupe enables their audiences to experience the Real Ireland for the price of a concert ticket. Celebrating their cherished heritage through Irish dance, music, and song is something these entertainers take very seriously. You'll be enthralled from the moment the lights dim as the sweet and stirring songs of Ireland, rigorously precise dances, and traditional musicianship carry you to Ireland on wings of music. Some of the sweetest voices under heaven make up the Celtic Angels: Victoria Sexton, Louise Barry, Searlait Ni Caiside, Olivia Bradley and Michaela Groth. The Celtic Knight Dancers perform with athletic precision in routines that leave audiences breathless. Their rhythm and artistry are astonishing. The Trinity Band Ensemble of Dublin round out the show with flawless interpretations of authentic Irish Trad instrumentals, and their backing of both singers and dancers is perfection.